Ethereum
Mirror opens up access to its blockchain blogging platform for everyone
794 days ago - Around
3

mins
mins to read
The Ethereum Mirror-based decentralized blogging platform opened its doors to the general public after making only voice-based donations for months.
Mirror was launched in December 2020 to enable selected authors to publish on a decentralized blogging platform. Contributors can gain access by voting in weekly contests using the platform's native WRITE token, with only ten content creators selected each week.
In an October 6 announcement, Mirror announced that they have phased out the system and opened the door to anyone with an Ethereum address and wallet. Unlike most major commercial blogging platforms that sell ads for content-generated traffic, Mirror publishers control their content hosted on a decentralized blockchain instead of the corporate server.
This content is cryptographically secure so that it cannot be modified or damaged, and users can leave the platform with all of their data if they no longer want to be part of it. The Mirror team further stated:
"Mirror has gone from being a tool for authors to a full Web3 authoring suite for communities and DAOs."
Publishing on Mirror is now open to everyone.
Connect your wallet and start a decentralized blog in seconds. https://t.co/fWQgr0Ssc4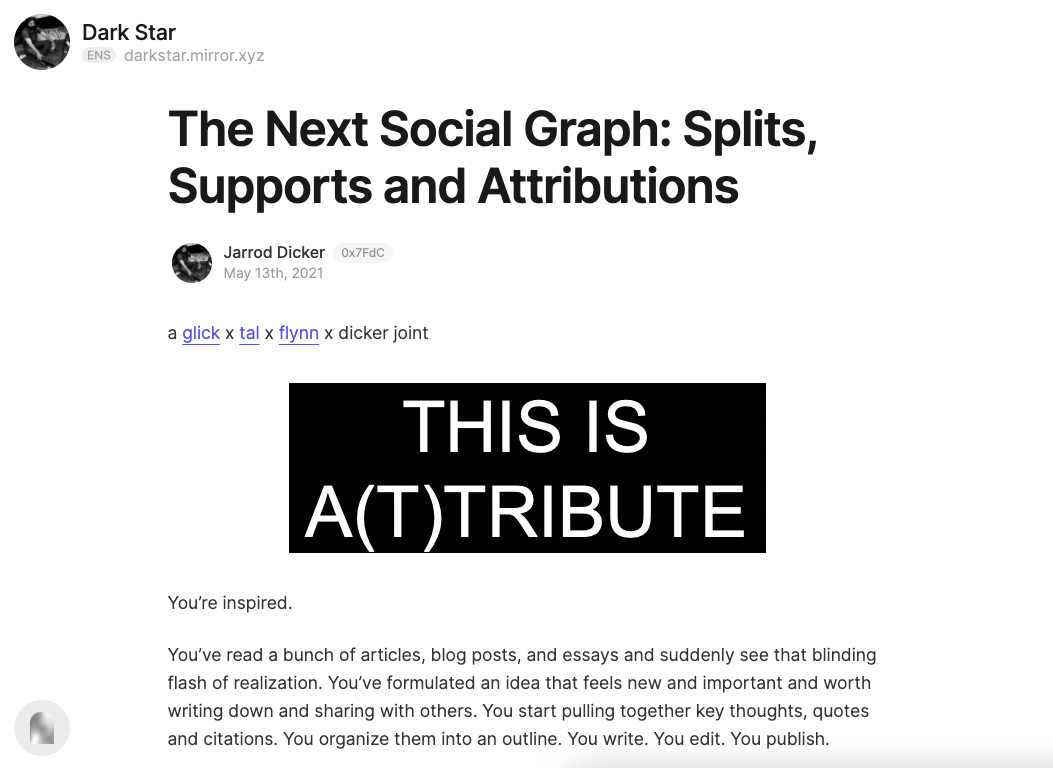 – Mirror (@viamirror) October 5, 2021
Once the Ethereum wallet is connected, users can start creating content and embedding media blocks such as videos, iFrames, social posts, NFTs, auctions, and crowdfunding. Blogs can also be imported from other platforms such as Medium or Substack.
Mirror users can share and fund their work through the platform and the integration of Ethereum addresses.
Blogs can be understood as so-called "input editions" of the platform with which users can create and potentially monetize NFT content.
Industry leaders like Ethereum co-founder Vitalik Buterin and several DAOs like the Aave Grants DAO have used the platform to post content this year. In July, a documentary about the development of Ethereum used Mirror to raise 1,036 ETH from crowdfunding on the forum.
Related: Ethereum Documentary Starring Vitalik Buterin Raises $ 1.9 Million In 3 Days.
Content creators who have used Mirror's previous method to allow contributors, known as the WRITE race, will be offered additional incentives such as staking. The protocol's native WRITE token, which was issued through a voting system to obtain the right to publish on Mirror, has yet to be listed on major tracking sites or exchanges.
The project claims that it will integrate Ethereum Name Services (ENS) and introduce new features like registrations, feeds, and an improved editing interface.
Not to be confused with a DeFi protocol called Mirror Finance, which uses MIR tokens and enables minting of synthetic assets.
.
.