Key Points
Recent developments and news in the cryptocurrency market, including exchanges facing legal issues, funding rounds, and integration of new technologies.
Updates on prominent figures in the industry, such as Mark Cuban and Vitalik Buterin, experiencing losses and security breaches.
Macro-economic factors impacting the cryptocurrency industry, such as regulatory changes, debates on CBDCs, and global cooperation efforts for cryptocurrency frameworks.
Discover the latest updates and developments in the world of cryptocurrency. Stay informed about prominent exchanges, market highlights, and macroeconomic factors influencing the industry.
CEXs & DEXs Exchanges
BinanceUS, a prominent exchange, has been accused by the SEC of not providing complete information and violating the settlement agreement. As a result, the CEO of Binance US has resigned, and the exchange has implemented personnel reductions. CZ, the founder of Binance, stated that the CEO's resignation was due to the need for rest after an extended period of work.
FTX, another well-known exchange, has filed a lawsuit against LayerZero, seeking $21 million in damages. The exchange alleges that the project withdrew funds before its collapse, further exacerbating the FTX crisis. However, the US court has granted FTX permission to sell, stake, and short $3.4 billion in cryptocurrency.
In a surprising move, Huobi Exchange has changed its name to HTX, sparking associations with FTX within the crypto community. CoinEX, another prominent exchange, has recently updated its reported damages to $70 million and is expected to resume withdrawals in the coming week.
In addition to these developments, rumors are circulating that North Korean hackers are behind recent hacking incidents.
Remitano Exchange, after suffering a hack resulting in a loss of $2.7 million, has temporarily suspended deposits and withdrawals. Tether has frozen $1.35 million of the stolen funds as a precautionary measure. Meanwhile, Bybit has denied rumors of leaving the UK in response to upcoming crypto regulations in the country.
Coinbase Cloud, the cloud service of Coinbase, has integrated the Kiln protocol to remove Ethereum staking limits. This move aims to enhance the user experience for Ethereum stakers. Additionally, Coinbase's CEO has revealed plans to invest in Flatcoin projects, which are stablecoins designed to track inflation.
Simultaneously, Coinbase has announced its integration with the Lightning Network. This integration allows for faster and more scalable transactions, opening up new possibilities for users.
Last week's highlights big news
In the world of cryptocurrency, there is always something new happening. Here are some of the latest updates from the market overview: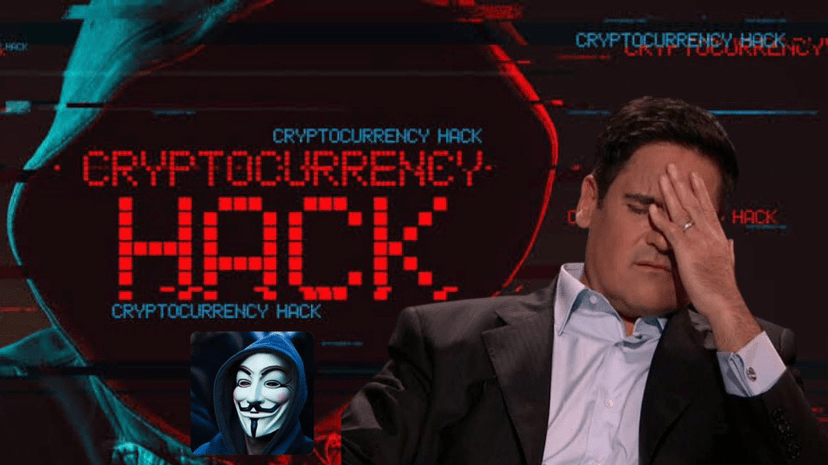 Mark Cuban, renowned entrepreneur and investor, recently experienced a substantial loss of $870K in cryptocurrency due to a hacking incident. This incident highlights the importance of robust security measures in safeguarding digital assets.
Gemini, a prominent cryptocurrency exchange, has expressed discontentment regarding the proposed plan to compensate only 70-90% of DCG's assets. This raises discussions surrounding fair compensation practices and the need for transparent solutions.
zkSync, a Layer-2 scaling solution, has taken steps towards decentralization by entrusting the management of their new HST (zkSync's native token) to DappRadar. This move aims to reduce dependency on Matter Labs and foster a more distributed network.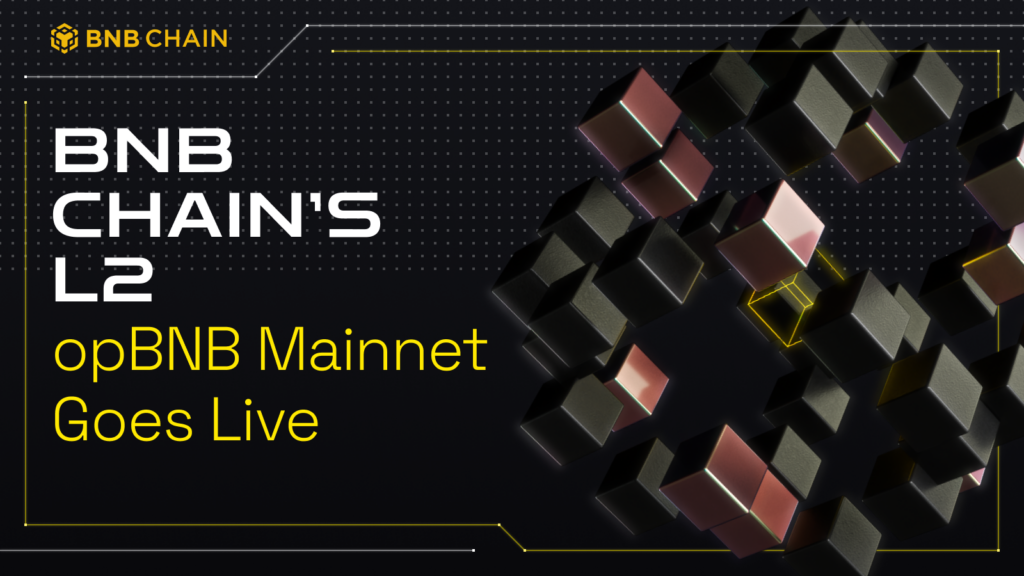 BNB Chain's Layer-2 solution, opBNB, has officially launched its mainnet, providing users with enhanced scalability and efficiency. This development paves the way for improved user experiences and increased adoption of the Binance ecosystem.
Movement Labs, a startup focused on blockchain development, has successfully raised $3.4M in a pre-seed round. This funding will be utilized to further develop the Move language, which holds great potential for applications within the Sui & Aptos ecosystems.
Layer N, a project dedicated to Layer-2 solutions on the Ethereum network, has recently raised $5M in a seed funding round. This investment will support the advancement of Layer-2 technologies, addressing scalability challenges and improving transaction speeds.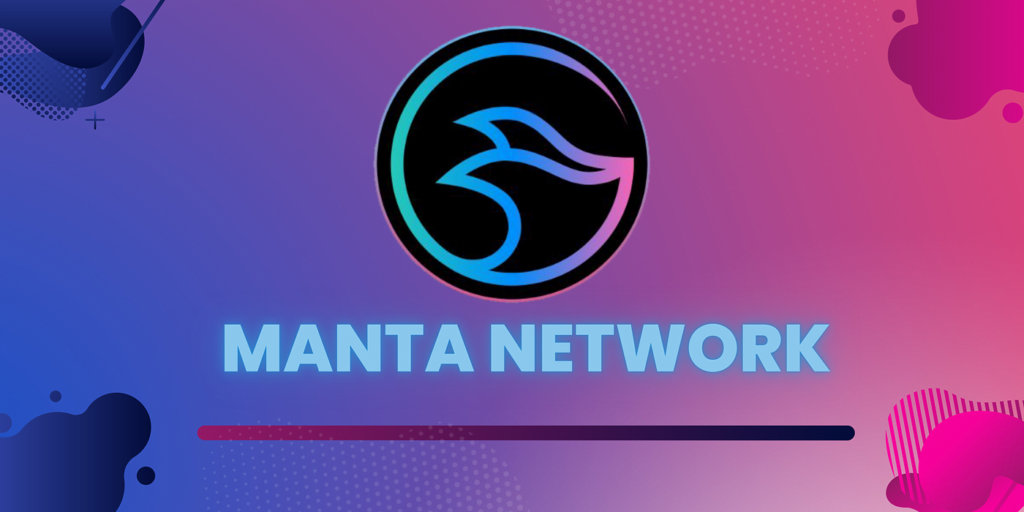 Manta Network has unveiled the mainnet for Manta Pacific, a Layer 2 solution designed for decentralized finance (DeFi) and GameFi applications. Built on ZK technology, this platform aims to enhance transaction privacy and scalability within these sectors.
MetaMask, a popular cryptocurrency wallet and gateway, has introduced the Snaps toolkit. This innovative tool aims to provide extended support for multiple blockchains, including Cosmos, Solana, and Starknet, simplifying the user experience across different networks.
PayPal, a leading online payment platform, has rolled out its cryptocurrency-to-USD conversion service in the United States. This development offers users greater flexibility and accessibility when managing their digital assets.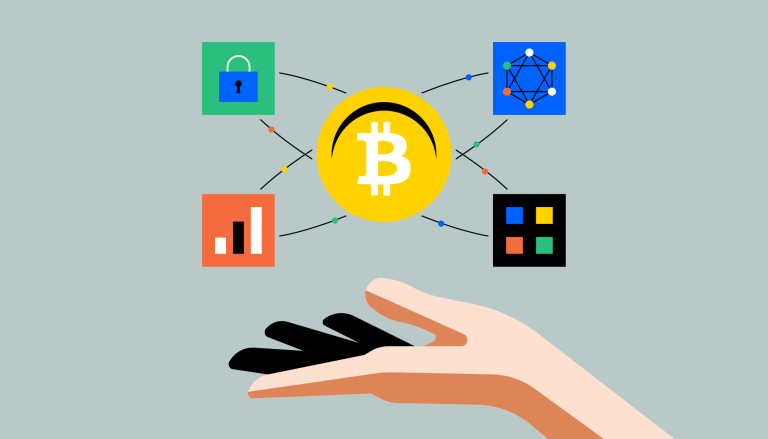 The cryptocurrency community has shown support for the "regulation-friendly" privacy mixing machine initiative known as Privacy Pools. Co-authored by Vitalik Buterin, this initiative aims to enhance user privacy while adhering to regulatory guidelines.
A hacker successfully compromised the Twitter account of Vitalik Buterin, the co-founder of Ethereum, and posted a scam link. Unfortunately, this resulted in a significant loss of $690K for unsuspecting users. This incident underlines the importance of caution and security awareness in the crypto space.
SEC is still reviewing BTC Spot ETF applications and ruling on the Grayscale case, according to SEC Chairman Gary Gensler. Franklin Templeton has filed for a BTC Spot ETF registration, while Nasdaq has submitted an application for the Hashdex Ethereum ETF. Approximately $50 billion worth of Bitcoin is held by ETFs, countries, public companies, and private individuals, highlighting its widespread adoption.
Macroeconomic
In the ever-evolving world of cryptocurrency, it is important to keep a close eye on the macroeconomic, political, and legal factors that can have a significant impact on the industry. Here are some recent developments worth noting:
Japan relaxes regulations for start-ups: Japan has made a significant move by allowing start-ups to raise funds through cryptocurrencies. This regulatory change opens up new opportunities for innovation and growth within the Japanese cryptocurrency market.
Economic indicators: Recent economic indicators have shown mixed results. Consumer Price Index (CPI) exceeded forecasts due to a 3.7% increase in oil prices, while Production Price Index (PPI) saw a 0.7% increase. Retail sales also experienced an unexpected recovery with a 0.6% increase. However, these positive trends have not altered the belief that the Federal Reserve will halt interest rate hikes in September.
US Congress debates CBDC: The US Congress is engaged in a heated debate surrounding Central Bank Digital Currencies (CBDCs). Concerns over privacy and supervision are at the forefront of these discussions, highlighting the importance of finding the right balance between innovation and regulation.
CFTC raises concerns: The Commodity Futures Trading Commission (CFTC) Director has expressed concerns about certain decentralized finance (DeFi) exchanges, specifically naming Opyn, 0x, and Deridex. This highlights the need for proper oversight and regulation within the DeFi space.
SEC cracks down on illegal NFT sales: The Securities and Exchange Commission (SEC) continues its efforts to enforce regulations within the cryptocurrency industry. Recently, the SEC filed a lawsuit against Stoner Cats for illegally selling non-fungible tokens (NFTs), generating significant revenue in 2021.
Partnerships and initiatives: Major financial institutions are partnering and launching initiatives related to cryptocurrencies. Deutsche Bank has partnered with Taurus for crypto custody services, Kbank has established a $100 million fund for investments, and Standard Chartered has launched crypto custody services in Singapore. These partnerships demonstrate the increasing acceptance and integration of cryptocurrencies into the traditional financial system.
Global cooperation: The G20, consisting of 19 member countries and the European Union, is actively promoting cryptocurrency frameworks. This collaborative effort aims to establish common regulations and standards across borders, fostering a more secure and inclusive cryptocurrency ecosystem.
This week's prediction
Notable events
Thursday, Sep 21:
Federal funds rate
FOMC Economic Projections
FOME statement
Friday, Sep 22:
Market overview forecast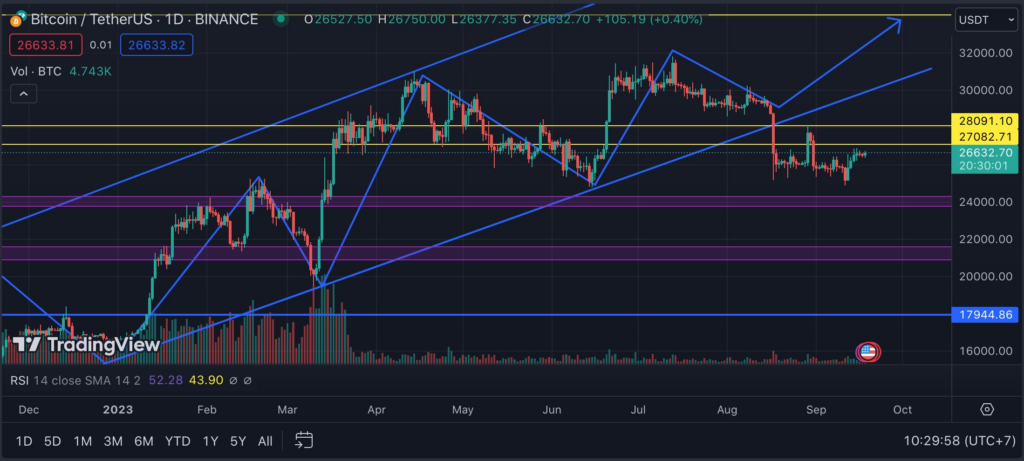 Standing at the TA perspective, BTC is currently in an accumulation phase, with prices ranging from $25K to $31K over a 150-day period. On the chart, BTC has broken the uptrend and seems to be testing the $28K price level again.
However, the DXY is at the 105 level, a strong resistance zone. In addition, the ECB's interest rate hike will make the common currency Euro more valuable, potentially weakening the DXY. This, in turn, supports the rise in asset prices, including BTC.
This week, there will be an important FOMC meeting by the Fed to announce the Fed fund rates. According to forecasts, the Fed is likely to keep interest rates unchanged. It will be an eventful week, but I still support the hypothesis that BTC prices will recover to the $27.5K – $28K range before experiencing a dump. DYOR.
DISCLAIMER: The information on this website is provided as general market commentary and does not constitute investment advice. We encourage you to DYOR before investing.