Knowledge
A Complete Overview of Cryptocurrency Cloud Mining Platform – TopHash
79 days ago - Around
6

mins
mins to read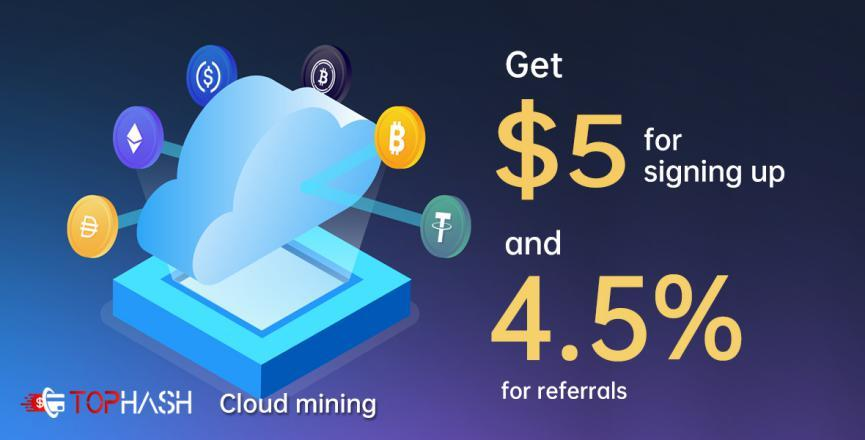 Cryptocurrency has ignited a revolution in the world of finance, offering a plethora of some exciting prospects for economic growth and investment. Among all the diverse opportunities it offers, one thing that stands out as a straightforward and convenient option for everyone is cloud mining. It is great for seasoned investors as well as for the beginners who want to step into the world of cryptocurrency. One of the top-most renowned marketplaces for hash power is TopHash. This platform is designed to bring cryptocurrency mining right at your fingertips.
Know About TopHash
TopHash is a cloud mining platform that aims to democratize cloud mining, striving for inclusivity. With extensive experience and the most advanced technologies for mining system operations, TopHash has established a worldwide benchmark for cloud mining. Now, we are here to delve into what this platform can bring to the table and how it can make your journey easier. Read on.
Four Effortless Steps To Cloud Mining With TopHash
When you start the journey of cloud mining with the help of TopHash, it is important to delve into each step with a thorough and deeper understanding. This can guarantee a fulfilling and seamless experience. These four simple steps can serve a smooth way into the world of mining cryptocurrency:
Step #1: Registration
This is the first step where you have to register on TopHash. Being a user-friendly platform, registering can be a seamless and swift job. It will take about a minute only to register successfully. You have to provide some of the essential information when creating your profile and securing the account. TopHash takes user security and privacy quite seriously. Thus, it ensures that all your confidential data is properly taken care of with utmost diligence. Once you complete the registration, you will gain full access to your personalized dashboard. You can browse through the plans, keep tabs on your investments, and monitor your earnings too.
Step #2: Choosing The Right Plan
Now that you have already registered, it is time to select the ideal plan for you. This is a crucial step to tailor your objectives of cloud mining. TopHash knows that every investor has some distinct goals and financial consideration. Therefore, we provide a wide range of plans to choose from for your specific requirements. But before you make the choice, you need to take a moment to assess your investment objective. Besides that, you also need to consider your risk tolerance as well as the time period that you are comfortable to commit. TopHash has different plans designed to aim your long-term investment plans as well as short-term profits. Each and every project comes with a particular contract term, price, and daily return. This will help you to make the right choice that will align perfectly with your financial objectives.
Step #3: Deposit your Funds
As soon as you have found the most suitable plan that aligns perfectly with your investment goals and strategies, you have to make the deposit to activate the chosen plan. TopHash has hassle-free and secure deposit options. So, you can easily and swiftly transfer the fund into your account with utmost security. You can enjoy financial security on this platform by using cold wallets to safeguard your funds. All these are combined with the strong security norms, like Cloudflare Secure Protection and McAfee Secure. When your deposit is successful, your journey towards cloud mining will commence with TopHash where your daily earnings will start to accumulate.
Step #4: Witness your Growing Profits
This is the most exciting part of cloud mining. You can watch your profits growing at this stage. As TopHash offers daily payouts, it processes the earnings every day. The return will be automatically transformed into your account and you can track the progress. This can help you in reinvesting the amount if you desire. The optimal mining performance of TopHash will be reflected in your earnings.
Choosing the TopHash Plan for You
TopHash has a plethora of plans to choose from. These are tailored to suit different investment preferences. Here are some of the top plans available:
This plan comes with a price of $50.00. The contract term is for 1 day and daily return is $1.00.
The cloud mining plan price is $200.00 with a contract term of 3 days and daily return is $3.60.
This cloud mining plan is priced at $600.00 with a contract term of 5 days and daily return is $11.70.
This cloud mining package is priced at $1,200 with a contract term of 7 days and daily return is $24.00.
This cloud mining package is priced at $3,600 with a contract term of 15 days and daily return is $79.20.
This cloud mining package is priced at $8,000 with a contract term of 18 days and daily return is $188.
This cloud mining package is priced at $ 15,800 with a contract term of 20 days and daily return is $410.80.
This cloud mining package is priced at $29,800 with a contract term of 25 days and daily return is $894.
Why to choose TopHash?
When you are making your way into the world of cryptocurrency cloud mining, you have to choose a platform that offers a user-friendly and secure experience, besides amazing returns. TopHash is one of the best choices in this ever-changing cryptocurrency landscape. Some of the main reasons to opt for TopHash are:
Advanced hardware for the best performance
This platform commits to deliver the best mining performance. With the help of the latest GPU rigs and ASIC miners, you can carry out the mining efficiently.
As TopHash simplified the entire cloud mining process, you can enjoy hassle-free mining along with automated earnings. You just have to follow the 4 easy steps mentioned above.
TopHash prioritizes your financial security. Hence, you can be at complete peace of mind knowing that the best security measures have been taken to secure your funds.
Seamless experience in mining
The best part of using TopHash is that it offers a seamless experience without any hassle. It offers the hash power that you will need for mining. It handles the process of mining allowing you to concentrate more on reaping the rewards.
Conclusion
In a world where cryptocurrency is slowly overtaking, you need to make sure that you have the right platform for mining. TopHash offers a dedicated platform for cloud mining. Regardless of your experience or knowledge in cryptocurrency, you can use this platform for cloud mining and earn amazing profits. So, what are you waiting for? Register today and start cryptocurrency cloud mining with none other than TopHash today!
DISCLAIMER: The information on this website is provided as general market commentary and does not constitute investment advice. We encourage you to do your own research before investing.