Market
Virtual currency market fell again, Bitcoin fell to $35,000, Solana fell another 17%
675 days ago - Around
3

mins
mins to read
Virtual currency market fell again, Bitcoin fell to $35,000, Solana fell another 17%
Bitcoin fell to $35,000 as the cryptocurrency market continued its sharp decline since late last week.
 January 24, the price of the largest digital currency fell almost 4% to 34,744 U.S. dollar. In the last 7 days, Bitcoin is down almost 20%.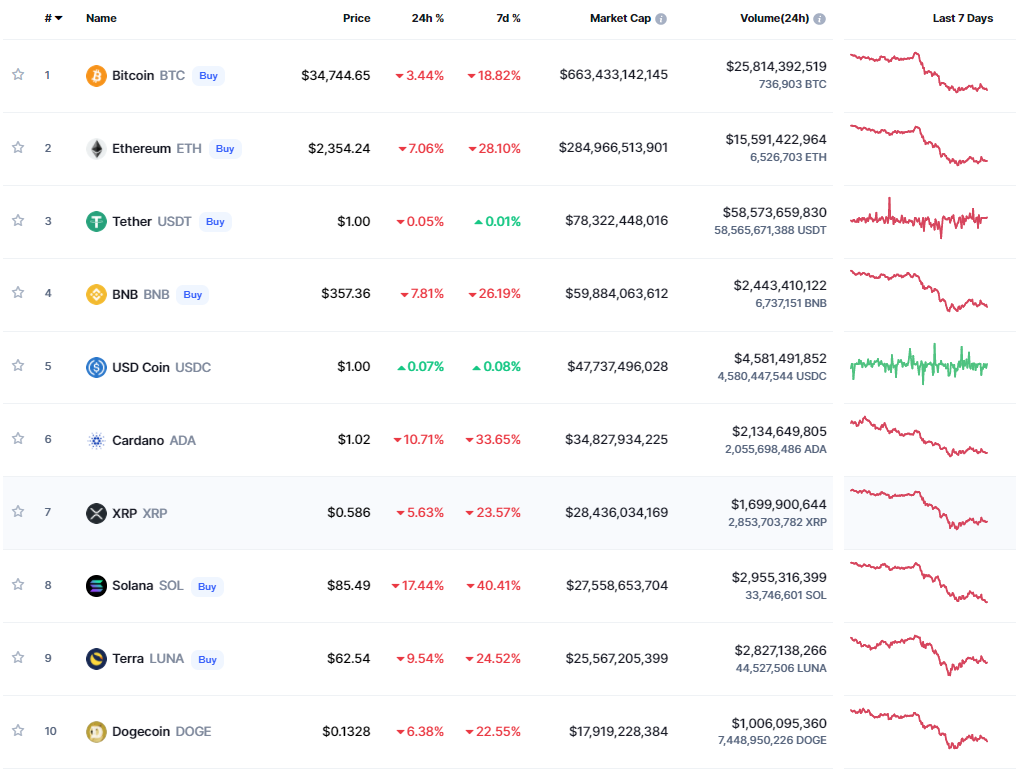 The red color spread to other cryptocurrencies as well, Cardano fell another 11%, Solana fell 17%, while Terra plunged 9.5%. Over a 7-day period, these digital currencies all fell more than 20%, with Solona in particular falling 40%.
The decline of the virtual currency market also occurred at the same time as the stock market. Edward Moya, Chief Financial Officer of London-based consulting firm Oanda, believes the cryptocurrency market has been hit hard by stock market selling pressures.
"Wall Street is no longer debating whether to switch from tech stocks to cyclical stocks (stocks that move with trends in the overall economy). Instead, the market was massively sold out," commented expert Moya.
According to him, Wall Street investors have two major concerns. "First, inflationary pressures are unlikely to abate anytime soon and it's possible that the US Federal Reserve (Fed) will become too aggressive in tightening monetary policy," Mr Moya said.
Another concern is that earnings growth expectations appear to have gotten too high, prompting a sell-off. "Geopolitical risks are also contributing to the selling pressure," Moya said.
"Bitcoin price plummeted as investors rushed to remove risky assets from their portfolios after stocks plummeted," the Oanda expert explained. Therefore, instead of seeing Bitcoin as "digital gold," traders view the coin as a risky asset.
"Crypto markets got a big shock this month," said Jonathan Padilla, co-founder of Snickerdoodle Labs. Even Bitcoin's notable supporters are beginning to worry.
Billionaire Mike Novogratz – famous cryptocurrency investor – admitted on Twitter: "This will be the time when people realize that the job of an investor is not easy."
But, in his opinion, if prices drop sharply, investors will look for ways to "buy the bottom." "They understand that crypto is not going away. So they need to buy it before the price goes up again," Novogratz added.
Now, some experts are starting to ponder a scenario where Bitcoin falls into the 30,000-32,000 price range U.S. dollar, can even drop to 20,000 U.S. dollar.
Hayden Hughes, Managing Director of Alpha Impact Company in Singapore, commented, "Liquidized margin positions add pressure as cryptocurrencies held as collateral have to be sold in order to sell collateral and pay margin loans."
Join CoinCu Telegram to keep track of news: https://t.me/coincunews