Crypto Recap
Near Weekly Recap| May 16th – 22nd, 2022
559 days ago - Around
6

mins
mins to read

This Near Weekly Recap is provided solely for informational purposes and does not constitute investment advice. Last week, there was not too much volatility in the market. BTC continues to move sideways in the $28K-$30K range. NEAR price is slightly down 10.2% from week 19. Although the market was very bearish during this period and discouraged many investors. But the developers on Near are still very active. Join Coincu to review some outstanding news on the Near ecosystem in week 20.
Network Growth
Daily Transactions
This week, the NEAR ecosystem has only 4,073,612 transactions, an average daily transaction of 581,944, down approximately 41.94% from last week, with the number of transactions in week 17 being 7,017,409 transactions. This is a significant drop. When the market is down, trading becomes less attractive.
Unique Addresses
The number of unique Near addresses continued to grow significantly this week. Specifically, there are now more than 11,767,196 unique addresses in the Near ecosystem. The number of new addresses created this week is 863,092, 35% less than the number of newly created addresses in week 19.
Active Addresses
There were 43,200 active addresses this week, a significant 17.4% decrease in the number of active wallets compared to last week. On average, there are 6,175 addresses with transaction activity in the Near ecosystem every day. However, unique addresses have increased sharply over the past several weeks. But the number of active addresses is smaller. We can conclude that many new users are coming to the Near ecosystem, but because the market is so bleak, they are not active yet. If the market recovers. Near likely the fastest-growing ecosystem.
Total Value Locked
The Total Value Locked down dropped to $895.83 million, a decrease of about 5.55%. Last week's TVL drop came from the main TVL drop on AURORA; TVL on AURORA fell 13.44% from last week to $420.48 million. TVL on Near only increased slightly by 1.66% compared to week 19.
Highlight Events
Aurora plus – open and free blockchain for everyone
Aurora announces Aurora+, a unique new platform that offers users free blockchain transactions, the ability to stake AURORA tokens, receive airdrops, NFT Aurobot and much more.
Blockchain is one of the revolutionary technologies among all the new technologies; this development gives rise to Web 3.0. We are in the early days of blockchain with numerous challenges both on the technical and user sides. The big Web2.0 companies like Google and Facebook have brought widespread adoption with ease of use to web2 now, capturing that, Aurora Labs sees a clear opportunity now to create a bridge. between the creative world of Web 3.0 and the convenience and familiarity of Web 2.0.
Transak Announces Official Strategic Partnership with NEAR
Transak, a single integration for Web3 applications to accept fiat-to-crypto deposits from a global user base, announced a strategic partnership with NEAR Protocol (NEAR)- a sharded, proof-of-stake, layer-1 blockchain that is simple to use, secure and scalable. This partnership will be built upon the common goal of onboarding the next billion users to Web3.
More information: Click here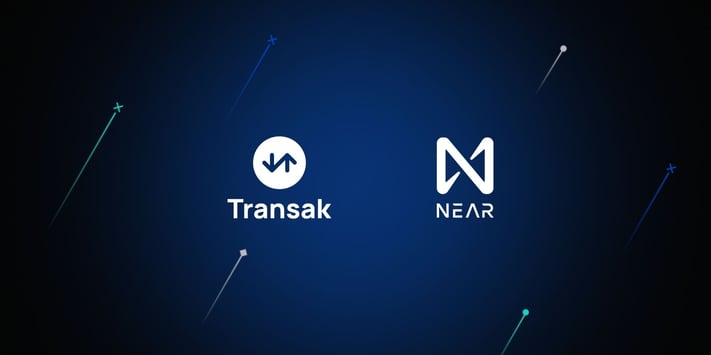 An Open Invitation to the Terra Community of Near Protocol
NEAR Foundation is creating a stable environment for developers, founders and community members to help realize your own vision of the Open Web world.
In this primordial chaos, many projects built on Terra are now facing a highly uncertain future.
The NEAR Foundation would like to invite all builders currently building on Terra to join the NEAR community and make NEAR's vibrant ecosystem their new home!
As part of this invitation, the Foundation has put together a sizable relief fund for projects from the Terra ecosystem to make the transition, with enough resources to get you started with learning materials. , construction, support, development fund…
More information: Click here
Huobi Holds JUMBO Trading Competition With Prizes Up To $40,000
After JUMBO is listed on Huobi exchange. Huobi held a trading camppain to increase trading volume for Jumbo. The contest will start at 12:00 (UTC) on May 16 – 12:00 (UTC) on May 23, 2022.
More information: Click here
Aurora+ Partners with Jumbo
Aurora announced a partnership with Jumbo to integrate the DEX Jumbo Exchange in the future, and on the occasion of this event, the Jumbo/Aurora liquidity pair was boosted APY up to 500%
More information: Click here
Bridging USN to Solana with Mercurial Finance
The famous bridge AllBridge.io has supported the transfer of USN from NEAR to Solana, Solana users will gain access to USN via the new Mercurial 4Pool. The USN 4Pool will consist of Allbridge-wrapped stablecoins – USN, Fantom USDC, and cUSD, paired with Solana-native USDC. This integration offers more opportunities to allow chain transfers between the two blockchains, thereby increasing the liquidity of both networks and the usecase for USN!
More information: Click here
Spotlight Projects
Top 10 Losers of Near Ecosystem
Jubi will Launch JUMBO One-click Mining
Jubi Finance sector will launch One-click Mining for JUMBO starting from May 16th. Users will be able to use assets such as USDT,USDC,DAI,NEAR,JUMBO for mining JUMBO and enjoy up to 15%+ APY. Users will need to deposit assets of USDT,USDC,DAI,NEAR,JUMBO in order to min JUMBO. Minimum amounts are 200USDT, 200USDC, 200DAI, 100NEAR, 100JUMBO.
More information: Click here
JUMBO with Huobi Earn and get to 500% APY
Huobi Global was launching deposit events for JUMBO with high-yield interest! Launch Time: 08:00 (UTC) on May 16, 2022 and End Time: 08:00 (UTC) on May 23, 2022
More information: Click here
Trisolaris partners with Rose, LiNEAR and Shitzu community to bring a new batch of farms
4 new farms will be launched, of which 3 will be double rewards farms:
ROSE <> NEAR ( ROSE & TRI rewards )
RUSD <> NEAR ( ROSE & TRI rewards )
LiNEAR <> NEAR ( LiNEAR & TRI rewards )
SHITZU <> USDC ( TRI rewards only )
~1% of total TRI emission will be allocated to these pools, on top of 62.5K ROSE and 210 LiNEAR per week, over a 3-month period.
More information: Click here
Find more information about NEAR
Website: https://near.org/
Whitepaper: https://near.org/papers/the-official-near-white-paper/
Twitter: https://twitter.com/NEARProtocol
Telegram: https://t.me/cryptonear
If you have any questions, comments, suggestions, or ideas about the project, please email [email protected].
DISCLAIMER: The Information on this website is provided as general market commentary and does not constitute investment advice. We encourage you to do your own research before investing.
Ken. N
Coincu Ventures