What is Aragon (ANT)?
Aragon (ANT) is an open source, non-profit blockchain protocol built on top of the Ethereum network. This protocol is designed to simplify the creation and management of dApps, blockchain protocols, and DAOs. Aragon's goal is to find ways to promote the adoption of blockchain technology in enterprise operations by using several modules with common business functions.
The project was founded in November 2016, led by Luis Cuende and Jorge Izquierdo. Aragon has enjoyed a lot of success since its launch. The project already owns more than 900 million values stored on 1,700 DAOs.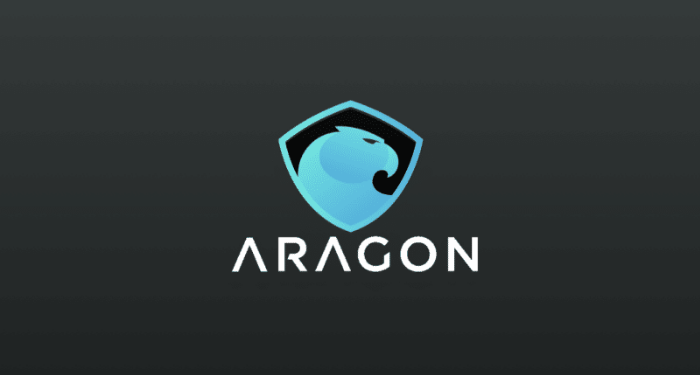 What problems can Aragon solve?
Aragon tries to address one of the biggest barriers to enterprise blockchain adoption, which is the lack of experts who understand the technology in depth along with expensive fees. Aragon wants to reduce costs and improve overall efficiency through programmable DAO systems.
Basically, Aragon is applied to:
Issuance of shares
Set up the DAO system
Set roles and permissions of members in the system
Vote through certain rules
Maintain accounting records of company shares
Key Components in the Aragon Platform
Aragon combines many unique concepts and features to realize its goals. All DAOs come pre-installed with the most important components a business needs. Here are the components in the structure of the Aragon platform
Aragon Client
Aragon Client is a place for users to create customizable DAO features. The client is designed to provide a transparent Smart Contract framework that is easy to navigate and requires no prior knowledge of blockchain technology.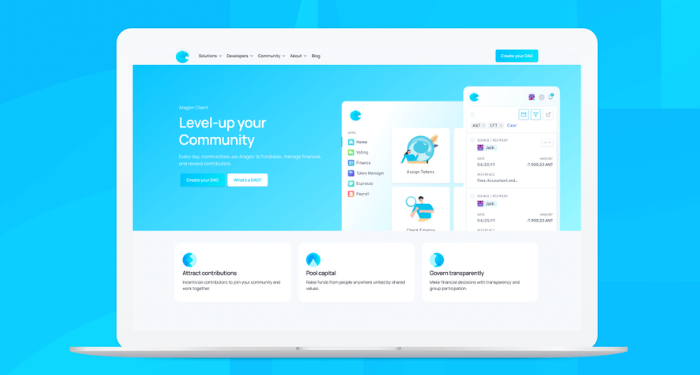 AragonOS
AragonOS is a platform for users to set up their token sale. Here you can decide on all the most important details of your fundraising event. Features like time frames and ways to incentivize contributors are available for you to set up.
Aragon Network
Aragon Network is an interactive network between DAOs. This system allows multiple businesses to conduct business with each other in a decentralized manner on the Ethereum blockchain.
Aragon Foundation
The Aragon Foundation is a non-profit organization whose mission is to advance the community of Aragon. The organization will find businesses interested in the project and help advance their goals.
Highlights of the Aragon project
Security
The Aragon network is based on the Ethereum blockchain and is open source to ensure that all operations on the platform remain secure. Aragon has undergone extensive testing from the Ethereum community.
Simplicity
Aragon can make DAO programming simpler for those new to blockchain technology. This network will eliminate the need for businesses to hire blockchain experts as all the most important features and functions are available as modules and up to quality standards.
Customization
In addition to the default modules available, businesses can also customize each feature to increase the efficiency of the DAO. These changes will be made through the interface. Or if the business can potentially make changes directly in the open source code. In this way, Aragon perfectly meets the needs of almost any type of organization.
Global scope
Another big advantage that Aragon users enjoy is access to the global network. The platform encourages businesses to partner with other organizations from different regions of the world. They can exchange ideas with each other and help streamline the onboarding process for new users.
Jurisdiction
Aragon introduces a digital jurisdiction called Aragon Court. This system will enforce digital contracts between organizations. Aragon developed Aragon Court to ensure there is a dispute resolution mechanism outside of pre-programmed modules.
Transparent
Aragon users enjoy complete transparency when participating in using the network. They can easily track how all DAOs. This way, all users can confidently share the benefits of the network.
Roadmap
Aragon's development roadmap is divided into 5 phases.
Stage 1: Pose the problem
Recommended by the community of ANT token holders
Defined by the core team based on research, discovery, and user feedback.
Stage 2: Ideas, solutions
This stage where problems are broken down into one or more solutions.
Phase 3: Getting started
This phase includes solutions that have been prioritized by the Aragon team (or community).
Stage 4: Continue to implement the solution
This phase includes more detailed phases such as testing and iteration.
Stage 5: Completion
Issues and solutions have been delivered.
The specific work in each phase has not yet been announced in detail.
Read full article: Click here