According to a Harvard study, every $1 of cryptocurrency value created is responsible for $0.66 in health and climate damages. If this issue continues, the DeFi community will fail to address the sustainability issues.
Brokoli network aims to provide a solution for it. Let's talk about it.
Project Concept

–

What is Brokoli Network?
Simply put, Brokoli aims itself as the optimal sustainability layer of multi-chain DeFi. It merges DeFi and GameFi, incentivizing users to make, own, and trade their positive impact. The project consists of three parts interconnected to one another:
Core protocol:
Generally, it is the environmentally friendly gateway into the most popular DEXs and dApps.
API:
Any blockchain platform (centralized or decentralized) can implement the API so users can opt-in to a small climate fee that offsets their transaction's footprint.
Digital Forest / Impact Credits:
Users receive NFTs based on trees they funded. Digital NFT forests will be tradable as Brokoli Impact Credits. These are corporate social responsibility standards pegged to real forests and purchased by corporate partners.
Outstanding features/Technologies
What is unique selling point?
Brokoli is the world's first climate-positive DEX with dApps support
Through Brokoli's DEX, users can enable carbon offsets as a part of every trade. All of this in a seamless manner without disrupting the user experience. The DEX builds upon the capital-efficient model of trading created by Uniswap v3. Here, slippage fees are used for climate positive action. This includes renewable energy project finance, planting trees, waste collection, and recycling.
Furthermore, They leverage the existing technical infrastructure, becoming a green gateway to other DEXs. In this case, the liquidity provider is in control of the price ranges in which their funds are used. Users can choose the fee range which is between 0.05% to 10% of the transaction to dedicate for a climate positive change.
If the fee for the transaction isn't used to offset the price moments, then the fee is used in offsetting carbon footprint in a decentralized vote. Therefore, each trade can have a climate fee attached to it seamlessly without interrupting the liquidity providers' experience.
Play-to-Earn NFTs for Planting Trees
Brokoli Network has also incorporated elements of Play-to-Earn through issues of digital trees as NFTs. Through this, users can own their impact. Digital Forests also function as tradable assets. This means that users can buy & sell impact peer-to-peer. They can also buy and sell these digital assets to third parties (companies, charities, NGOs, influencers).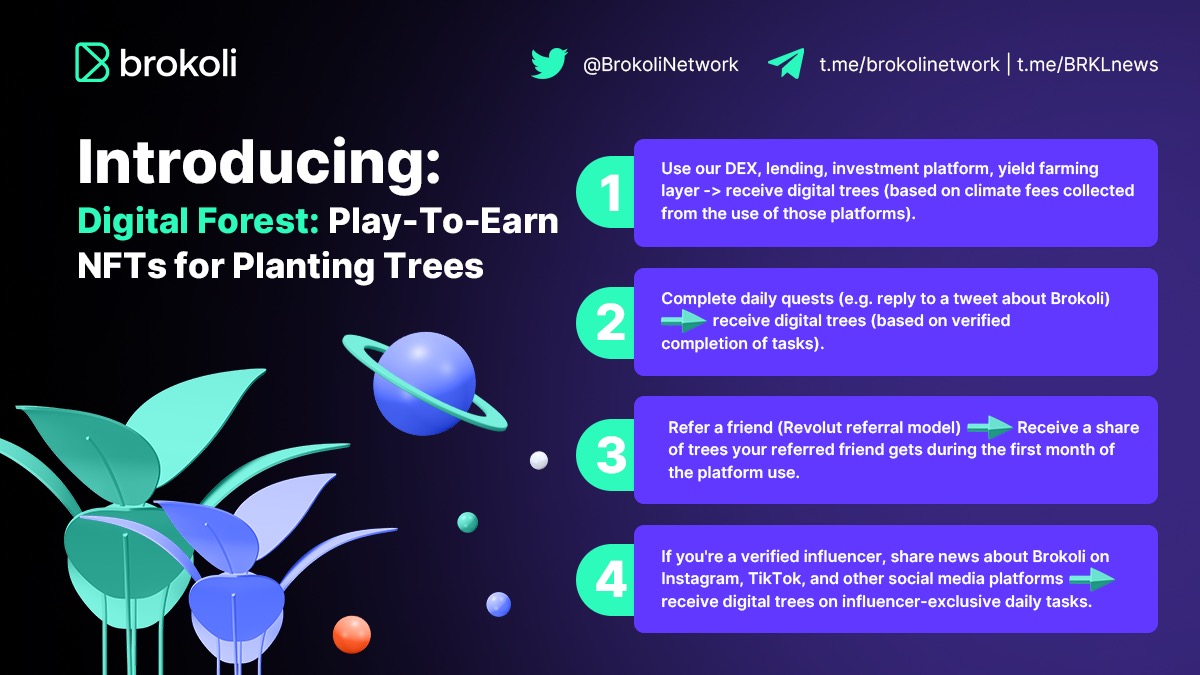 Front-end dApps integration and API
Brokoli will build personalized embedded solutions that enable climate action in every DeFi transaction. In practice, any DeFi / blockchain platform will be able to implement Brokoli's integration into their website. The integration will automatically calculate the carbon footprint based on the transaction and offer to offset your carbon footprint. With one 1-click, a user on any digital asset marketplace, exchange, or wallet will be able to make their transfer climate positive.
Featured products:
Read Full Article: CLICK HERE