What is Conflux (CFX)?
Conflux (CFX) is an open protocol for building dApps, finance, e-commerce, and Web 3.0. This is a public blockchain with the advantages of being fast and secure. Conflux combines the Proof of Work algorithm and the Tree-Graph structure to power a new generation of decentralized commerce.
Built from top brains from Tsinghua University and the University of Toronto, Conflux is overseen by a diverse global team with a mission to foster cross-border collaboration not only in Asia but also in North America. , Latin America, Europe...
How was Conflux founded?
Conflux originated in the research lab of Dr. Andrew Yao, recipient of the Turing Prize at Tsinghua University.
In the past, China was biased towards most blockchain areas. The country banned all ICOs in 2017 as well as banning domestic financial institutions from offering cryptocurrency services. However, there are still some blockchain sectors the country supports, such as DeFi pioneered by the Conflux (CFX) project.
In 2018, the Conflux fund was established and completed a funding round to build an open application platform based on the Tree-Graph architecture. The foundation aims to promote blockchain education and research through the Tree-Graph Research Institute. In addition, Conflux has cooperated with Shanghai government and Hunan government on blockchain infrastructure & applications.
What problems does Conflux solve?
With a unique technical infrastructure, Conflux was born to solve some of the biggest problems faced by both crypto users and dApp developers.
Interoperability between multiple networks
The DeFi sector is expanding rapidly. However, this expansion is happening in all directions across multiple blockchains. This mayhem has caused investors to pay higher fees to switch assets across different networks.
Conflux provides multi-chain interoperability. Users can convert assets on Ethereum, Binance Smart Chain, Huobi ECO Chain or OKEx Chain using the network's Shuttleflow service.
Compliance
Another issue that Conflux (CFX) helps alleviate is compliance for dApp developers. Conflux introduces a network and tools for developers who want to build DeFi applications. The project maintains a close and constructive relationship with the relevant regulatory authorities.
Lack of liquidity
The multi-chain approach introduced by Conflux also helps to solve the liquidity problems associated with sharding. Developers can now create multi-chain dApps to better serve the needs of the investor community. In this way, Conflux helps to link traders and the market in new and more exciting ways.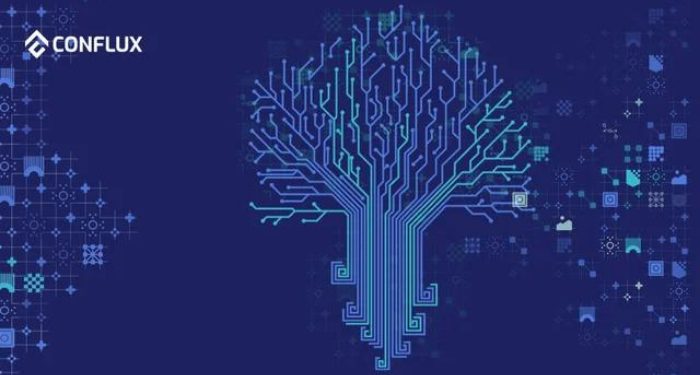 Features of Conflux
ShuttleFlow
Shuttleflow is one of the key features of Conflux. Shuttleflow acts as a Cross-chain asset protocol. That is what allows Conflux to exchange data and content across different blockchains.
Conflux Network Consensus
Conflux integrates an upgraded version of the Proof of Work consensus mechanism (called Tree-Graph). This protocol improves on previous PoW problems in many ways. Specifically, Tree-Graph can process transactions in parallel using the Directed Acyclic Graph (DAG) structure.
Staking Contract
Conflux is one of the few PoW blockchains that offers staking features to its users. Users can lock their tokens to earn rewards on the network. In addition, CFX is used to gain access to the community governance protocol.
Conflux Foundation
The Conflux Foundation is responsible for encouraging and promoting the further development of the Conflux ecosystem. This nonprofit provides capital in the form of grants to projects that have the potential to improve the network. In addition, the Conflux Foundation considers community input.
Bonded Storage
This is part of the developer toolkit. Programmers must deposit CFX tokens to create their bonded storage or dApp. Tokens are locked into Smart Contract to check interest.
DAO
The project intends to launch the system in the coming years. DAO has the task of replacing the usual business activities of an enterprise with Smart Contracts.
Roadmap
Updating...
Read Full Article: Click here