What is Divi (DIVI)?
Divi (DIVI) is a blockchain platform designed to accelerate the adoption of cryptocurrencies. This platform allows users to access a set of financial tools such as Wallet, DEX, etc. Users can store, track and manage crypto assets right on the Divi platform.
With the slogan "Crypto made easy", Divi makes the use of cryptocurrencies simpler as well as makes the crypto field more user-friendly and accessible to everyday users.
Divi is a Proof of Stake (PoS) blockchain that relies on Masternodes to secure the network. The operation of the platform is mainly based on a native token called DIVI. Users can Stake this token on the network in exchange for rewards or use it as in-network currency.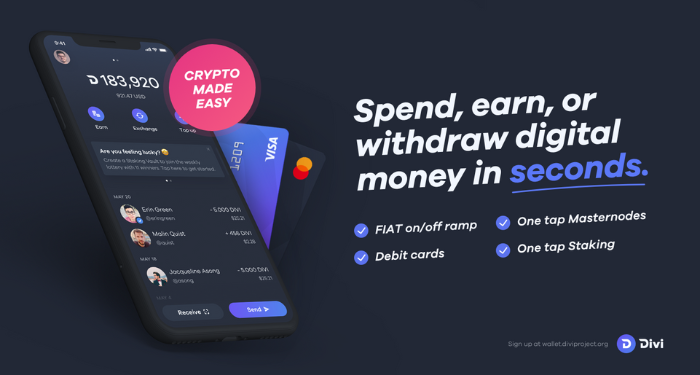 The goal of the Divi project
While cryptocurrencies are growing in popularity, to be truly accepted, they need to provide everyday usability, where users can use cryptocurrencies to pay in lieu of cash, credit cards, and more. use or any other means.
Divi provides a user-friendly platform to overcome these pain points. The combination of fiat and cryptocurrencies allows users to set up bank accounts, debit cards and other financial instruments to make everyday payments possible. Divi is a vast blockchain ecosystem with a set of innovative services that accomplish the following goals:
Provide a self-sustaining payment solution that is completely decentralized and easily accessible to many people.
Enabling a wide range of products/services to bring cryptocurrency to consumers. For example, Divi Wallet will help store and manage crypto assets
Provides a decentralized alternative to banks for better social and economic incentives, while allowing users to control their assets with low transaction fees.
Improve scalability, simplicity, cost-effectiveness, and speed solutions by addressing the challenges of many of the cryptocurrencies currently on the market.
Participate in validating transactions and earn rewards through the custom one-click Masternode mechanism.
Roadmap
Updating....
Read Full Article: Click Here