What is DUSK Network (DUSK)?
DUSK Network (DUSK) is a privacy blockchain used primarily to build digital financial applications with the aim of making transactions automated, while maintaining privacy and auditability. of each user.
This network combines a custom built consensus mechanism and cryptography to provide the highest level of security. The goal of DUSK Network is to digitize financial markets and create a platform that eliminates the middlemen in traditional models.
Dusk Network promises to become a blockchain protocol for easy deployment of Zero-Knowledge dApps and become the backbone of the global dApp ecosystem.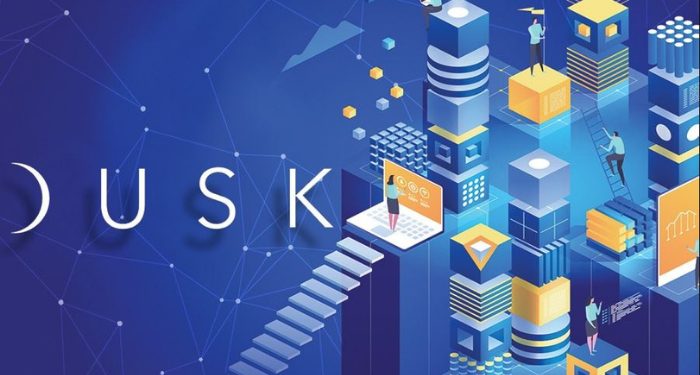 The difference of Dusk Network
Dusk Network was created to apply to 3 main use cases: payments, digital asset transfer and P2P transactions.
One of the main tasks of this network is:
Ensure the operability and continuity of cryptocurrency transactions.
Stable data transfer in offline file transfer system.
The developers on Dusk Network can implement a system that allows the user to remain anonymous when transferring files, but at the same time that person has to go through the registration procedure in the system and take full responsibility for the contents of the files.To protect privacy, Dusk Network will provide anonymous addresses, anonymous transactions and specific encryption of IP addresses.
The benefits of Dusk Network
Fast speed: No need to wait for block confirmation, transactions will be done quickly, taking only a few seconds to complete and reaching the final result immediately.
Privacy: Zero Knowledge Cryptography technology will make privacy programmable, even on a public blockchain.
Scalable: The Proof of Blind Bid consensus algorithm is designed for high throughput, supporting the needs of businesses of all sizes.
Secure: Dusk provides dApp developers with a reliable and secure network.
Substitutability: Voting power keeps changing randomly among all validators (validators) in the Dusk network, so anyone has a chance to become a consensus participant.
Decentralization: Preventing resource centralization from Staking Pools will encourage new players to join the consensus.
The main components of the Dusk network
Virtual Machine – Rusk
Rusk allows developers to program Smart Contracts, power dApps, and set parameters for compliance and easy control.
This virtual machine system is completely based on Zero Knowledge Cryptography and is also the world's first Zero Knowledge - Virtual Machine (ZK-VM) application.
Zero Knowledge – PLONK
With Zero Knowledge – PLONK, businesses can transact safely and with strict confidentiality.
Fast Immutable Data – Kelvin
Dusk Network uses Kelvin to speed up storage of immutable data. Kelvin is an exceptionally fast and unique Merkle Tree toolkit for optimized data structure modeling.
Proof of Blind Bid
Dusk Network works on the Proof of Blind Bid consensus mechanism. This algorithm is an upgraded version of Proof of Stake that can provide maximum network security due to dual node structure: Block Generators and Provisioners (Block Generators and Providers).
Token DUSK
Businesses will use DUSK tokens to pay for network services, such as deploying and running Smart Contracts, and transferring security tokens based on DUSK or XSC.
For each transaction sent to the network, DUSK is used to reward network nodes for bandwidth, verification, and storage.
Roadmap
For more detailed information about the roadmap, please visit this link.
Read full article: Click here