What is Nexus Mutual (NXM)?
Nexus Mutual (NXM) is known as a decentralized insurance solution, developed on the Ethereum blockchain. The Nexus Mutual project uses Blockchain technology on Ethereum to create risk-sharing pools, handing back insurance holdings to all participants. Participants are all members of Nexus Mutual and can purchase insurance to protect against Smart Contract code attacks.
The Nexus Mutual project aims to disrupt the traditional insurance model and improve the incentives of stakeholders to proactively assess risk while collectivizing finance. Nexus Mutual is one of the few companies committed to transforming the insurance and optimization industry into completely decentralized.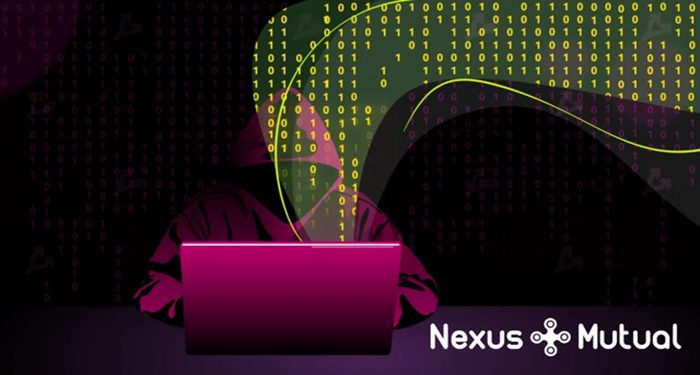 The Purpose of Nexus Mutual
With the aim of replacing the idea of ​​traditional insurance companies, Nexus Mutual builds a model that encourages users to participate in risk assessment, claims and network governance. The process of participating in Nexus Mutual, users will receive commensurate benefits and rewards.
For traditional insurance platforms, the provider is only interested in profit-making motives. If there is no profit, the insurance company will probably go out of business. As a result, the need to generate profits often supersedes the needs of policy holders. Nexus Mutual wants to use Blockchain to change the focus for profit and optimize insurance to become necessary, better for everyone.
Initially, Nexus Mutual only launched a single product, Smart Contract insurance. The role of this product is to provide the Ethereum community with protection against hacks in store of value applications (also known as Smart Contracts). In the future, Nexus Mutual intends to scale, providing coverage for crypto wallet platforms as well as more standard products, such as earthquake hedging.
How does Nexus Mutual work?
Basically, Nexus Mutual allows community members to buy Covers against Smart Contract risks. This is considered an attractive proposition, but to do so, you need to visit the Nexus Mutual web and click Buy Cover. The user decides which specific transaction you want to cover, including all major DeFi protocols.
Once you've done this step, you continue to select the desired coverage and duration. At this point, if you have not become a member of the platform, you will be asked to join the support. Before becoming a member of Nexus Mutual, you need to pay 0.002ETH and complete standard KYC/AML processes.
Each member of Nexus Mutual will own the network's NXM coins. All members will be responsible for adjudicating proposals, complaints, governance and risk assessment. The member's risk assessment related to each Smart Contract. In each mining case, members will participate in a vote to decide if the requests to change the Nexus Mutual are legitimate.
In addition, NXM holders can stake tokens by a certain number of Smart Contracts, proportional to the safety of the members. The more NXM coin staking, the cheaper the user can buy insurance.
For example: When Staking NXM coin in a high-risk Smart Contract, you may lose part of that stake if that Contract is hacked and claimed.
Upon request, NXM coin holders will be asked to vote on whether the claim (hacking Smart Contract) warrants legitimacy. Voting for more consensus will bring users more NXM coins. While they don't vote against the consensus, the voter's token will be locked for a period of time. Any user attempting to make requests that are not intended to breach coverage may have tokens destroyed.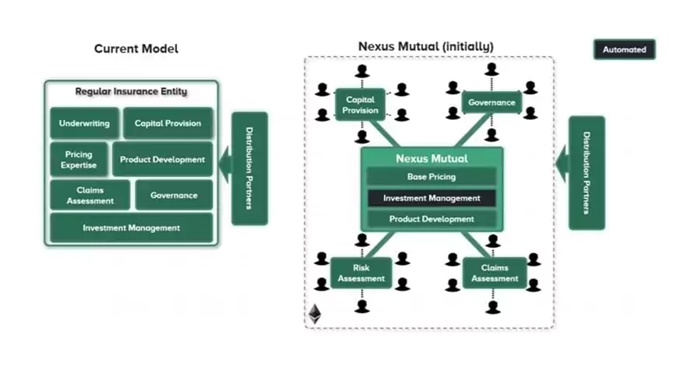 Nexus Mutual insurance model
It can be said, Nexus Mutual replaces the idea of ​​a traditional insurance company. The project is fully owned by the members without being held by any centralized organization. Nexus Mutual is reciprocal and each member can have tokens representing membership.
Nexus Mutual's operating model drives user engagement. Because, members participating in the network will receive Economic Incentives when assessing risks, claims and governance.
Nexus Mutual's pricing process simplified. Because, members of the fund do not have to prove that they experienced any material loss when submitting a claim. Where there is a proposed claim, the remaining members of the fund will be able to participate in the vote, expressing a decision to accept or reject the claim.
Roadmap
Updating...
Read Full Article: Click Here