What is renBTC (RENBTC)?
renBTC is a token built to Ethereum's ERC-20 standard. Similar to wBTC, renBTC will be pegged to Bitcoin at a ratio of 1:1, meaning that 1 renBTC can be exchanged for 1 Bitcoin and vice versa.
renBTC is issued on the Ren platform through the RenVM virtual machine. This is an open protocol that provides users with access to the liquidity of blockchains, dApps, and helps to transfer assets from other networks to Ethereum.
While not the only project bringing Bitcoin to Ethereum, renBTC operates on a highly flexible structure. It is this that has made renBTC highly appreciated by the community.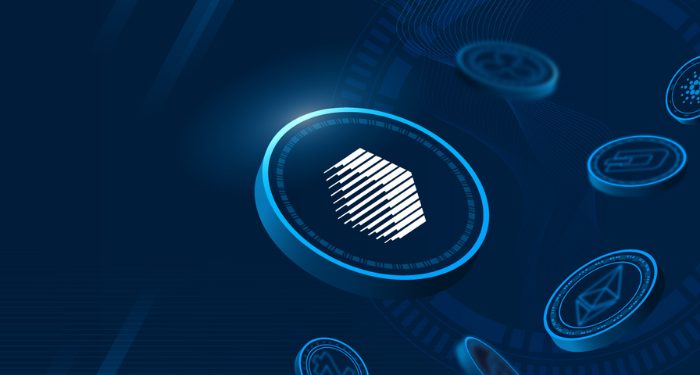 About RenVM
Ren Protocol (formerly Republic Protocol) is a protocol with the function of providing cryptographic interoperability mechanisms between different blockchains and DeFi ecosystems with Ethereum. RenVM is the virtual machine that underpins the operation of the Ren protocol.
Through RenVM, users can lock cryptocurrencies like Bitcoin, Bitcoin Cash and Zcash into the Ren protocol to mint ERC-20 tokens (renBTC, renBCH and renZEC) at a 1:1 ratio on Ethereum. .
These ERC-20 tokens can be used in DeFi services such as: trading, portfolio management, borrowing and lending. The assets will initially be locked in the Ren protocol and can be unlocked at any time.
How renBTC works
The operation of renBTC is based on Cross-chain between the Bitcoin and Ethereum blockchains. Users can generate renBTC by sending BTC to RenVM's address on the Bitcoin blockchain. The user's BTC will be locked in that address and the renBTC token will be transferred to a designated wallet on the Ethereum network.
This process takes place on Smart Contract through RenVM engine, so it is completely decentralized and without intermediaries. As follows:
To generate renBTC, users need to send their BTC to the RenVM platform. At that time, RenVM will begin the process of generating renBTC by providing the user with a Minting Signature. The signature serves to allow users to receive an ERC-20 amount of renBTC on the Ethereum network and has a value similar to Bitcoin. With renBTC, users can participate in Ethereum's DeFi ecosystem simply.
What's really interesting about this model is that the process not only works with Ethereum but also with other blockchains like Polkadot, Bitcoin Cash, ZCash. Therefore, you can also convert BTC, BCH or ZEC to other tokens in a similar way using RenVM. For example, you can send your BCH and receive renBCH.
Converting renBTC to BTC is just as simple. At that time, the amount of renBTC you are holding will be burned and the BTC balance held by the system is released.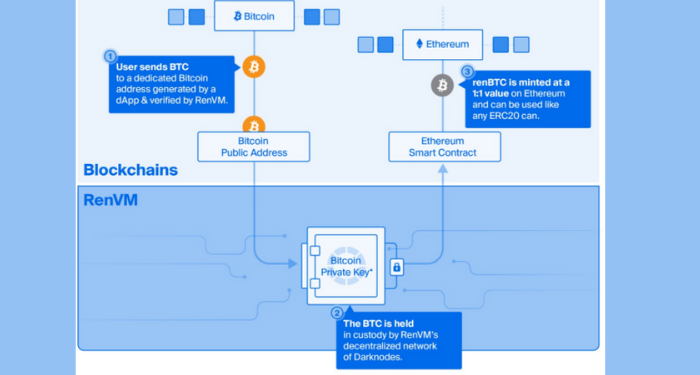 What problem can renBTC solve?
In the age of Smart Contracts, DeFi, NFT, Metaverse and other exploding trends, Bitcoin is slowly becoming "useless". The coin's blockchain does not support Smart Contracts, so users cannot be used for Staking or other DeFi activities. Furthermore, no blockchain product can be developed on the Bitcoin network.
RenBTC's Solution
Making Bitcoin Interoperable
Currently, there are many projects that are cross-chain interoperable, can reach different networks and are laying the foundation for Web 3.0. However, Bitcoin, in its original form is not among them. This coin can't do much but be used for investment, trading and payment. With renBTC, Bitcoin can finally break out of its own world and evolve into other networks with many interoperable services.
Use the "latch" provided directly
renBTC is not a synthetic token and does not rely on a liquidation mechanism to secure the value of Bitcoin. Instead, the token uses a "peg" of direct supply, which means there is always enough Bitcoin in the project's reserves to meet the renBTC supply.
Read full article: Click here