What is Request (REQ)?
Request (REQ) is known as a decentralized network that allows secure payments between the requestor and the payer. Accordingly, the information will be stored in the Blockchain to implement decentralized authentication. This has made it easier, faster and more secure to optimize payments on Request, allowing for more automation.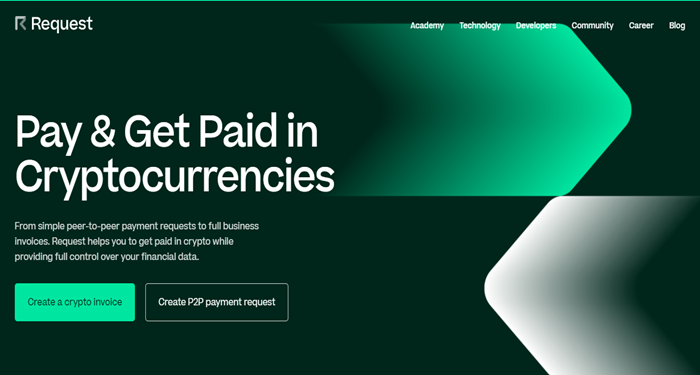 How Request works
In the Request Network ecosystem, any user has the ability to create a payment request on the Request ledger. At the same time, the Request can be discovered through people who are following the network through e-wallets or financial applications in the market.
Therefore, if the request is approved by the user, the Request can be paid immediately with just one click. Immediately after, the user's request is completed and fully updated on the Request network.
Example: A asks B to make a payment by creating an invoice and sending it to the Blockchain. Then, B's wallet will display the request and process that payment for A.
Highlights of Request
With the above operating mechanism, Request always ensures to provide users with a payment service with high security, cost savings and easy access.
High security
Users are not required to provide bank information still can perform transactions on Request. At the same time, the payment information on the Request will never be shared, limiting risk situations such as being blocked, reusing bank account information.
Cost savings
The transaction process does not require or must go through a 3rd party. Therefore, the user only needs to send a request and wait for the Request to complete the transaction.
Compared to other forms of transactions, Request does not require the presence of 3rd parties such as Bitpay, Stripe, PayPal. The whole transaction is charged from 1% - 7% of the deposit. Therefore, transactions on Request help you reduce costs extremely effectively.
Simple
The design of Request is quite simple, users only need a few clicks to make transactions on the platform. In particular, Request very rarely has any manual input errors from the user.
Roadmap
For detailed information about the project roadmap, please visit this link.
Read full article: Click here