What is StarLink (STARL)?
StarLink (STARL) is a decentralized virtual space platform that stores data, technology ideas and NFTs.
By being built on the Ethereum blockchain, StarLink is a completely decentralized project and is controlled through a DAO. The decentralization of blockchain will allow the platform to be scalable indefinitely.
The vision of the StarLink project is to focus on developing an environment that provides images and sounds for NFT to further promote digital asset technology. At the same time, the platform also supports the integration of NFT into the real world space and virtual reality (VR) technology.
Besides, StarLink is also considered as a center of entertainment, marketing, education and games.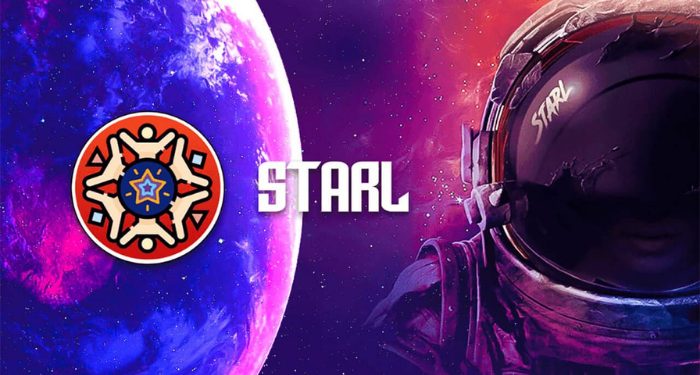 The value of the StarLink project
StarLink core philosophy offers a fairer and more sustainable project that can benefit everyone involved. No organization or company can extract personal data from users for advertising or profit maximization.
StarLink simply wants participants to be able to have fun, interact with each other freely, have the right to exploit any opportunity that leads to profit.
The project strongly believes in decentralization and is responsible for providing tools and resources in the virtual space to create an environment for individuals to grow and earn no matter who they are and where they are. where.
Highlights of StarLink
Universe
Universe is a 3D virtual universe and at the same time the most important component of the StarLink ecosystem.
This virtual reality space consists of planets and satellites – a place to place billboards for art and marketing projects. Users can observe all in space around and inside planets.
SATE NFT
SATE is an NFT asset class. This NFT represents StarLink's satellite and virtual world land and is used to determine ownership of digital satellites. Participants can create, buy/sell, earn and upgrade satellites with STARL tokens.
Currently, StarLink provides 3 main types of satellites: LEO, MEO and GEO. Each satellite will have distinct properties.
The LEO satellite is located at an altitude of between 160 km and 1,600 km above Earth.
MEO satellites operate from 10,000 to 20,000 km from Earth
The GEO satellite is located 36,000 km from Earth.
The APR rewards for the satellite orbit category are as follows:
Platinum: GEO: 20%
Gold: MEO: 15%
Bronze: LEO: 10%
Whoever owns SATE will earn interest based on the amount of STARL spent on SATE at the initial auction. For example, in an auction ending at 10 billion STARL, the owner will earn an annual APR of 20%, 15% or 10% based on the type of satellite purchased.
Living Modules
Living Modules are a form of virtual real estate in the STARL Metaverse. This is where you can store items, customize the interior, display your digital assets and NFTs.
Other Living Modules add-ons can include the ability to restore health, customize character's outfits, and rent them out to other users for profit.
Living Modules do not generate APR rewards like satellites.
Profile
Profiles are avatars of participants in the Metaverse virtual space. You can link Profiles with your personal information or social media. In addition, this Profile section also has the function to represent the satellites, STARL tokens that you own.
STARL DAO Token
In the Starlink ecosystem, STARL Tokens are allocated for voting in a centralized autonomous organizational structure of the DAO, which ensures the project is self-sustaining and has no operating owner. Therefore, every user in StarLink is equal and shares an interest in the success of the project. STARL Holder reserves the right to create proposals and vote to promote the project.
Marketplace
Marketplace allows participants to manage and exchange SATE NFT, priced in STARL Token. Users can use Marketplace to sell and transfer virtual satellites and in-game items for profit.
Roadmap
To read the full roadmap, please visit this link
Read Full Article: Click Here