What is TrueFi (TRU)?
TrueFi (TRU) is a Lender-backed DeFi platform with good interest rates and no collateral required. At TrueFi, Borrowers do not have to go through censorship and request loans in TUSD (TrueUSD). TRU Stakers will participate in the credit rating of Borrower's loans through voting rights. At this point, Lenders not only earn attractive rates of return on the stablecoin they lend, but can also Farm TRU coins.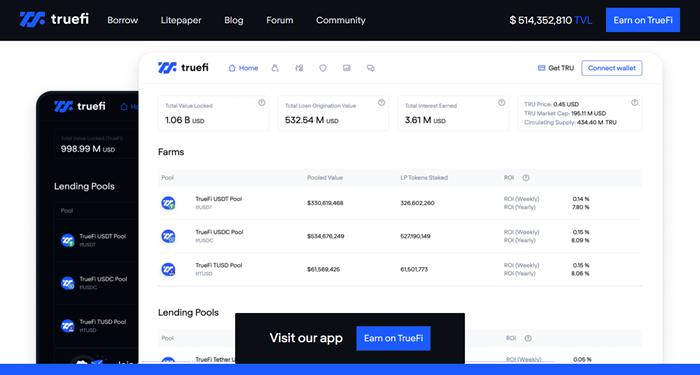 Basically, TrueFi is similar to Aave or Venus projects, users can earn interest on stablecoin deposits. With TrueFi, however, Borrowers need to secure decentralized loans. TrueFi's operating model attracts large industry players such as OTC exchanges, exchanges or DeFi protocols. They are Borrowers looking to secure high value long-term loans.
Moreover, TrueFi offers Lender extremely attractive interest rates, while Borrowers can access fixed-rate loans without collateral. The entire lending and borrowing activity on TrueFi is completely transparent, allowing Lenders to fully understand the participating Borrower and the cash flow interacting with the project. Borrowers can both create on-chain credit histories to aid in the vetting process, allowing the TRU coin holders to determine the creditworthiness of new loan applicants.
How TrueFi Works ?
Lenders (or LPs) will add TUSD to the Pools to lend, receive interest and can be used to Farm TRU coins. Unused amount of TUSD (when there are no borrowers) will be deposited into Curve Protocol to maximize profits.
Borrower will send loan needs to customized Pools according to their loan interest rate and loan term. Instead of going through the approval of 3rd parties or the Lenders themselves, the entire TRU Staker will have the right to approve the loan agreement or not by voting. As can be seen, in addition to Lender's loan approval, you also have to pass the voting rights of TRU Stakers.
And of course, not only voting "Yes" or "No", Stakers also need to predict whether the Borrower can repay the principal and interest before the due date. In case of correct prediction, TRU Staker will receive a reward of TRU coins from those who voted wrong.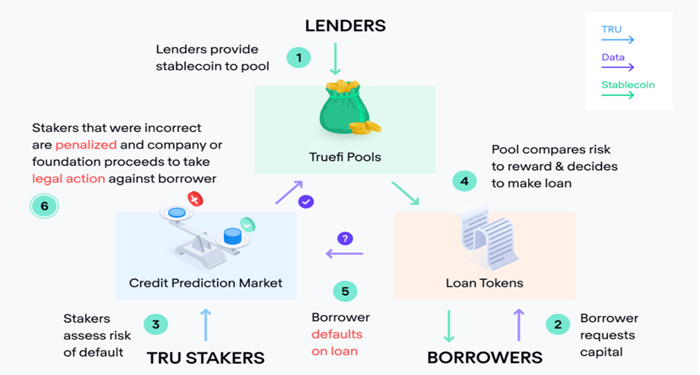 After each vote, TRU coin holders can increase or decrease based on whether the closing loan is successfully repaid. Therefore, TRU Stakers should exercise caution and consideration when voting. The Smart Contract Pools accept or reject the loan based on the pool's risk parameters and the TRU Staker's Yes/No vote.
Borrowers must pay principal and interest before or on time. In case of overdue, Borrower has to face legal problems under the loan contract signed previously.
Read full article: Click here