News
ARK Resubmits Bitcoin ETF Prospectus, Igniting Market Speculation!
15 days ago - Around
2

mins
mins to read
Key Points:
Third amendment to Bitcoin Spot ETF prospectus showcases commitment to SEC approval.
Continuous updates indicate meticulous preparation, instilling confidence for regulatory green light.
ARK's refined proposal sets the stage for broader institutional and retail investment opportunities.
ARK resubmits Bitcoin ETF another update to its S-1, marking the third amendment in its ongoing efforts to refine and strengthen its Bitcoin Spot ETF prospectus.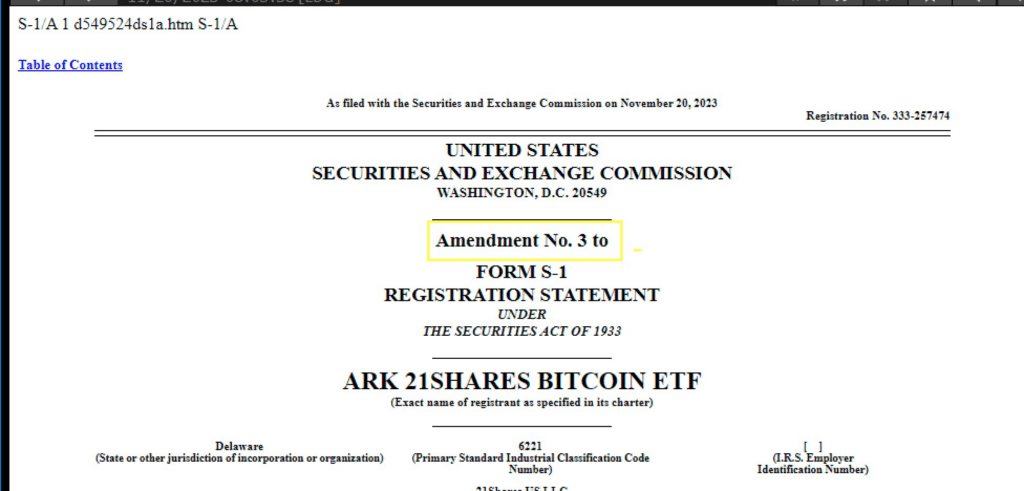 This development comes as a semi-shocker, but in a positive light, reflecting the commitment to meticulous preparation for eventual submission to the Securities and Exchange Commission (SEC).
The continuous updates to the S-1 document showcase ARK resubmits Bitcoin ETF's dedication to ensuring precision and completeness in its proposal. Each amendment represents a step forward in aligning the prospectus with the regulatory expectations set by the SEC. The crypto community views this iterative refinement positively, interpreting it as a proactive measure to enhance transparency and address any potential concerns that may arise during the SEC approval process.
Ongoing Prospectus Updates Signal ARK's Strategic SEC Preparation
The significance of ARK's persistence in amending the S-1 lies in its potential impact on the broader cryptocurrency market. A Bitcoin Spot ETF approval by the SEC holds the promise of opening new avenues for institutional and retail investors to participate in the cryptocurrency space. It could also contribute to increased market liquidity and potentially influence broader regulatory sentiment toward digital assets.
Investors and enthusiasts alike are closely monitoring these developments, recognizing that a well-crafted and SEC-approved Bitcoin Spot ETF could serve as a landmark moment for the integration of traditional finance and the crypto market. The frequency of updates to the S-1 is seen as a positive indicator of ARK resubmits Bitcoin ETF's responsiveness to regulatory requirements and its commitment to ushering in a new era of crypto investment opportunities.
As ARK continues to fine-tune its ARK resubmits Bitcoin ETF prospectus, the anticipation for SEC approval grows. The iterative nature of these amendments suggests a methodical approach toward achieving regulatory clearance, instilling confidence in the community regarding the potential success of ARK's venture into the Bitcoin exchange-traded fund landscape.
DISCLAIMER: The information on this website is provided as general market commentary and does not constitute investment advice. We encourage you to do your own research before investing.