Ethereum looks hopeful as traders anticipate the $1,000 level holding in the market over the coming weeks. It's currently sitting at a 200-weekly moving average with plenty of 2022 support beneath the current level.
At the time of writing, ETH is priced at $1,200, according to Coingecko.
With the market in turmoil, the most poignant question is where Ethereum is heading next.
Will the bottom be reached next month for a more promising 2023?
Let's look at the charts and see where it might be going.
Ethereum Price Analysis
Ethereum is down 7% over the past month. It's down by 36% over the past three months and currently sits 75% off its previous all-time high price of above $4,800.
Despite the lackluster market conditions, Ethereum investors are still highly hopeful for the future.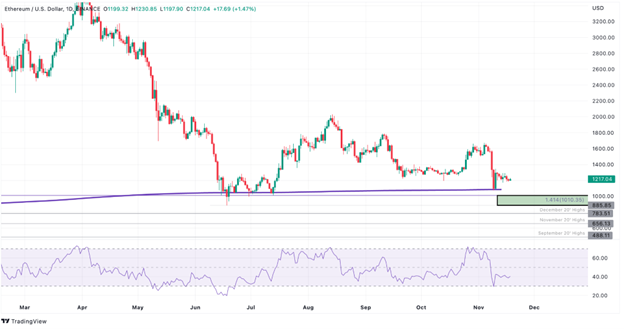 The chart above shows Ethereum since April 2022, which doesn't look pretty. Since the start of the year, ETH has lost 67% to the current $1,200 price. The most severe capitulation came in June when the Terra Luna ecosystem collapsed – causing ETH to drop as low as $885.
Since then, ETH witnessed some growth during July to reach as high as $2,000 in August. Unfortunately, ETH continued its downtrend from $2,000. It did find support above $1,200 during the past few months, but the recent fallout from the FTX collapse caused it to reach as low as $1,085 and hit the 200-weekly moving average (purple line).
It has since rebounded above $1,200 and held the level this week.
Is the Bottom in?
The most important question is if the bottom is in. The truth is – we don't actually know. Nobody can predict the bottom. However, we know that there is a plethora of support beneath the current price that could prevent Ethereum from slipping to fresh 2022 lows.
The first support lies at the 200-weekly moving average, around $1,080. This is followed by solid support at $1,000 – a very strong psychological support level.
Beneath $1,000, additional support lies at $900 and the 2022 low at $885.
If ETH does create fresh 2022 lows, further support lies at $785 (December 2020 highs), $700, $656 (November 2020 highs), $600, and $488 (September 2020 highs).
Ethereum Turns Deflationary Ahead of Next Major Upgrade
Ethereum shifted its mining algorithm from a resource-intensive proof-of-work mechanism to a more eco-friendly proof-of-stake mechanism in September 2022. The merge made Ethereum more scalable, but it also introduced a deflationary tool into the mix that burnt a small portion of ETH
Ethereum finally achieved a deflationary status in the first half of November – 55 days after The Merge event occurred. According to the tracking website ultrasound.money, the total supply change of ETH is now down by almost 6000 ETH;
This is highly hopeful for ETH as it shows that the deflationary mechanism is functioning and – over time – ETH will gradually become more scarce on the market.
Adding further to the optimistic future for Ethereum, the next significant network upgrade for the ecosystem is slated to take place in Q3 2023. The "Shanghai" update will finally allow stakers on the network to withdraw their coins from the ETH2 staking contract easily.
Investors believe that the Shanghai upgrade will open the doors to flexible trading and allow a whole new crop of investors to enter, attracted by the knowledge that they can withdraw their stake at any time.
With the market in turmoil, investors seek opportunities in presales to let them park cash and ride out the crypto winter. One project that keeps gathering attention from investors is Dash 2 Trade.
Dash 2 Trade Presale Could Help Finding the Bottom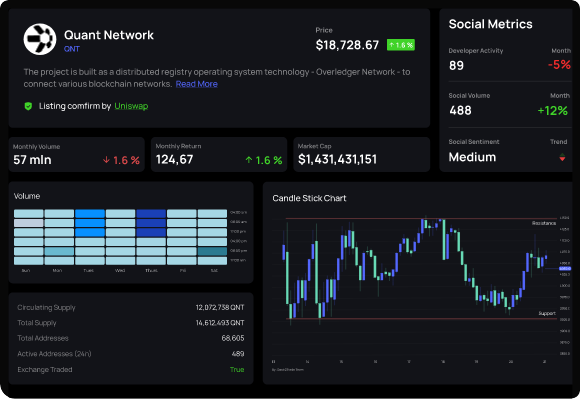 The Dash 2 Trade project could help traders find where the bottom might land. It's a world-class analytics and intelligence platform providing traders with in-depth market insights to help them become consistently profitable.
The platform allows traders to create and test new market-beating strategies and keep track of the latest news and essential on-chain data. It does this by offering a range of features that include the following:
Trading Signals with buy/sell opportunities
Bespoke Presale & ICO scoring system
Social sentiment and on-chain analysis
Strategy builder
New Crypto listings
Trading competitions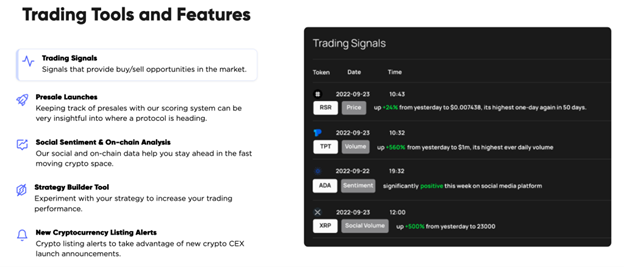 The entire idea of the dashboard is to keep traders up-to-date with the latest essential metrics to help them make the best decisions. It's targeted toward a wide range of traders from beginner to advanced levels.
The project is gaining widespread attention due to the team bringing it to life. They have an extensive track record after creating Dash 2 Trade's sister company, Learn 2 Trade. Their previous project was an FX signal and education platform that became one of the staples in the FX industry. It managed to attract a user base of over 70,000 traders, and Dash 2 Trade intends to replicate this success by delivering a similar world-class intelligence platform for crypto.
Presale Continues to Fly
The presale for the project has been running for just under a month and has already managed to raise over $6.5 million – during one of the darkest months for crypto markets.
Investors are happy to take a risk and invest in the early stages of the presale as they are confident they will be able to bank profits once the token is launched on exchanges.
The team has already announced that D2T will be listed on LBank Exchange once the presale is finished;
Furthermore, it has also secured a listing on the BitMart Exchange;
Buy D2T Today
IMPT Surges For Environmentally Friendly Crypto Future
Another presale project gaining massive momentum is IMPT – a carbon credit marketplace seeking to help individuals and businesses reduce their carbon footprint.
The IMPT project was built to make it straightforward for people who want to make a positive contribution to the environment by allowing them to purchase genuine carbon credits securely.
A carbon credit is a permit representing one ton of carbon dioxide being removed from the atmosphere. Large-scale enterprises use them to offset carbon emissions that result from industrial production. They're a fantastic method of offsetting carbon emissions, but the market is inaccessible to the general public due to restricted pricing data and prevalent scams.
This is what IMPT is seeking to change.
IMPT will host carbon credits as NFTs on the blockchain, making the entire process transparent. For example, when a user retires a carbon credit on IMPT, which signals that the carbon credit has been used, the NFT is sent to a burn address, and the transactions are recorded on the blockchain as proof of disposal. This completely removes the chance of carbon credit fraud and double-counting credits.
IMPT Continues to attract High-Profile Affiliates
Investors quickly rush to the IMPT presale after learning about the high-profile brands affiliated with IMPT. In addition, the platform offers a unique way for shoppers to earn carbon credits as cashback when doing online shopping via the IMPT Shopping Platform.
World-famous brands have affiliated with IMPT and allocated a specific percentage of sales to help environmental projects like IMPT. When a user purchases, the sales margin is held in their account as IMPT tokens until they have enough to purchase a carbon credit.
This unique feature lets everybody contribute positively to the environment without having to adjust any of their habits.
So far, IMPT has affiliated with some of the following brands;
shopDisney
Netflix
Samsung
Puma
The North Face
Hugo Boss
Galvin London
Microsoft
Lego
2XU
Cutters
Smart Nora
Aurora London
Anker Innovations
It doesn't stop there and there are plenty more. IMPT continues to announce additional high-profile affiliates each week.
Presale Approaching Final Lap After Approaching $13 Million
Environmentally conscious investors in the industry are quickly beginning to realize the impact that IMPT could have on crypto in particular. The cryptocurrency industry is notorious for being unfriendly to the environment – due to the sheer amount of electricity it uses. With a project like IMPT available, all cryptocurrency projects will be able to do right by the environment and purchase carbon credits to offset their carbon footprint.
As a result of the impact, investors have piled into the presale, which is quickly approaching the $13 million milestone.
Early investors are purchasing the token at lower prices and stand to benefit once the token launches on exchanges.
Visit IMPT Presale