Bitcoin
Bitcoin Mining Difficulty Increases 6.17% To 55.62T, Record High
101 days ago - Around
2

mins
mins to read
Key Points:
Bitcoin mining difficulty rose to a record high of 55.62T today.
The current average computing power of the entire network is 398.32 EH/s.
Bitcoin (BTC) miners are shifting from dependence on hardware to mining rigs to increase profits.
Bitcoin mining difficulty hit an all-time high of 55.62 trillion units following the latest difficulty adjustment on August 23 at block height 804384.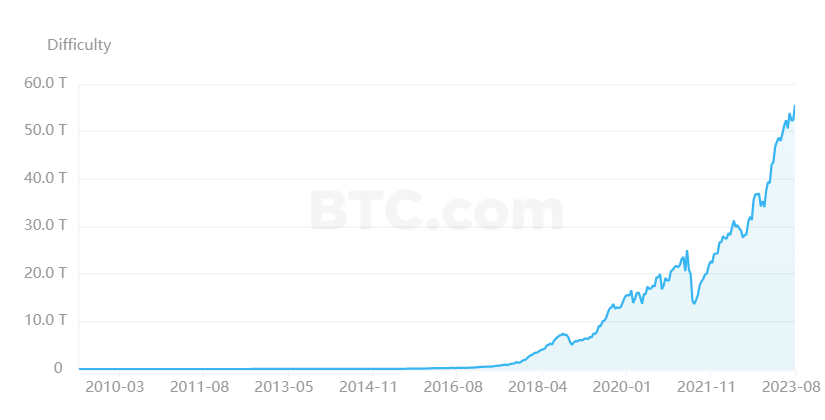 With the difficulty of mining increasing over time, Bitcoin miners are working harder, as the average cost to mine one BTC is already higher than the average price of 1 BTC in the spot market annually from August 2022.
The adjusted difficulty is directly correlated with hashrate dynamics. The current hashrate is reaching 398.01 EH/s. Bitcoin miners compute the more proof of work (PoW), the higher the chance that one of these miners will find a valid block in less than 10 minutes. Also valid for the opposite direction, less hashrate on the network means longer time between blocks.
The average mining cost was calculated by the University of Cambridge and plotted in a graph by MacroMicro. On August 21, it recorded an average cost of $30,128 per BTC mined, compared to a spot price of $26,028 on August 23, a loss of $4,100 per unit of cryptocurrency produced.
The highest average cost registered over 1 year was $49,415 on July 17, compared to a price of $30,145/BTC on the same day,
with a loss of around $19,270 for every BTC mined.
Besides, according to a recent analysis by Ki Young Ju of CryptoQuant, Bitcoin (BTC) miners are shifting from dependence on hardware to mining rigs. The move marks a significant development in crypto mining as miners aim to optimize their operations and enhance profitability.
While mining hardware equipment also helps in Bitcoin mining, there is a big difference that puts the rigs ahead. While hardware uses the CPU of the Central Processing Unit (CPU), mining rigs use the Graphics Processing Unit (GPU) service. Furthermore, GPUs are better at solving the cryptographic equations needed to verify transactions on the blockchain than CPUs.
DISCLAIMER: The Information on this website is provided as general market commentary and does not constitute investment advice. We encourage you to do your own research before investing.