Uncategorized
Whale Deposited 4.5M Worldcoin (WLD) To 3 Exchanges As Price Soars More Than 27%
94 days ago - Around
2

mins
mins to read
Key Points:
A whale transferred 4.5 million Worldcoin (WLD) tokens to 3 major exchanges.
The move attracted attention as the token price has skyrocketed by 27.5% in the past 24 hours.
These recent developments underscore the complexity and controversy surrounding Worldcoin, as governments, whistleblowers and the public engage in discussions and investigations to understand its implications.
According to monitoring by Spotonchain, an on-chain analytics tool, an hour ago, a Worldcoin (WLD) market maker transferred 4.5 million WLD to 3 CEX, equivalent to about $6.07 million.
Of those, $3 million was transferred to Binance, $1 million was transferred to Bybit, and $500,000 was transferred to KuCoin.
It is known that the market maker received 11 million WLD market making tokens before WLD went online and currently the market maker address still holds 2.96 million WLD (about $4.02 million).
Operations on the market maker chain:
Allegedly accumulated 9.186M $WLD from many exchanges, including Binance, OKX, Kucoin, Gate.io, and Bybit at $1.835 on average ($16.9M) between July 25 and August 24
Has transferred out a total of 6.225M $WLD to Binance, OKex, Kucoin, Huobi, and Bybit at $1.34 on average ($8.36M)
Given such trading pattern, the whale may be a market-maker.
Estimated total loss based on the current price of $1.35: loss $4.52M.
CoinMarketCap data shows that the Worldcoin (WLD) token price is currently trading at $1.34, up 27% in 24 hours.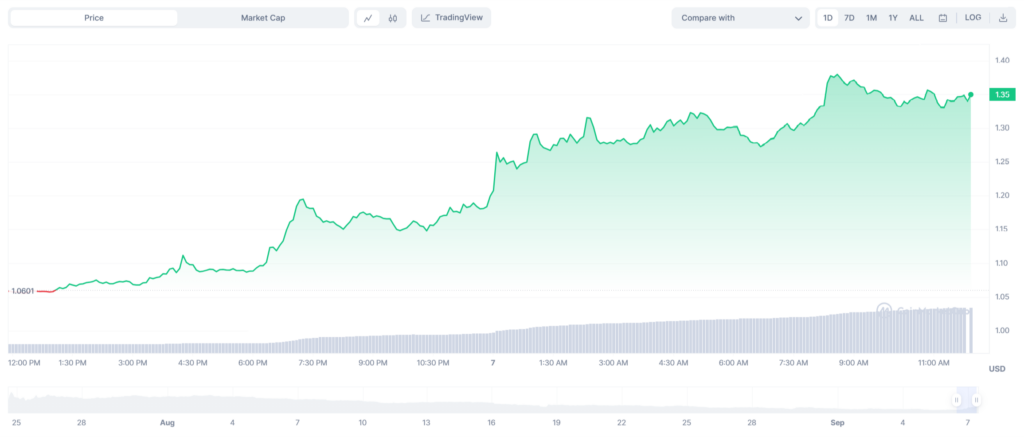 Worldcoin's price action came as a surprise given the controversial project it introduced a reservation feature for unverified users to reserve their Worldcoin (WLD) tokens. Despite facing regulatory challenges in various jurisdictions, Worldcoin aims to differentiate humans from bots in the future using iris-based biometric data.
The World App now allows users to reserve WLD tokens before verifying their World ID, with reservations valid for 12 months. Users can redeem their reserved tokens using Orb, an iris-scanning device.
DISCLAIMER: The information on this website is provided as general market commentary and does not constitute investment advice. We encourage you to do your own research before investing.