Airdrop
Join Bybit USDC Deposit and Spot Trading Contest to win from a prize pool of up to 40,000 USDC! Only 5 days left
630 days ago - Around
4

mins
mins to read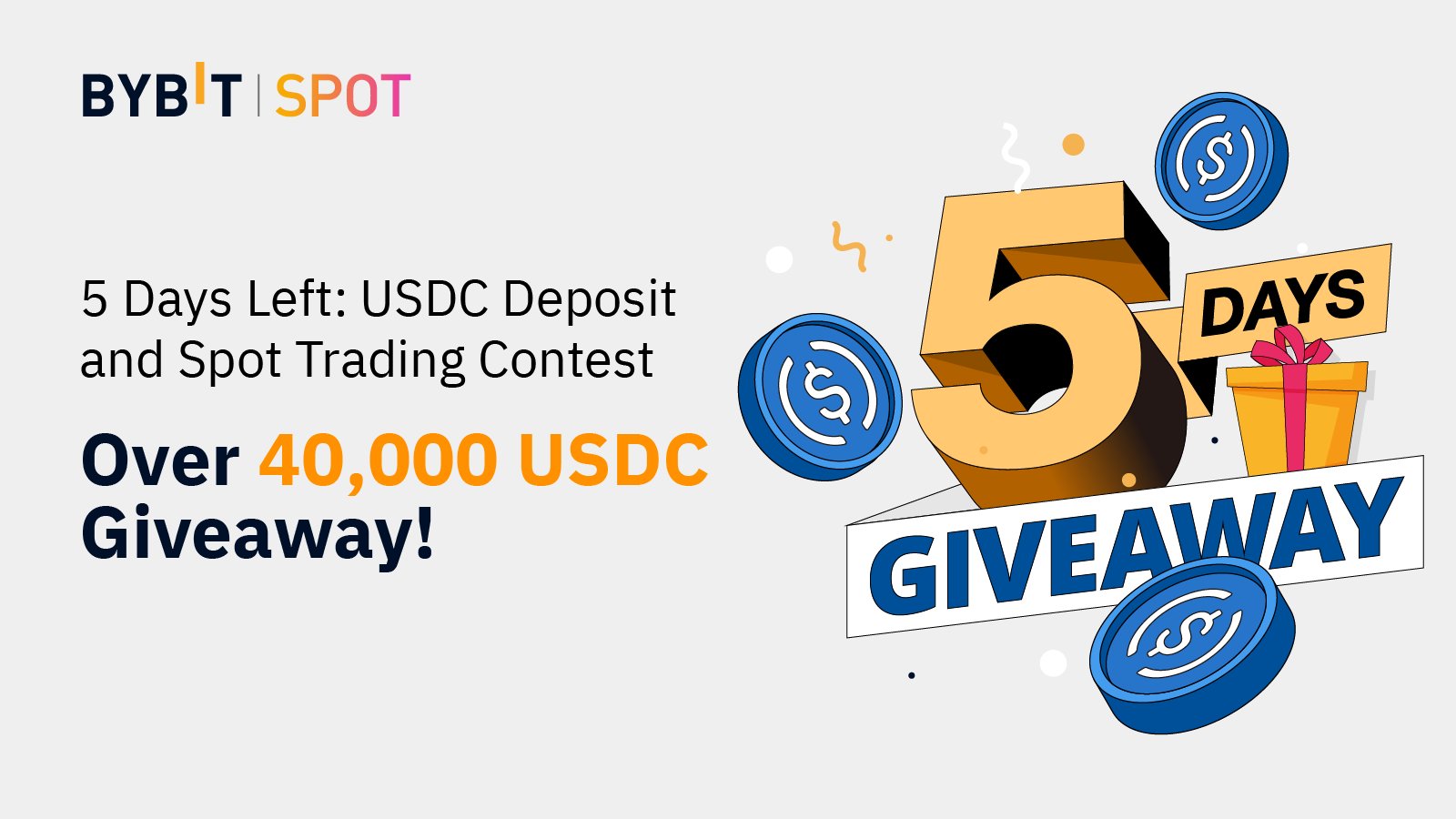 Event's Details Information
Bybit USDC Deposit and Spot Trading Contest – Deposit Rewards
Users can enjoy the following cash back rewards when they deposit USDC to their Spot accounts:
500 USDC < Deposit ≤ 2,000 USDC = $5 USDC
2,000USDC < Deposit ≤ 5,000 USDC = $15 USDC
5,000 USDC < Deposit ≤ 10,000 USDC = $75 USDC
10,000 USDC< Deposit ≤ 100,000 USDC = $100 USDC
Deposit > 100,000 USDC = $1,000 USDC
Bybit is giving out a total of $24,000 worth of USDC to the fastest participants — first come, first served.
Bybit USDC Deposit and Spot Trading Contest – Trading Supreme Bonus
Take part in the USDC Spot trading contest to win a share from the 8,000 USDC prize pool. Rewards will be given out according to your trading volume, the higher it is, the higher the reward!
During the event, when trading the designated USDC Spot pairs on Bybit's official website, the ranking will be based on the total effective trading volume (buy + sell excluding wash trading volume and those derived from order manipulation) accumulated by users after successful registration.
The top 10 users will be ranked according to their trading volume with their share of the 8,000 USDC prize pool calculated as such:
Single User Bonus = (User's Total Effective Trading Volume / Sum of Effective Total Trading Volume of the top 10 users) * 8,000 USDC
Sunshine Bonus
During the event, users with trading of the volume of more than 2,000 USDC in Spot trading pairs (excluding the top 10 users) will share another 8,000 USDC prize pool equally.
Note
If you do not have a Bybit account, click here to register: Sign Up
This event is not aimed at Bybit Market Makers.
You cannot withdraw funds within 30 days after making a deposit, but you can trade USDC Spot pairs. Withdrawals after trading will not be eligible for deposit rewards.
The deposit event will only be rewarded once, and the cash reward will be distributed based on a user's highest deposit amount during the event period.
If a user participates in two (2) or more trading activities on the platform at the same time with the same trading pairs, only the highest earned reward will be distributed.
The event rewards will be distributed in cash within two (2) weeks after the event ends. You will be notified by email once the rewards are distributed.
The trading volume of this event is only limited to Spot trading pairs.
Calculation of Effective Trading Volume: Total Amount of Spot Buying and Selling (excluding wash trading volume and those derived from order manipulation) after a successful registration.
Subaccounts are not allowed to participate in this event. Any transaction volume from Subaccounts will be added to the main account.
The ranking data is refreshed once a day, and the T-day ranking will be displayed on the T+1 day. The data on the last day of the event will be fully displayed the following day. The rankings are arranged in descending order of trading volume. If two (2) users have the same trading volume, the user who signed up first will be displayed on top.
Bybit reserves the right to disqualify any participants who engage in dishonest or abusive activities during the event, including bulk-account registrations to farm additional bonuses and any other activities in connection with unlawful, fraudulent, or harmful purposes.
Bybit reserves the right to modify the terms of this event without notifying users in advance.
Bybit reserves the right of final interpretation of this event. If you have any questions, please contact Bybit's customer service.
DISCLAIMER: The Information on this website is provided as general market commentary and does not constitute investment advice. We encourage you to do your own research before investing.
Join CoinCu Telegram to keep track of news: https://t.me/coincunews
Follow CoinCu Youtube Channel | Follow CoinCu Facebook page
KAZ
CoinCu News