News
Litecoin's Rise Is A Sign For Bitcoin Investors: Report
144 days ago - Around
3

mins
mins to read
Key Points:
Litecoin's recent success due to its upcoming supply curb provides valuable insights into what's to come for Bitcoin.
Bitcoin has seen a partial rebound this year due to factors such as increasing demand and institutional adoption.
Bitcoin has potential as a hedge against inflation, which could further drive up demand in the coming months and years.
Litecoin's 90% climb over the past year, due to the halving, offers insights into Bitcoin's future, while Bitcoin sees a partial rebound from a crypto rout, as per Bloomberg.
Bitcoin investors should take note of Litecoin's recent success, as it may provide valuable insights into what's to come. Litecoin has experienced an almost 90% climb over the past year, partly due to its upcoming supply curb, or "halving," which Bitcoin will also experience in the coming months. This event cuts the amount of tokens miners receive in half, which is part of the process of capping the supply of tokens.
Despite Litecoin's recent tempering, its performance over the past 12 months has surpassed Bitcoin's advance of about 39% as well as the 22% increase in a gauge of the largest 100 tokens. This is partly due to Litecoin's faster transaction times compared to Bitcoin, making it a more attractive option for investors.
Litecoin is trading at around $93 at the time of this writing, which experienced a significant down of nearly 17% last week.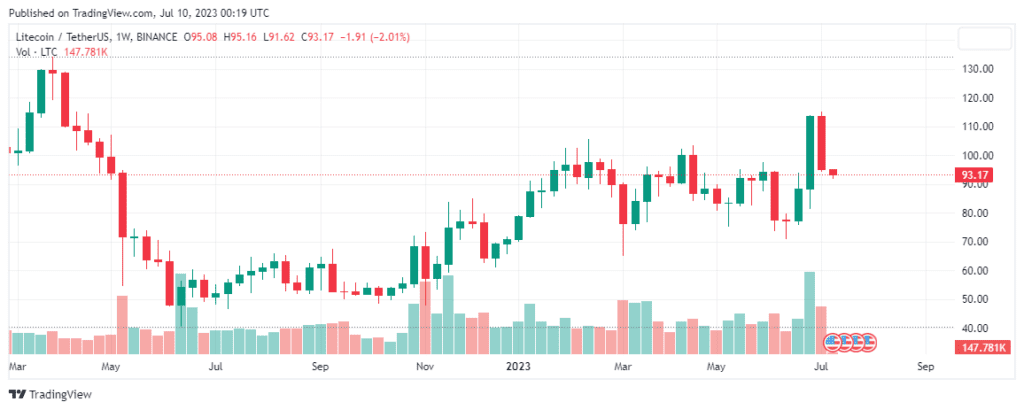 The halving is just one factor contributing to Bitcoin's partial rebound this year after a 2022 crypto rout. Other factors include increasing optimism about demand if BlackRock Inc., Fidelity Investments, and others succeed in their efforts to start spotting Bitcoin exchange-traded funds in the US. An institutional-only crypto exchange, EDX Markets, recently went live with backing from billionaire Ken Griffin's Citadel Securities as well as Fidelity and Charles Schwab Corp. It offers trading in only four cryptocurrencies: Bitcoin, Ether, Litecoin, and Bitcoin Cash.
While Bitcoin has hit records after its last three halvings, the current outlook for crypto is clouded by the prospect of more central bank interest-rate hikes to tighten liquidity and curb inflation. At the time of writing, Bitcoin is trading at around $30,000 after surpassing $31K last week.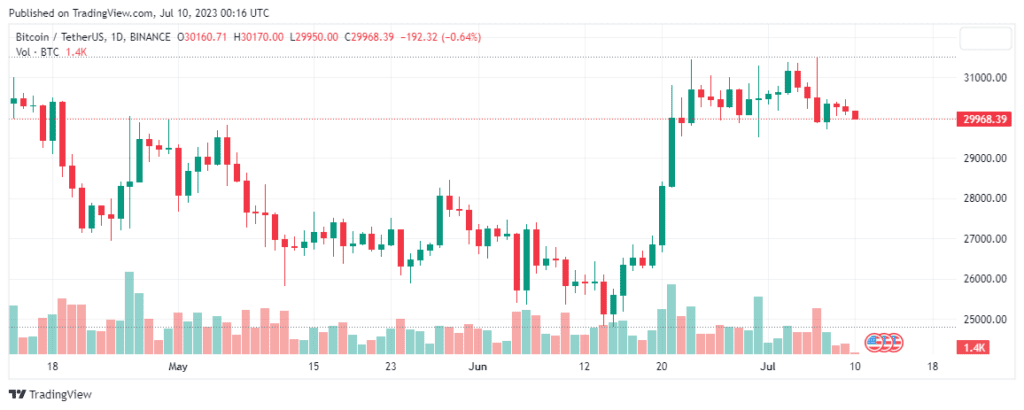 It remains to be seen how Bitcoin will behave when the stock market correction eventually arrives in earnest, but investors should keep an eye on Litecoin's success as a potential indicator of things to come for Bitcoin.
As per Bloomberg, some experts also suggest that Bitcoin is likely to experience a boost in demand due to its potential as a hedge against inflation. With the current outlook for more central bank interest-rate hikes, investors may turn to Bitcoin to protect their assets against inflation.
Furthermore, the recent moves towards greater institutional adoption of Bitcoin, such as the launch of Bitcoin futures contracts on major exchanges and the entry of large financial institutions into the cryptocurrency market, could help to further drive up demand for Bitcoin in the coming months and years.
DISCLAIMER: The Information on this website is provided as general market commentary and does not constitute investment advice. We encourage you to do your own research before investing.