Crypto Wallet Reviews
BlockWallet Reviews: A New Era of Web3 Freedom?
134 days ago - Around
10

mins
mins to read
BlockWallet review is a prominent platform that offers a range of features and functionalities to cater to the needs of crypto enthusiasts. Block Wallet is a highly secure web-based digital wallet that has been designed to provide users with a convenient and user-friendly platform for managing their cryptocurrency assets.
About BlockWallet
BlockWallet is an all-in-one digital wallet that provides users with a comprehensive set of tools and features to manage their cryptocurrency assets with ease. From securely storing your digital assets to sending and receiving various cryptocurrencies, BlockWallet simplifies the process of managing your investments. The platform offers support for a wide range of cryptocurrencies, including Bitcoin, Ethereum, Litecoin, and many others, making it easy to manage multiple assets from a single interface.
With advanced security features like 2-factor authentication, multi-signature support, and cold storage options, users can rest assured that their digital assets are safe and protected at all times. But that's not all – BlockWallet also provides users with real-time market data, news updates, and detailed charts and graphs to help them make informed investment decisions. Whether you're a seasoned investor or just getting started with cryptocurrency, BlockWallet is the perfect solution to help you manage your digital assets in a secure, efficient, and hassle-free way.
Block Wallet also offers advanced features such as real-time market data and price alerts, which help users stay up-to-date with the latest developments in the cryptocurrency market. It also has a built-in exchange that allows users to exchange one cryptocurrency for another without having to go through a third-party exchange.
Block Wallet is designed with security in mind, using advanced security protocols to protect users' digital assets. It also offers two-factor authentication and other security measures to ensure that users' funds are always safe.
Main Features
Block Wallet is a feature-packed digital wallet that offers a wide range of tools and resources to help users manage their digital assets with ease. Whether you're new to cryptocurrencies or an experienced trader, Block Wallet provides a secure and user-friendly platform to store and manage your digital assets.
Intuitive User Interface: Block Wallet is the perfect platform for anyone looking for a user-friendly and intuitive interface. Whether you're a seasoned crypto user or a beginner just starting out, navigating the platform is a breeze. In addition to its sleek and modern design, the wallet dashboard offers a wealth of information to help you stay on top of your investments. From balances to transaction history to market value, you'll have a comprehensive overview of your portfolio at your fingertips. With Block Wallet, you can rest assured that you'll always be up-to-date and in control of your crypto assets.
Multi-Currency Support: Block Wallet is a highly versatile platform that offers support for an extensive range of cryptocurrencies. With this extensive range of cryptocurrencies, users can now manage multiple digital assets within a single platform. This feature eliminates the hassle of using different wallets for different cryptocurrencies, which can be time-consuming and frustrating for users. By offering a centralized solution for portfolio management, Block Wallet makes it easy for users to keep track of their digital assets and monitor their performance.
Secure Storage: Ensuring the security of users' digital assets is a critical aspect of any crypto wallet, and at Block Wallet, we take this responsibility very seriously. In order to provide our users with the highest level of protection, we utilize a variety of robust encryption techniques to safeguard private keys, including advanced key generation methods, multi-signature authentication, and cold storage solutions. In addition, we implement industry-standard security practices such as two-factor authentication, regular security audits, and continuous monitoring to detect and prevent potential breaches. We are constantly updating and improving our security measures to stay ahead of evolving threats and to provide our users with peace of mind knowing that their assets are in safe hands.
Two-Factor Authentication (2FA): To further enhance security of the Block Wallet, there are several ways to enable two-factor authentication. You can link your wallet with a mobile authentication app to generate time-based codes or receive SMS codes on your phone. This provides an additional layer of protection to your account. By doing so, you are ensuring that only you have access to your wallet, and that your assets are kept safe from potential unauthorized access.
Transaction History and Tracking: Block Wallet offers a wide range of features to its users, including a detailed transaction history that enables them to track all their incoming and outgoing transactions. This feature is of great significance as it helps users keep a close eye on their crypto activity and effectively manage their finances. With Block Wallet, users can easily view their transaction history, including the date, time, amount, and other relevant details of each transaction. This makes it easier for them to maintain accurate records for accounting and tax purposes, which is especially important given the constantly evolving regulatory landscape surrounding cryptocurrencies.
Easy Token Swapping: The platform offers a number of features that make it an ideal choice for cryptocurrency users. One of these features is the built-in exchange service, which allows users to easily swap one cryptocurrency for another without having to leave the wallet interface. This helps streamline the process of converting digital assets and eliminates the need to rely on external exchanges, which can be time-consuming and inconvenient. What's more, the exchange service is highly secure and reliable, ensuring that users can feel confident in their transactions.
Mobile-Friendly: Block Wallet is a web-based platform that comes with an exceptional mobile optimization. This optimization ensures that users can have a seamless experience while using the platform on their mobile devices. With this optimization, users can access their wallets while on the go and manage their crypto assets conveniently from virtually anywhere in the world. Whether you are on a smartphone or a tablet, you can be sure that you will have access to all the features that Block Wallet has to offer. This makes managing your crypto assets easier and more convenient than ever before, giving you the freedom to do what you want, when you want, and from wherever you want.
Create a New Wallet
After installing BlockWallet, this guide will walk you through creating a new wallet, ensuring a smooth and secure experience. We we also cover essential security tips, such as safeguarding your recovery seed and the importance of never sharing it with anyone.
We recommend you follow these steps carefully to ensure the safety and security of your digital assets.
If your browser did not bring you to the following screen after installing BlockWallet, you will need to access the BlockWallet extension in your browser toolbar.
Click Get Started.

Click Create new wallet.

If you'd prefer to use an existing seed phrase or create a new address with your current seed phrase check out our guides on how to Import Your Wallet or Create a New Account.
You will be prompted to create a password for your BlockWallet account. This password is to protect unwanted access to BlockWallet, but is not the same as your seed phrase. If lost you can always recover your account with your seed phrase.
Confirm your password by entering again in the provided field and click Create.
Upon creating a new wallet, BlockWallet will generate a unique 12-word recovery seed for you. This seed is crucial for accessing and recovering your wallet in case you lose access to your device or browser.
When you are ready, click the lock to reveal your seed phrase. Write down the 12-word see phrase displayed on the screen in the correct order.
Keep your recovery seed safe and never share it with anyone. It is the only way to recover your wallet if you lose access to your device or browser. Store it in a secure location, such as a safe or a lockbox. For more tips on keeping your recovery seed secure, check out this article about storing your
Confirm your seed phrase by selecting the words in the order they were presented to you in the previous screen.
Click Confirm.
After successfully backing up your recovery seed, you can open the BlockWallet extension and start using it.
Congratulations, you have successfully created a new wallet!
By following these steps, you can ensure the safety and security of your digital assets. Remember, it is crucial to keep your password and recovery seed private and secure. As you continue to explore the world of cryptocurrencies and blockchain, always prioritize the security of your wallet and digital assets.
Send & Receive Tokens
BlockWallet is a browser extension that enables you to transact with any ERC-20 token on the Ethereum network and other Ethereum Virtual Machine (EVM) compatible networks that support the ERC-20 standard, such as Binance Smart Chain, Polygon, and Arbitrum.
The ERC-20 standard defines a set of rules for creating and managing tokens on these EVM-based blockchains, ensuring seamless compatibility and interoperability between them.
Receiving Tokens
Provide the sender with your wallet address. You can locate and copy your wallet address within the BlockWallet extension:
Open the BlockWallet extension and find your wallet address displayed at the top of the home view.
Click the address under your account name to copy and easily share your address with the sender.
You can also click the QR code to display your address as a QR code to quickly scan from another wallet app.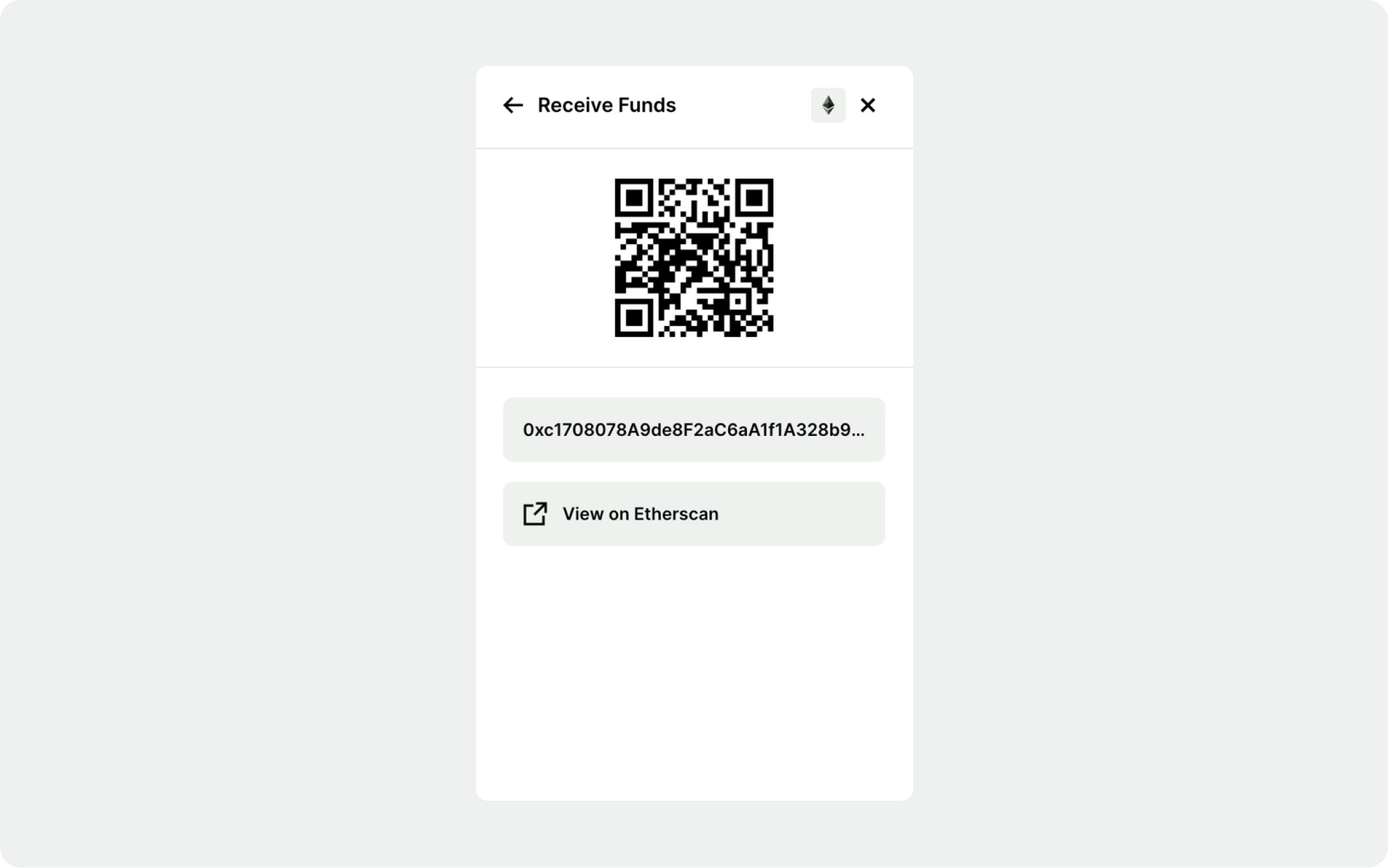 Sending Tokens
Before sending tokens, make sure you have the following:
The recipient's wallet address.
Enough of the network's native coin to cover gas fees ($ETH for Ethereum, $MATIC for Polygon, $BNB for Binance Smart Chain, etc.).
Once you have everything you need follow these steps to send a token:

Click Send on your home view or asset details view.

Select the token you want to send.
Enter the recipient's wallet address and click Next.

Enter the amount of tokens you want to send, choose your gas fee, and confirm the transaction.
Conclusion
Block Wallet is a highly trusted digital wallet that has gained a reputation for being both user-friendly and secure. With its intuitive interface, support for multiple currencies, and powerful security measures, it provides users with a comprehensive platform for managing their cryptocurrency investments. In addition to these impressive features, Block Wallet also offers transaction tracking and token swapping capabilities, making it an even more attractive option for cryptocurrency enthusiasts.
Block Wallet employs a variety of security measures to protect its users' assets, it is also essential for users to take steps to safeguard their private keys and implement additional security layers as needed. By following best practices and utilizing the full range of security features offered by Block Wallet, users can rest assured that their digital assets are being protected to the fullest extent possible.
DISCLAIMER: The Information on this website is provided as general market commentary and does not constitute investment advice. We encourage you to do your own research before investing.