Key Points:
Apecoin (APE) plummets 90% from its 2022 peak, disappointing NFT holders.
APE battles a 6-month decline amidst Bitcoin's stagnant phase.
Low volume and NFT sector disinterest cloud APE's future.
The trajectory of Apecoin (APE) has taken a challenging course as it continues to chart lower highs and lower lows on the daily chart.
While Bitcoin's sideways price movement has cast a shadow over many altcoins, APE has borne the brunt of this trend, registering six consecutive months of decline. The renowned cryptocurrency pioneer's narrow trading range has left little room for altcoins to thrive, including Apecoin.
Presently, this digital asset finds itself in a substantial slump, plummeting by a staggering 90% from its 2022 peak. The project's performance has left Bored Ape Yacht Club (BAYC) holders disheartened, as their optimism for APE crypto has met with disappointment.
Despite attempts at recovery, APE's price has remained relatively stagnant in recent days, mirroring the subdued movement seen among other altcoins. The market anticipates a significant Bitcoin shift that could potentially reinvigorate these digital assets.
Presently, APE's fate seems intricately tied to broader market cues for resurgence, lacking support from the NFT sector despite its association with the BAYC's NFT collection.
In the context of recent trading activity, ApeCoin has experienced notably low trading volume, deviating from its seven-day average. This subdued activity could suggest that investors have been capitalizing on rallies, contributing to the stagnant nature of APE's valuation.
As the ApeCoin price treads cautiously, it recently reached a nadir on August 1, dipping to $1.7 before a slight recovery to $2.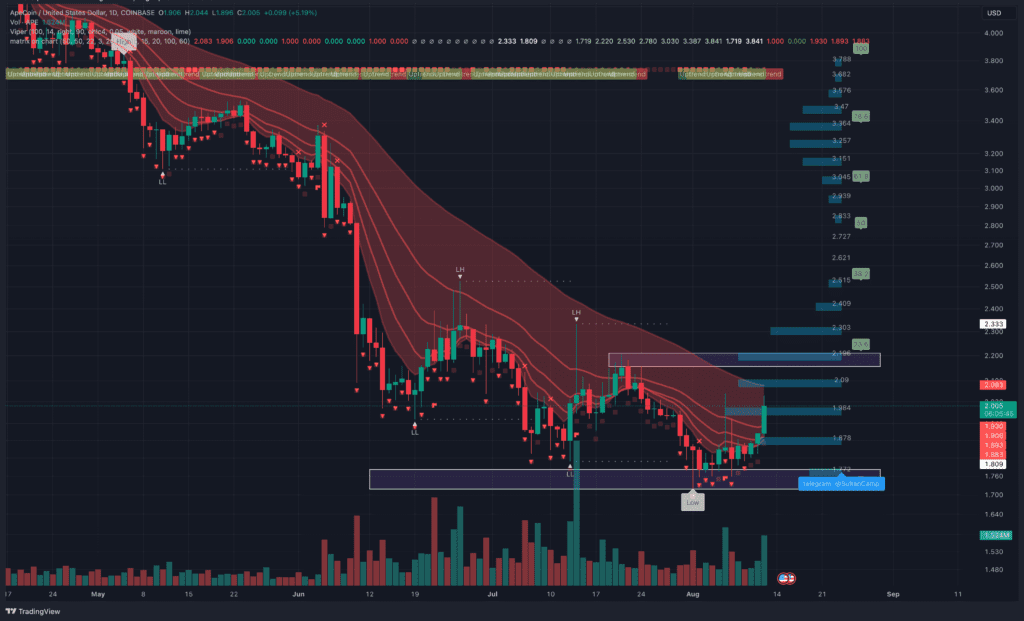 With resistance identified around $2.15 and support near $1.78, APE finds itself in a delicate balance, teetering on the edge of volatility should the current rally lose momentum.
This rally, however, appears tinged with caution, reflecting apprehensions that prices might still experience further downward adjustments.
DISCLAIMER: The information on this website is provided as general market commentary and does not constitute investment advice. We encourage you to do your own research before investing.