Key Points:
The Memecoin market has lost more than 3% of its capitalization in the past 24 hours.
The memecoins simultaneously dropped in price after the negative news about the massive release of PEPE.
Pepe (PEPE), HarryPotterObamaSonic10Inu (BITCOIN), and Mog Coin (MOG) were among the top three decliners.
According to data from Coingecko, a series of memecoins price declines it caused the memecoin market to lose more than 3% of its capitalization over the past 24 hours at $14,753,006,072.
The prices of HarryPotterObamaSonic10Inu (BITCOIN), Pepe (PEPE), and Mog Coin (MOG) are among the top three decliners, with 25.2%, 20.9%, and 19.7% respectively. Additionally, among other well-known Meme tokens, Dogecoin (DOGE), Shiba Inu (SHBI), and FLOKI (FLOKI) experienced 24-hour declines of 2.4%, 2.9%, and 4,4%.
However, Doge Killer (LEASH) and Milady Meme Coin (LADYS) have increased by 9.4% and 8.5% in 24 hours.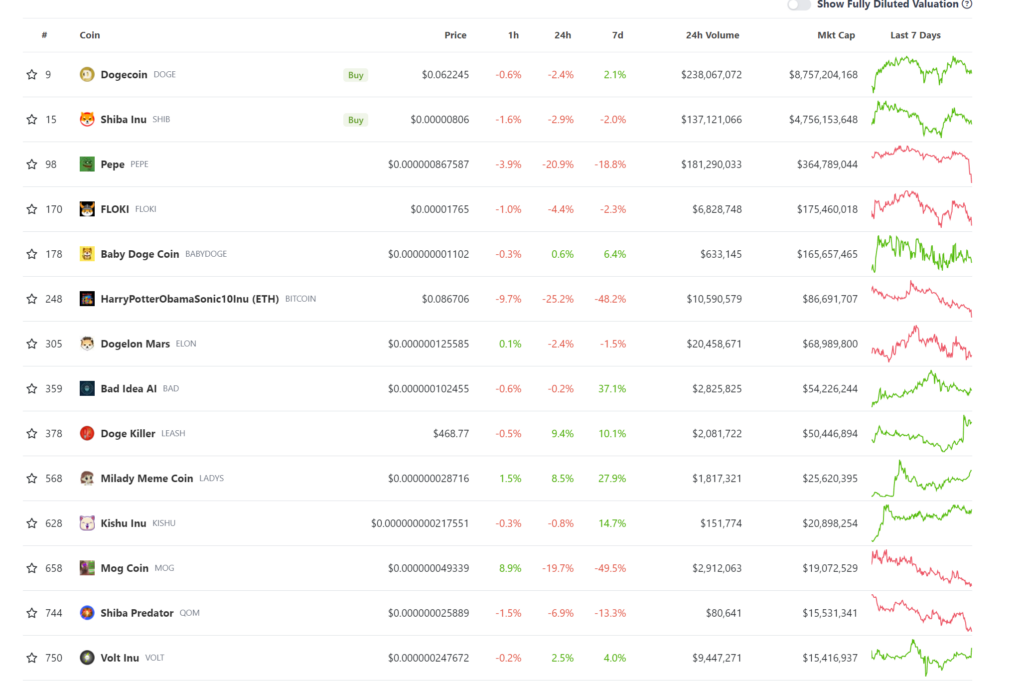 The drop in the price of memecoins can be attributed to the effects that the entire cryptocurrency market suffers due to economic uncertainties in the traditional economy. However, the strong push from PEPE is also an important source.
Today, on-chain data simultaneously shows that early investors are massively dumped after the multisig wallet of the memecoin project PEPE and Wintermute Trading sent 17.3 trillion tokens ($18 million) on Binance, OXK, and Bybit exchanges. This immediately led to a 16% decline in PEPE prices.
Throughout 2023, the iconic character-inspired token "Pepe The Frog" gained a considerable following, attracted numerous investors, and multiplied its market cap many times.
With the project's confusing actions and low activity when the PEPE project stopped working on X (Twitter) during the past two weeks, investors were increasingly confused and worried.
DISCLAIMER: The information on this website is provided as general market commentary and does not constitute investment advice. We encourage you to do your own research before investing.