Meme coins don't plan to stop taking over the cryptocurrency world. Floki Inu (FLOKI), a meme coin inspired by business mogul Elon Musk's Shiba Inu dog named Floki, has been making noise and seems to be following the path of its predecessor, Shiba Inu (SHIB). However, the crypto canine must watch out for Elonator (ETOR) as it plans to hold the leash of anyone that comes on its way as it runs to catch up with SHIB's success.
<< Click Here To Learn More About Elonator Presale >>
The Rise Of Meme Coins & Musk's Influence
Meme coins capture the attention of crypto enthusiasts and a broader audience, especially internet-savvy individuals, because jokes, parodies, and viral memes inspire them. Famous figures like the CEO of Tesla and SpaceX, Elon Musk, have played a pivotal role in the rise of meme coins. In fact, the trending Floki Inu crypto was named after Musk's pet dog, a Shiba Inu breed named Floki. The coin aims to follow Shiba Inu's footsteps toward success.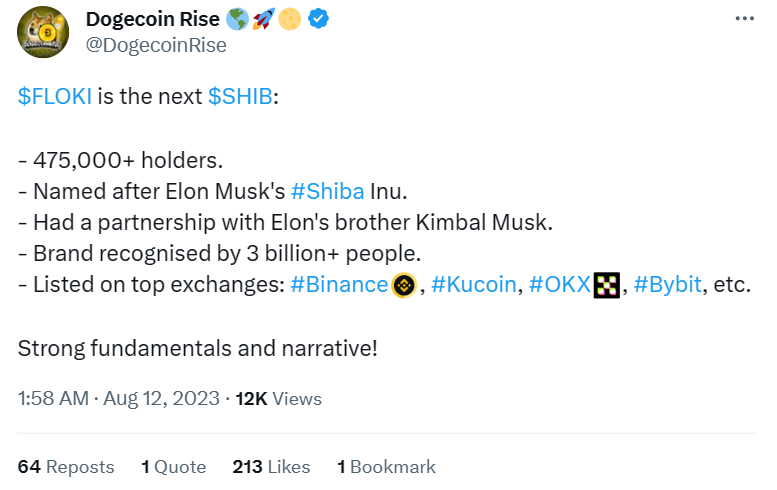 It's not only FLOKI and SHIB that drew inspiration from popular culture references and leveraged Elon Musk's involvement. Elonator, a presale meme coin, was inspired by Musk. ETOR represents an innovative concept. It aims to combine Elon Musk's pioneering mindset and Terminator's strength. Elonator blends humor, popular culture, and investment potential to contribute to the rise of meme coins.
Gauging Potential For Success
The price and value of the Shiba Inu coin are predicted to undergo some significant shifts now that Shibarium, SHIB's layer-2 protocol, is about to launch. If everything goes according to SHIB's plan and Shibarium gains serious traction, SHIB can cement itself out of mere meme coin status.
For now, the Floki Inu crypto may have somewhat mirrored Shiba Inu's price movement. However, the initial hype might dwindle soon. With the emergence of Elonator, the spotlight might shift from FLOKI to ETOR. Elonator developed an ecosystem that allows everyone to earn crypto in just a snap. The platform executes this with its unique staking model, lottery system, bonuses, and referral schemes.
Elonator Holds Crypto Canines' Leash
Elonator aims to distinguish itself from other meme coins like Shiba Inu and Floki Inu by addressing several challenges plaguing the crypto ecosystem. For instance, ETOR acknowledges the issue regarding the whale dumping phenomenon. Therefore, it introduces its anti-whale dumping mechanism that prevents large holders from controlling the market.
ETOR also has plans to use smart contracts to block bots. In addition, it aims to foster trust within the ETOR community by utilizing a token tracker, a charting tool, and a swap machine. These tools help with promoting the platform's transparency and accessibility. With these, Elonator can hold the crypto canines' leash to become one of the top meme coins.
Meme Coins Decoded
Shiba Inu and Floki Inu have contributed greatly to the rise of meme coins. Shiba Inu undoubtedly paved its path toward success by dedicating itself to innovation, as exemplified by the upcoming Shibarium launch. Floki Inu runs to catch up with SHIB by leveraging the influence of prominent figures like Elon Musk.
Elonator, one of the most anticipated presale meme coins, does the same, but with a twist. ETOR hopes to address market problems like whale dumping, extreme volatility, and crypto bots.
Elonator Presale & Socials: