News
US Core PCE In July Was 4.2%, Bitcoin Trading Stable Above $27,000
98 days ago - Around
2

mins
mins to read
Key Points:
August 31 sees controlled fluctuations, indicating continued crypto market stability.
US inflation reached 3.3% in July, aligning with expectations, while the Core PCE Price Index nudges up to 4.2%.
Bitcoin at $27,164, retaining $27,000 support; optimism tempered by ETF and Fed outlook.
In the US, the latest data from the Bureau of Economic Analysis disclosed that the inflation rate, as gauged by the yearly change in the Personal Consumption Expenditures (PCE) Price Index, surged to 3.3% in July from June's 3%. This aligns with market forecasts and suggests an ongoing inflationary trend.
The crypto market exhibited a lateral shift with controlled price swings on August 31, indicating a period of stability following recent volatility.
The yearly Core PCE Price Index, regarded by the Federal Reserve as its favored inflation metric, experienced a modest uptick, registering a 4.2% increase compared to June's 4.1%. As projected, both the PCE Price Index and the Core PCE Price Index witnessed a 0.2% upturn on a monthly basis.
Further insights from the report indicated a 0.2% growth in Personal Income and a 0.8% rise in Personal Spending for the month.
Meanwhile, the cryptocurrency market, which had seen a rapid surge in the aftermath of the Grayscale ruling on the 29th, is now undergoing a minor adjustment.
This correction is attributed to profit-taking strategies and a sense of caution as investors grapple with the hype surrounding the potential approval of a Bitcoin spot ETF.
Despite this, the market's risk appetite remains supported by the belief that the Federal Reserve's monetary tightening approach might soon conclude due to weakening economic signals in the US.
CoinMarketCap data confirms the crypto market's capitalization remains stable at $1.09 trillion, similar to the previous 24 hours. Relative to the latter half of the preceding New York market day, the figure increased by $10 billion. In contrast, the 24-hour trading volume experienced a 47% decline to $29.8 billion.
Presently, Bitcoin is valued at $27,164, indicating a slight 0.5% drop within 24 hours.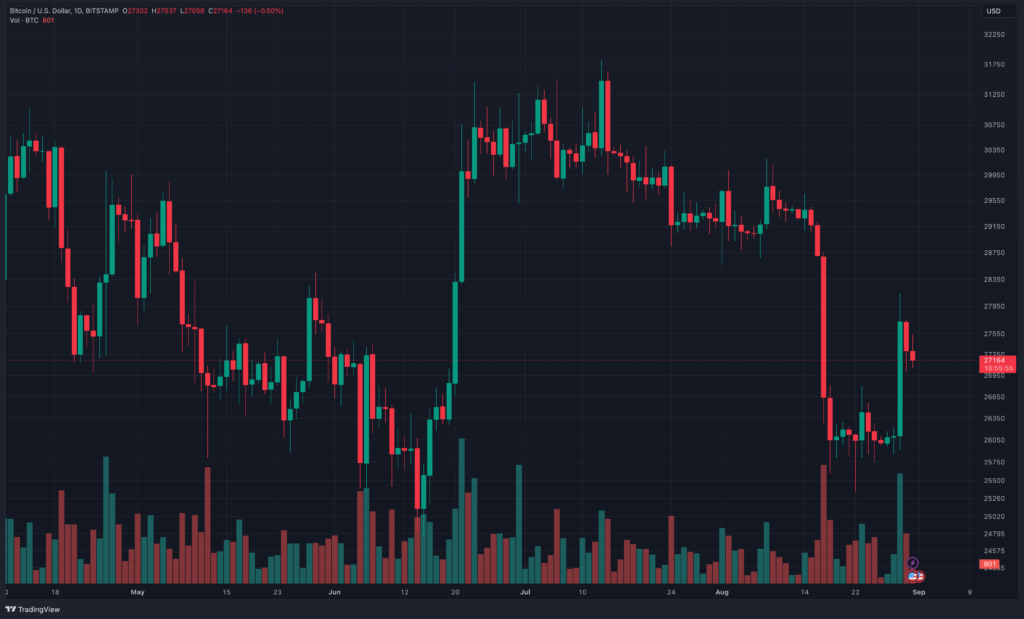 The cryptocurrency briefly exceeded $28,000 during the last trading session, subsequently retracting. Nevertheless, the consistent maintenance of the $27,000 support level is viewed positively by market analysts.
DISCLAIMER: The information on this website is provided as general market commentary and does not constitute investment advice. We encourage you to do your own research before investing.