News
Uniswap Interface Fee to implement 0.15% for Certain Swaps
44 days ago - Around
2

mins
mins to read
Key Points:
The Uniswap interface fees has introduced on certain tokens to support research and development in the crypto and DeFi ecosystem.
The Uniswap interface fee is among the lowest in the industry and will be used to enhance and expand the Uniswap platform.
Hayden Adams, the founder of Uniswap, highlighted upcoming developments, such as the launch of iOS and Android wallets, substantial improvements to the web app, and the introduction of UniswapX.
Uniswap, a decentralized exchange, is set to implement a 0.15% swap fee on specific tokens within its web application and wallet starting from October 17th.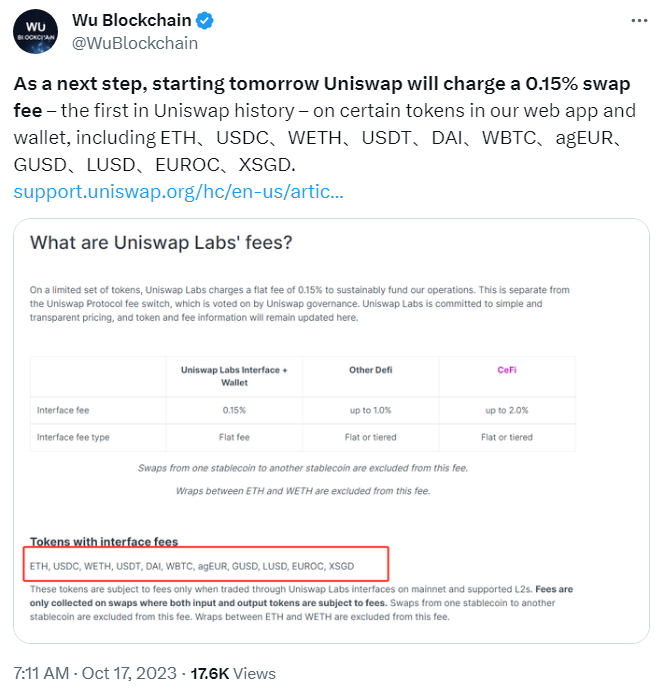 Uniswap interface fees and token pairs incur fees
Uniswap interface fee was communicated through a post authored by Uniswap's founder, Hayden Adams. The tokens subject to this fee adjustment encompass Ether, USD Coin, Wrapped Ether (wETH), Tether, Dai, Wrapped Bitcoin (WBTC), Angle Protocol's agEUR, Gemini Dollar (GUSD), Liquidity USD (LUSD), Euro Coin (EUROC), and StraitsX Singapore Dollar (XSGD).
Adams emphasized that this interface fee is notably among the lowest in the industry. He underlined that the implementation of this fee is integral to support Uniswap's ongoing research, development, enhancement, and expansion of the crypto and DeFi ecosystem. In his post, Adams also highlighted several significant forthcoming developments within the Uniswap ecosystem, including the launch of an iOS wallet, an Android wallet, UniswapX, substantial improvements to the web app, Permit2, Uniswap v4 draft codebase, and more.
Uniswap's Strong Position and Growth in the DeFi Space
It's important to note that these interface fees will be subtracted from the output token amount, impacting the cost of swaps for users. However, it's worth mentioning that these fees will not be applicable to swaps involving Ether and Wrapped Ether trading pairs, nor to exchanges between stablecoins.
Uniswap stands as one of the leading decentralized exchanges in the industry, with an impressive track record. According to DefiLlama's data, the platform presently boasts over $3 billion in total value locked and is generating an annualized protocol fee revenue exceeding $271 million. Furthermore, Uniswap maintains a treasury balance of $12 million and has secured $176 million in investments since its inception in 2018. This illustrates the exchange's strong position and continued growth within the DeFi space.
DISCLAIMER: The information on this website is provided as general market commentary and does not constitute investment advice. We encourage you to do your own research before investing.