News
BlackRock Bitcoin ETF Gains Eligible Status: Report
35 days ago - Around
2

mins
mins to read
Key Points:
The proposal of BlackRock Bitcoin ETF being added to a clearing-house eligibility file caused speculation among traders.
The inclusion in the eligibility file does not guarantee regulatory approval.
Bitcoin's price surged to an 18-month high due to anticipation of a Bitcoin ETF approval by the SEC.
According to Reuters, the proposal of BlackRock Bitcoin ETF being added to a clearing-house file sparked speculation and caused Bitcoin to rally. Approval by the SEC could bring new capital into the sector.
BlackRock's proposed Bitcoin exchange-traded fund (ETF) was added to a clearing-house eligibility file in August. However, the move does not indicate any regulatory approval, as the clearing house DTCC clarified.
Despite this, traders have speculated that BlackRock or a number of other pending Bitcoin ETF applicants would be successful, causing Bitcoin to experience its biggest two-day rally in seven months.
The DTCC, a post-trade settlement house that processed some $2.5 quadrillion in trades across asset classes in 2022, includes active and potential ETFs in its eligibility file. BlackRock's iShares Bitcoin Trust ETF was added in August as standard practice in preparation for the launch of a new ETF.
BlackRock Bitcoin ETF Added to Clearing-House Eligibility File
A spokesperson for the company said that appearing on the list does not indicate an outcome for any outstanding regulatory or other approval processes.
Bitcoin reached an 18-month high of $35,200 on Tuesday before decreasing to $34,040 as of this writing. Approval by the U.S. Securities and Exchange Commission (SEC) of an exchange-traded fund that owns Bitcoin on behalf of fund investors is expected to fuel demand. Such approval would allow previously wary investors to access crypto via the stock market, ushering in a new wave of capital into the sector.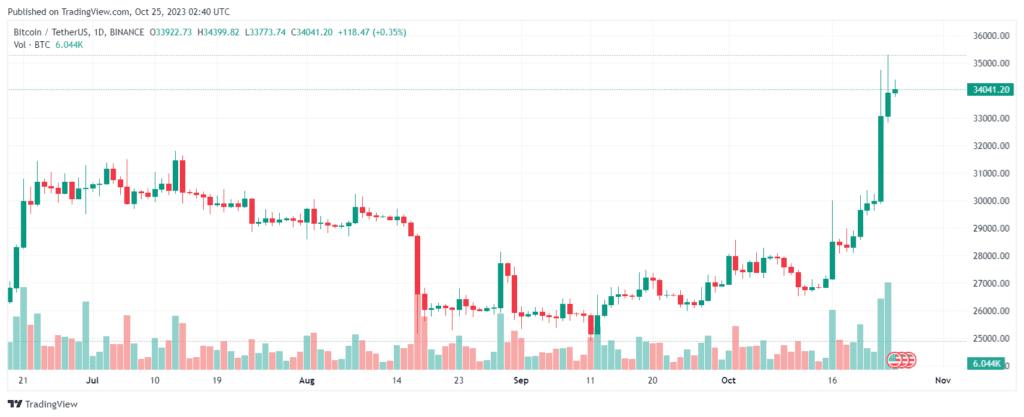 DISCLAIMER: The Information on this website is provided as general market commentary and does not constitute investment advice. We encourage you to do your own research before investing.