Market
Vuong Pham confirmed the sharing of Khoa Pug and sparked the never-ending drama
728 days ago - Around
3

mins
mins to read
On the morning of December 3, the community was again troubled by the voice-over video of Vuong Pham – a living witness in the friendship drama between Khoa Pug and Johnny Dang. After several days of silence, the dollar millionaire sided with Khoa Pug. At the same time, he also confirmed that the money fraud and threats from "Shaved Ice King" Johnny Dang were true.
Vuong Pham spoke up and took the side of Khoa Pug.
In the latest vlog, Vuong Pham confirmed one of the most interesting pieces of information from the start: "What Khoa Pug said is all true". Additionally, Vuong Pham also unveiled a well-rounded "Chicken Rolling" plan prepared in advance by Johnny Dang. Accordingly, Johnny Dang once told me that Khoa Pug was only Step 1 in the "Chicken" plan, acting as a "stepping stone" to capitalize on his influence and popularity. Then "he shaved stone" will set in Step 2 and target the people of the United States to benefit with its DBZ.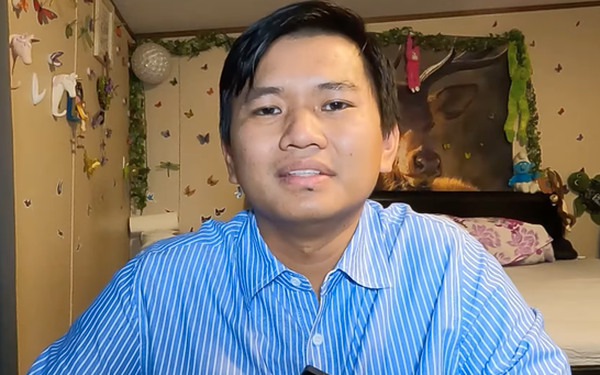 Vuong Pham released the clip that said it all once, currently this video is still very viral on the internet.
According to Vuong Pham, Khoa Pug and Vuong Pham withdrew at the same time but were detained by Johnny Dang, causing trouble and threatening to "kill" them for not wanting to be involved in the "chicken fraud" case and for defrauding these people. .
Khoa is very upright and clearly states that he can no longer use Khoa's image for anything. But this 'shaved ice' man is very shaved. If you can't plan a good PR image, skip it in a "dirty" PR style, attack the image, "smear" this and that scam, "said Vuong Pham.
In the vlog, Vuong Pham confirmed that he did not want to talk, but the other side kept provoking, so Vuong Pham repeated it once. He confirmed that the amount of 35 billion Khoa Pugs allegedly defrauded was absolutely correct. Out of trust, Khoa Pug transferred it to Johnny Dang. Vuong Pham himself also advised Johnny Dang to keep this in mind when holding this huge amount of money. Vuong Pham recalled the case that Khoa Pug was scammed with 2 million at the Aroma Resort that year, but was then scandalized and influenced his business to this day.
However, despising Vuong Pham's words, Johnny Dang constantly had to pay the price for being recently attacked by internet users. As a result, his business was rated 1 star and inundated with negative comments like Bitcoin magazine divided.
If the information Vuong Pham shared is true, Khoa Pug is not the only victim of "he shaved ice". Many more people are tricked by "he shaved ice" if Khoa Pug remains silent so that Johnny Dang can continue to use his picture.
Join Bitcoin Magazine Telegram to keep track of news and comment on this article: https://t.me/coincunews
mango
Follow the Youtube Channel | Subscribe to telegram channel | Follow the Facebook page