News
Multichain Not A Hacker Attack, The Network Is Completely Out Of Control
144 days ago - Around
3

mins
mins to read
Key Points:
There is analysis that the Multichain bridge has completely lost control. This is not the same as being hacked.
Analysis suggests that the cause may be due to some force majeure circumstances. Complete control has been lost, rather than simply being attacked.
Asset transfers take a long time, and the receiving addresses are clean.
Analysis by Loki Zeng states that Multichain is not an attack by hackers when it is discovered that the characteristics of transactions are completely normal.
According to the analysis, the asset transfer lasted for a long time, a small amount of 2 USDC. This is a test before the assignment. It shows that the transferor has a sustainable transferability that is checked before the transfer.
Each asset is moved to an independent wallet, and there are no further actions after that (such as moving to an exchange, swapping, or mixing coins). The receiving wallet is completely clean, even without gas.
Considering the specifications of the MPC, the transferor may have gained complete control of the private key segments that exceed the threshold in some way.
Besides, the "Method of Attack" is straightforward. It is a simple assignment, there is no contract, and there is a test. The attacker may not be a hacker. The assignor has not performed further processing and execution, and the operator may not have absolute discretion.
Currently, the assets controlled by Multichain MPC's multi-signature are completely out of control. Correspondingly, if the owner of the retained portion of the shard holding MPC or other multisig shards exceeds the threshold, all of these assets and contracts can go unchecked.
As mentioned in the previous article, early this morning, the Multichain bridge once again warned users that $130 million in assets was moved for unknown reasons. This caused many users to criticize the project because it returned to work not long after crashing at the end of June.
Recently, the Fantom Foundation, which has a close relationship with each other, wanted to break free of influence, claiming that FTM was never released or managed by Multichain, so FTM over wFTM, FTM ERC-20, and Opera will not be affected.
Currently, the project only advises users to stop working on the platform and revoke all contracts related to the approval chain. Besides, it does not shed light on the hack and offers a plan for reactivation.
This causes the MULTI token price to continue falling into the abyss with a 16% drop in the past 24h, currently trading at $2.61.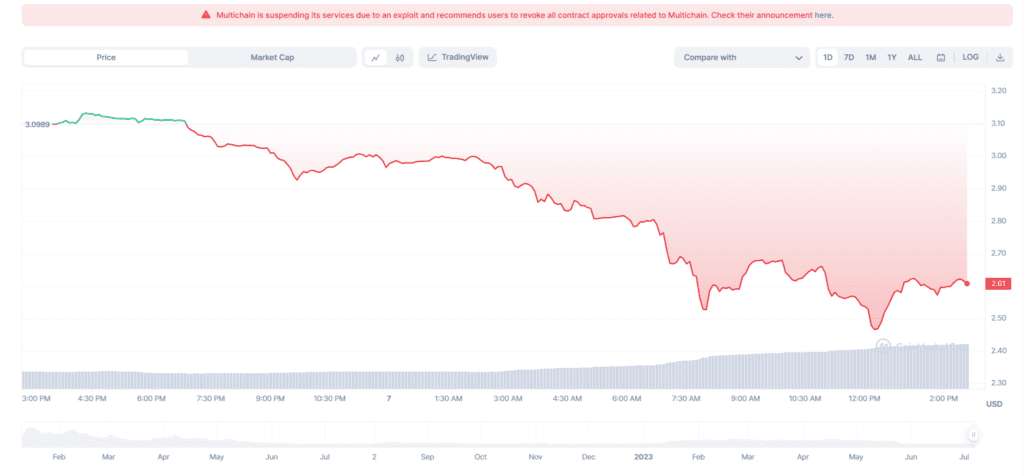 DISCLAIMER: The information on this website is provided as general market commentary and does not constitute investment advice. We encourage you to do your research before investing.