Bittrex Urges Uers To Early Withdrawals As Bankruptcy Deadline Looms
140 days ago - Around
3

mins
mins to read
Key Points:
Bittrex reminds users to withdraw funds before the August 31 deadline to resolve potential issues.
United States Bankruptcy Court grants the exchange permission to allow compliant customers to access accounts and withdraw remaining assets.
Bittrex's well-prepared response to regulatory pressures leads to Chapter 11 bankruptcy protection filing amid SEC's clampdown.
Bittrex Inc., the US arm of the renowned crypto exchange Bittrex Global, has issued a reminder to its users, encouraging them to withdraw their funds "as soon as possible."
Despite the withdrawal deadline being set for August 31, the exchange is urging users to take action sooner, allowing ample time to address any unforeseen issues that may arise.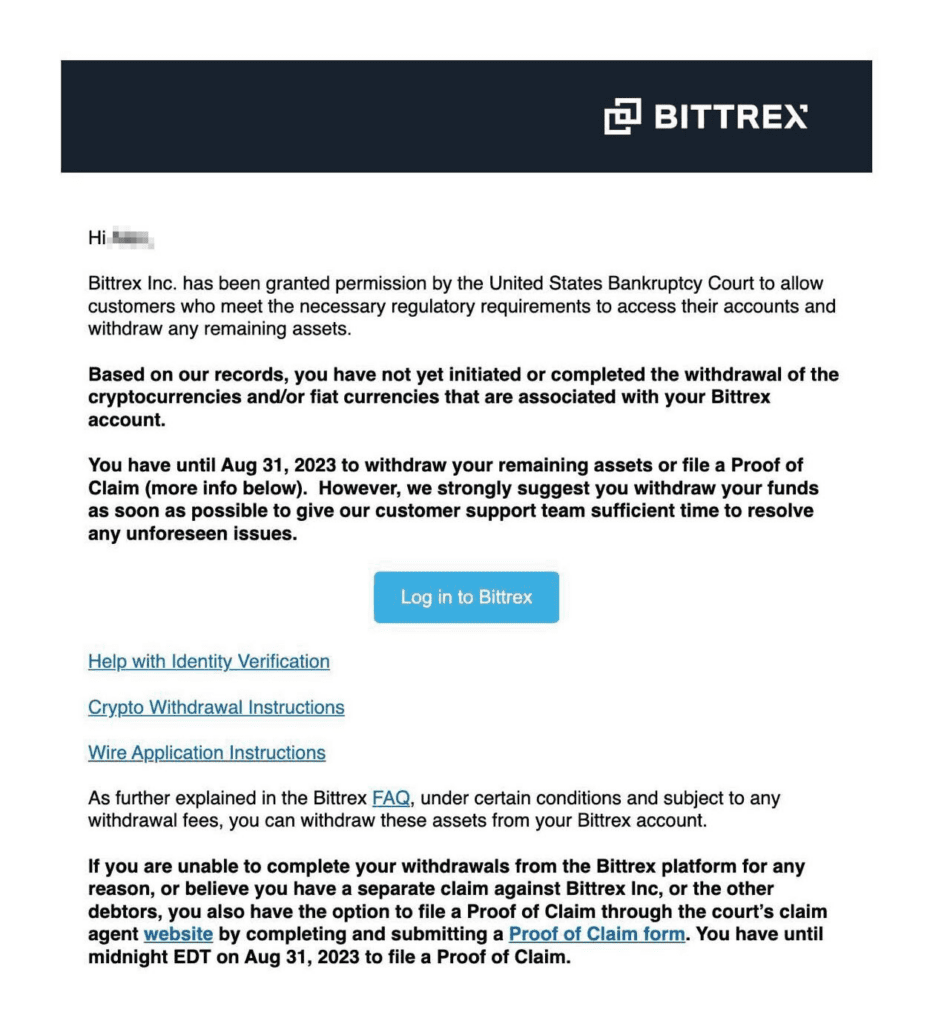 The United States Bankruptcy Court has granted Bittrex permission to enable customers who meet specific regulatory requirements to access their accounts and withdraw any remaining assets. This move comes after the company filed for Chapter 11 bankruptcy protection on May 8, 2023, a decision driven by regulatory pressures following the Securities and Exchange Commission's (SEC) crackdown on the trading platform.
The exchange had anticipated potential challenges leading up to the bankruptcy filing, as evident from its strategic measures. On March 31, 2023, Bittrex announced its decision to wind down its US operations, citing ongoing regulatory uncertainties. However, it was on April 17, 2023, that the SEC charged the exchange with violating securities laws, including facilitating the trade of unregistered securities on its platform.
In response to the SEC's charges, the exchange issued a statement expressing disappointment with the enforcement action. The company claimed that the SEC's approach to regulation by enforcement would not only have adverse effects on cryptocurrency within the United States but also hinder blockchain technology and innovation at large.
As the impact of the regulatory actions loomed large, Bittrex took swift action, filing for Chapter 11 bankruptcy protection on May 8, 2023. Court filings revealed that the company had more than 100,000 creditors, indicating the severity of its financial woes. Unlike other crypto platforms that experienced abrupt bankruptcy, Bittrex's case stood out due to its comprehensive preparation leading up to the filing.
Patterson Belknap Webb & Tyler LLP, representing Bittrex, emphasized the exchange's extensive actions taken pre-petition to ensure full customer recovery. These actions included the announcement of winding up operations on March 31, with an effective date of April 30. During this period, the exchange halted deposits while allowing customers sufficient time to withdraw their funds without interruption.
Even amidst the bankruptcy filing, Bittrex continued to reassure customers that their assets were secure and would be returned to them. This customer-centric approach distinguishes Bittrex from other crypto platforms, where users often find themselves uncertain about the fate of their funds.
As Bittrex navigates through the Chapter 11 proceedings, its focus remains on safeguarding customer interests and expeditiously resolving the case. The crypto community eagerly awaits the outcome, hoping for a responsible conclusion to the company's journey through bankruptcy.
DISCLAIMER: The information on this website is provided as general market commentary and does not constitute investment advice. We encourage you to do your own research before investing.