Reviews
Lens Protocol V2 Review: Improvements For The Better Protocol
111 days ago - Around
8

mins
mins to read
Lens Protocol decodes the various facts surrounding Lens Protocol V2, which is essentially a web-based open, and decentralized social layer. Their goal in creating the Lens was to impact the social media community as well as builders, users, and businesses. They solicited input from builders and developers and adopted the majority of the ideas in Lens Protocol V2, resulting in overall progress. Let's learn details about this project with Coincu through this Lens Protocol V2 Review article.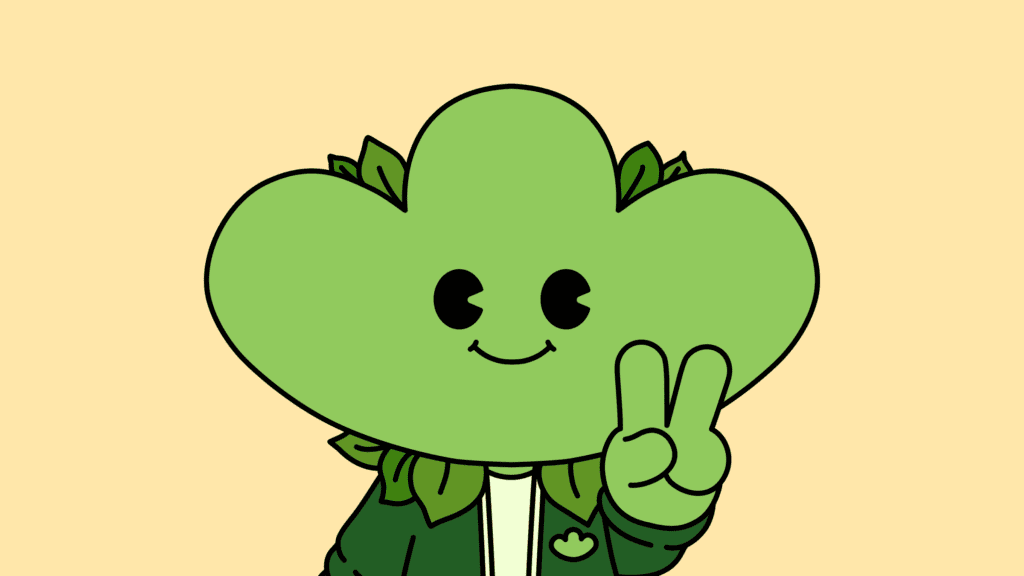 What is Lens Protocol?
Lens Protocol is a decentralized ecosystem on the Polygon blockchain. This innovative protocol empowers creators by granting them ownership over the links that connect them to their communities, giving rise to an entirely novel composable social graph under user control.
Unlike conventional Web2 social media giants like Twitter (X) and Facebook, which employ centralized social graphs to facilitate connections between users, Lens Protocol adopts a permissionless approach, paving the way for users to own their digital roots. The platform's vision is rooted in the principles of Web3 and decentralization, enabling individuals to forge unmediated connections between themselves and their communities, all while retaining absolute control over their data.
Introduced to the public in early 2022, Lens Protocol quickly garnered attention within blockchain and crypto circles due to its revolutionary approach to social networking. By introducing user-owned content and relationships, Lens Protocol successfully addresses these shortcomings, amassing a dedicated community of Web3 enthusiasts.
At its core, Lens Protocol operates as a blockchain-based, open-source social graph deliberately designed to accommodate the needs of the Web3 era. One of its key tenets is modularity, allowing for seamless integration of new features while safeguarding user-owned content and connections.
This unique approach affords users the ability to incorporate their data into any application within the Lens Protocol ecosystem, thereby nurturing a symbiotic relationship between decentralized applications (dApps) that grow in tandem.
Moreover, the introduction of Lens Protocol has given rise to a decentralized social graph, fostering user empowerment and data ownership. This paradigm shift has far-reaching implications, placing control of information and links squarely back in the hands of users. To further enhance its value proposition, the protocol offers avenues for content monetization, heralding a new era of user-driven online interactions. Now, the Lens Protocol V2 Review article will learn about the special features of the project.
What's so special about Lens Protocol V2?
Open Actions
A defining feature of Lens Protocol V2 is the continuation of its open design philosophy, offering developers and integrators the flexibility to tailor Lens Protocol to their specific needs.
Central to this flexibility is the concept of Open Actions, a mechanism that empowers users and developers to incorporate external actions beyond the confines of the Lens Protocol ecosystem. For instance, users can trigger actions such as NFT minting directly on Lens through Open Actions, streamlining the process through seamless integration with platforms like OpenSea. This interoperability extends further, enabling integration with third-party markets and protocols for executing Open Actions within user-generated content.
The integration of Lens with various web3 social applications through two-way integration opens up new avenues for collaboration. This expansion in composability and modularity supports the creation of diverse creative projects and monetization models. Platforms can join forces, enhancing the value of their content and audience while mutually benefiting from this synergy.
To foster user creativity, Lens Protocol encourages the creation of Open Actions that can resonate across the Lens network. These proposed Open Actions, suggested through Lens Improvement Proposals (LIPs), exemplify the collaborative spirit of the platform. Some notable Open Actions put forth by the development team include:
Direct creation of external NFTs within Lens Protocol
Facilitation of ERC-20 or NFT transactions
Participation in decentralized autonomous organizations (DAOs)
Contributions through platforms like Gitcoin
Purchase of NFT land from prominent Metaverse platforms such as The Sandbox or Decentraland
Whitelist enrollment
Provision of liquidity for DeFi protocols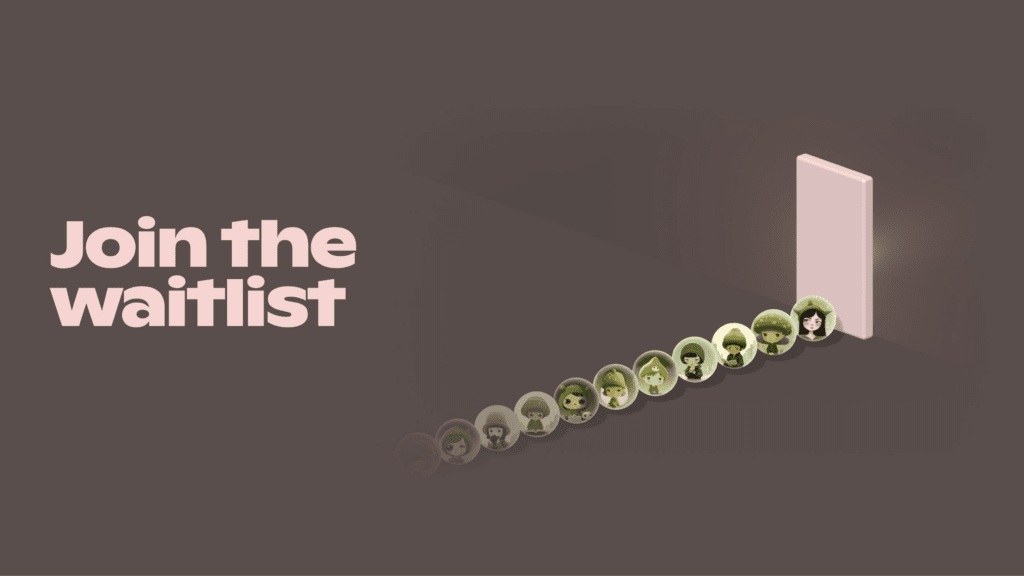 Collective Value Share
Lens Protocol V2 introduces the implementation of the ERC-6551 standard for NFT Profiles, a pivotal shift that enhances the value accumulation mechanism. Unlike traditional methods that consolidate value in the owner's address, Lens Protocol V2 channels value from actions like "mints" and "collects" into the NFT Profile.
This update transforms Profiles into the core identity for all actions. The relationship dynamics around "following" have also evolved in Lens Protocol V2, transitioning from a Profile-wallet association to a Profile-based relationship. This adjustment streamlines the Lens Protocol actions, diminishing the reliance on wallet-based actions.
The "Following" architecture has been overhauled, tying all 'follow' relationships to Profiles rather than Followers. This alteration ensures the seamless transfer of a user's social network when migrating their NFT Profile across addresses. Moreover, Lens Protocol V2 distinguishes between Profiles and handles (usernames), allowing users to change their usernames without affecting their Profile NFT.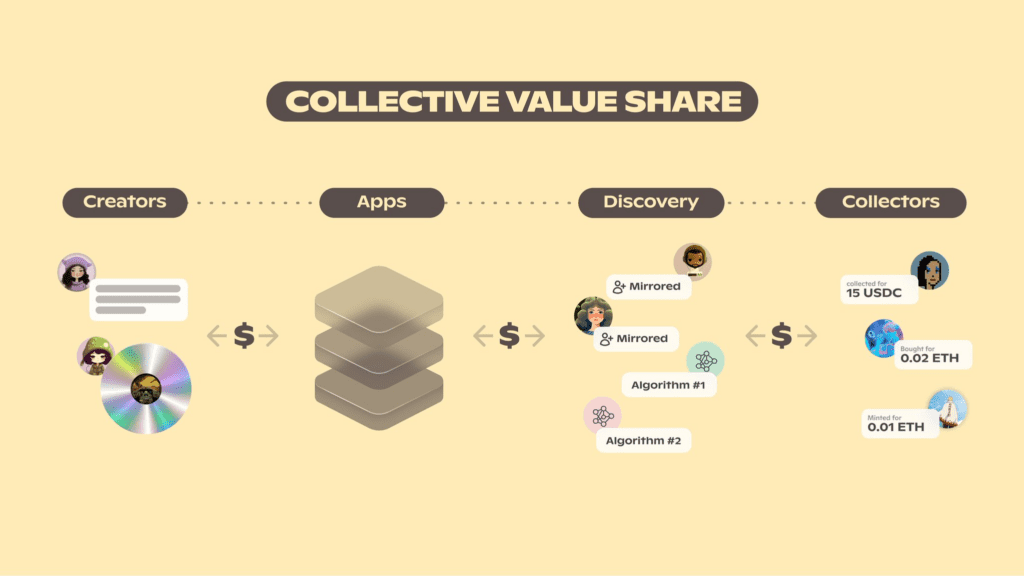 Profile Manager
The introduction of the Profile Manager feature marks another milestone in Lens Protocol V2. This functionality empowers Lens Profiles to delegate social actions to alternate wallet addresses. This enhances the security layer for Lens Profiles, facilitating the storage of NFT Profiles on cold wallets and their utilization across various wallets.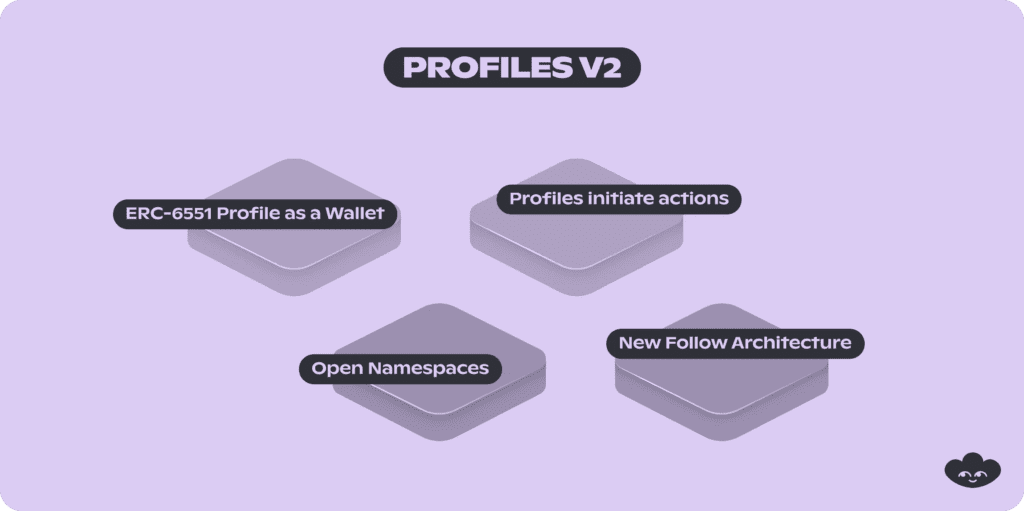 Reliability & Safety Enhancements
Lens Protocol V2 introduces on-chain blocking, enabling Lens Profiles to restrict actions originating from other Lens Profiles. This includes actions like following, commenting, mirroring, quoting, collecting, or performing Open Actions. This feature enhances user control over interactions within the Lens ecosystem.
Furthermore, Profile security receives a boost through the integration of LIP-4, introducing the Profile Guardian. This addition enhances security measures and reduces the incidence of fraudulent Profiles. By coupling the Profile Manager feature with Profile Guardian, users can store their Lens Profiles on cold wallets, mitigating the risk of counterfeit accounts within the Lens Protocol ecosystem.
Is Lens Protocol V2 potential with innovations?
The evolution from Protocol V1, which lacked a user interface but provided crucial tools for application development, has culminated in the refined capabilities of V2.
With the spotlight now on Lens Protocol V2, the platform unveils a suite of features that hand more control to builders and Web3 users. A foundational transformation lies in the complete overhaul of the Lens Protocol V2 codebase, enhancing readability and fostering open-source contributions. A significant stride is made towards the seamless integration of various Web3 functions with applications.
Remaining true to its open design ethos, Lens Protocol V2 continues to grant developers and integrators the liberty to harness its capabilities according to their visions. Open Actions emerge as a standout feature, offering a gateway for conventional Lens applications to embrace external actions. This breakthrough fosters greater exposure for Lens applications seeking to implement actions beyond the platform's boundaries.
The ensuing ripple effect enables the creation of intricate internet projects where social networks intertwine. A noteworthy implementation of Open Action is the ability for builders to seamlessly mint an NFT collection drop on the Lens platform.
The concept of collective value sharing takes center stage in Lens Protocol V2. Every impactful action within the Lens ecosystem now resonates through the value-sharing chain, uniting individuals, applications, algorithms, and service providers in a mutually rewarding cycle. Through integration with Web3 applications and the implementation of two-way interactions, Lens Open Actions elevate the very essence of Lens.
The synergy between Lens Protocol and a well-structured monetization layer ushers in a self-sustaining economy where users actively participating in the ecosystem find themselves duly rewarded. Lens Protocol V2 widens the scope for value-sharing among users, algorithms, curators, and applications, even extending to the realm of revenue distribution.
Integral to Lens Protocol's strength lies the interconnectedness between profiles and the ERC-6551 token value. Lens Protocol V2 capitalizes on this synergy, enabling the value to be anchored in mints and collected for profiles. This mechanism empowers NFTs to forge social relationships, amplify their voices, and explore monetization avenues. Profiles emerge as foundational identities, orchestrating a renewed follow framework and open namespaces.
The profile manager feature adds another layer of versatility to Lens Profiles, allowing users to delegate social actions across multiple wallets. This feature not only fortifies the security of Lens profiles, enabling users to store them on hardware wallets but also facilitates the storage of community profiles on smart contracts. Accompanying these developments is the publication feature, enhancing the overall experience.
On the safety front, Lens Protocol V2 introduces on-chain blocking, bolstering users' ability to curate their interactions within the platform. The profile guardian ensures heightened profile security, stemming fraudulent profiles and promoting genuine engagement.
Conclusion of Lens Protocol V2 Review
In summary, the Lens Protocol V2 version provides consumers with upgrades and new functionality. Above all, Lens Protocol V2 is attempting to distinguish itself in order to attract a big number of users not only from the Crypto market but also from social network users in the Web2 globe.
Lens Protocol's journey to V2 is marked by an array of transformative enhancements that empower creators, users, and the ecosystem as a whole. Through the fusion of open design, Open Actions, shared value dynamics, and security augmentations, Lens Protocol V2 forges a new chapter in the realm of decentralized social interactions. Hopefully the Lens Protocol V2 Review article has helped you understand more about the project.
DISCLAIMER: The information on this website is provided as general market commentary and does not constitute investment advice. We encourage you to do your own research before investing.