Reviews
Solv Protocol Review: The First DeFi Platform To Support Vouchers
106 days ago - Around
9

mins
mins to read
NFT in general, and NFTFi in particular, are steadily establishing their place in the crypto market after becoming a subject of debate on social networking sites, and even these projects have had a significant surge. Let's learn details about this project with Coincu through this Solv Protocol Review article.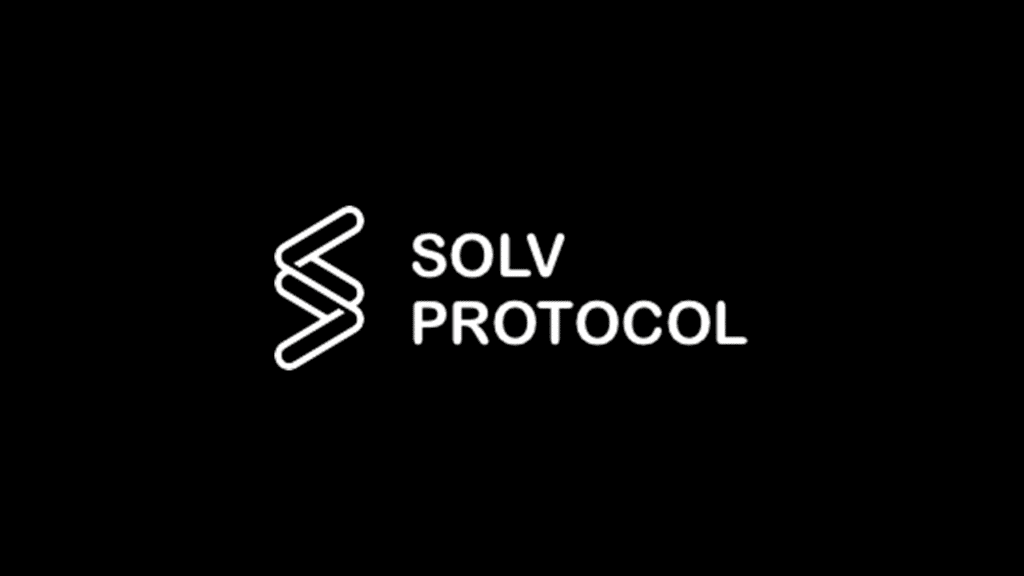 What is Solv Protocol?
Solv Protocol, a pioneer in the area of NFTFi, is launching a new effort to attract NFT issuance projects and manage their NFT allocation as Solv "Vouchers" on its secondary market platform.
The protocol introduces a revolutionary approach, offering the ability to mint, trade, and manage vouchers, which encompass a range of financial instruments including bonds, NFTs, and more.
At the core of Solv's vision is the creation of vNFTs (virtual non-fungible tokens), a concept that not only forges a path for financial NFTs but also fosters a platform for their seamless trading. With an emphasis on bolstering the secondary market, Solv Protocol is initiating an innovative drive aimed at enticing projects to issue and oversee their NFT allocations through Solv "Vouchers."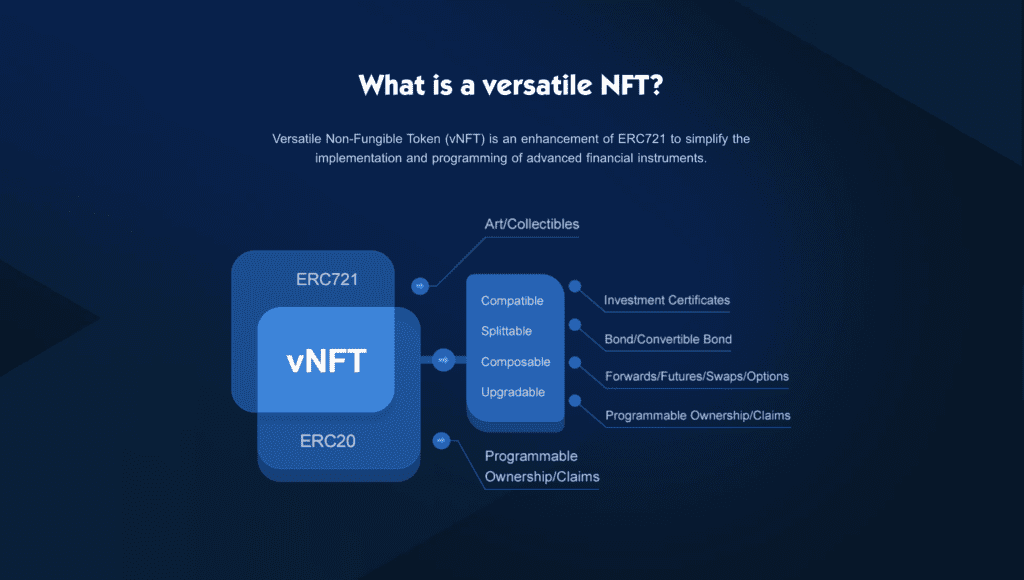 These vouchers, a novel form of digital asset, encapsulate diverse financial instruments such as investment allocations, bonds, deposit receipts, and cover notes, all expressed in the form of NFTs. By aligning with the Solv Protocol, these vouchers unlock optimized execution for DeFi financial instruments, showcasing the protocol's commitment to innovation and efficiency in the sector.
One of the standout features of the Solv Protocol is the introduction of the vNFT standard. This novel token standard, an evolution of the existing ERC-721, provides an intricate and sophisticated infrastructure for vouchers. Its purpose is to streamline the implementation and programming of advanced financial products, making them more accessible and manageable for both creators and traders.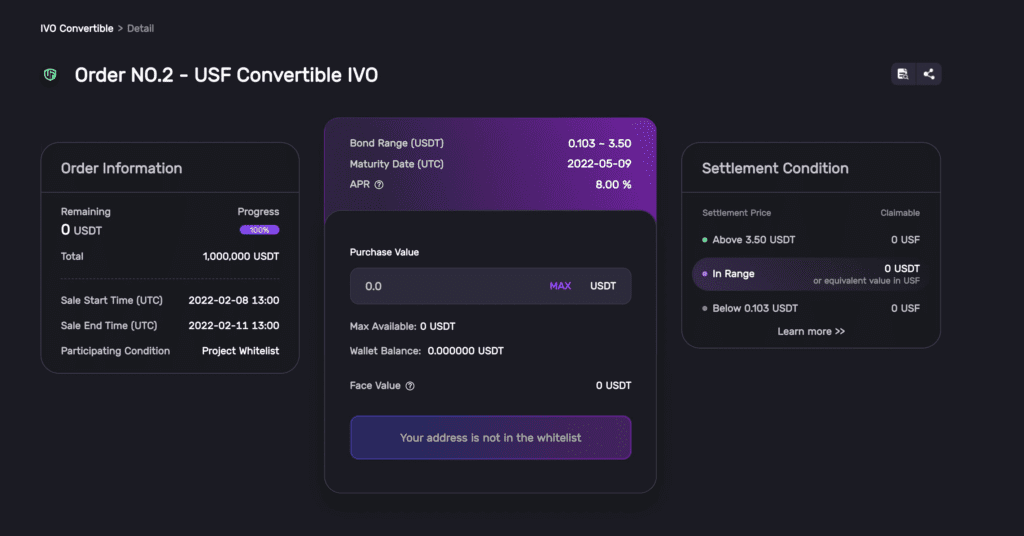 Highlights
Solv Protocol introduced a novel approach to the world of decentralized finance (DeFi) by bringing together the power of Non-Fungible Tokens (NFTs) and financial instruments in the form of Vouchers. These Vouchers, built on the ERC-721 standard asset class, offer a versatile and transformative solution for users seeking to redefine their financial interactions.
What sets Vouchers apart is their unique characteristic of being a single NFT that can be fractionated into multiple independent, irreplaceable derivatives. This intrinsic flexibility allows users to engage in intricate financial arrangements while maintaining the integrity of each derivative. Moreover, the Voucher framework is designed to be upgradeable, allowing for the seamless addition of new information and features to the original token.
Solv Protocol's innovative portfolio comprises a range of products centered around these Vouchers. From vesting vouchers to convertible vouchers, the platform covers a diverse spectrum of financial needs. Additionally, Solv Protocol addresses transaction and liquidity concerns, further enhancing the usability of these innovative instruments. Notably, Vouchers can be effectively employed as NFTs for transactions within the Solv ecosystem or on platforms like Opensea.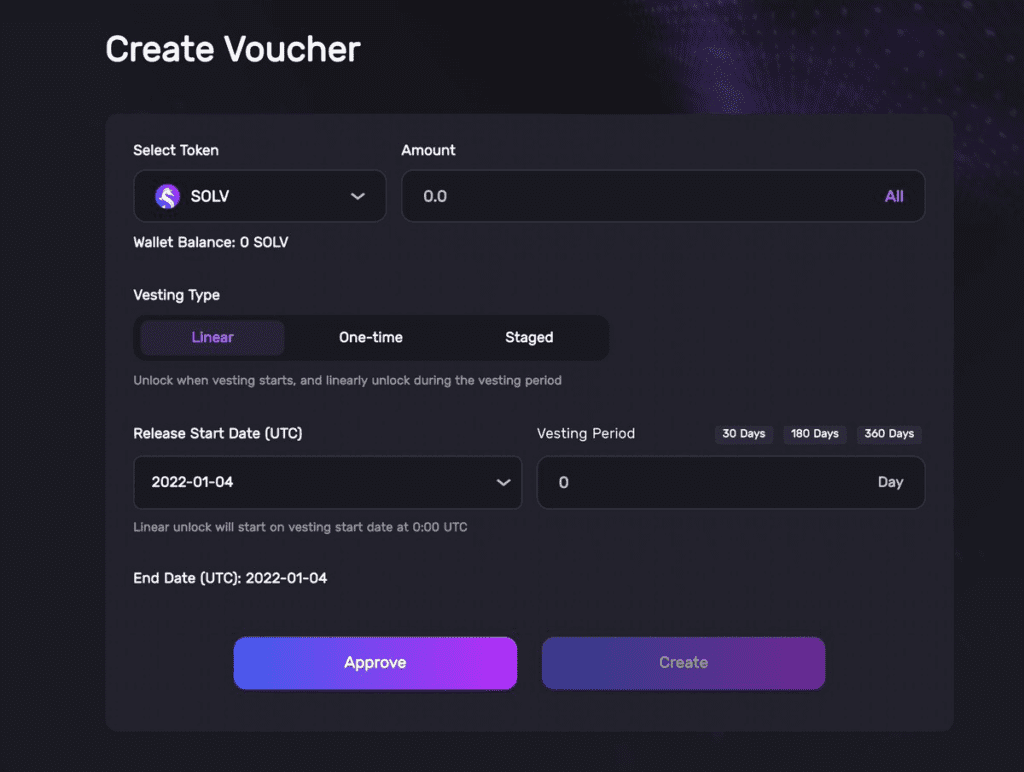 At its core, Solv Protocol presents itself as a DeFi application that empowers users to personalize their financial instruments using the Voucher framework. By integrating common trading patterns and asset circulation rules with self-executing logic, the platform streamlines complex financial interactions. This approach not only caters to sophisticated users but also makes financial instruments more accessible to the general populace.
A significant advantage of Voucher circulation lies in its potential to unlock the liquidity of locked assets. This dynamic circulation facilitates activities such as transfers, transactions, and loans, thereby harnessing the true potential of financial NFTs in the realm of DeFi. Now, the Solv Protocol Review article will learn about how the project works.
How does it work?
At the core of Solv's vision is creating and managing vNFTs, short for versatile Non-Fungible Tokens, a groundbreaking NFT standard pioneered by the platform itself.
In addition to bolstering the vNFT ecosystem, Solv Protocol extends its support to facilitate the trading of Financial NFTs, ushering in a new era of financial instruments backed by blockchain technology.
A defining feature of the Solv Protocol is its introduction of Vouchers, powered by the innovative vNFT standard. This framework represents a significant advancement from the traditional ERC-721, streamlining the development and deployment of intricate financial products.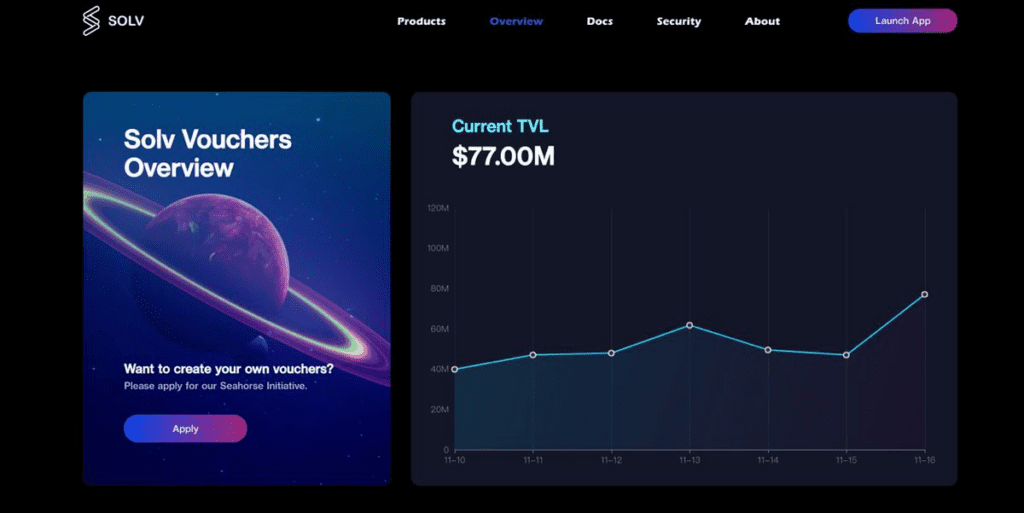 With the seamless integration of vNFTs, Solv Protocol seeks to simplify the landscape for users, making advanced financial solutions more accessible and programmable.
One of the persistent challenges within the blockchain ecosystem has been the loss of liquidity associated with locked assets or collateral deposits. Circulating Vouchers, a novel concept introduced by Solv, present a solution to this liquidity dilemma.
By allowing locked assets to be encapsulated within Vouchers, Solv Protocol enables the liberation of liquidity, opening avenues for transfers, trades, loans, and other forms of circulation.
This breakthrough innovation significantly enhances the NFTFi (NFT Finance) experience, ensuring that assets remain fluid and adaptable to the market's evolving needs.
Features
Vesting Voucher
The Vesting Voucher, characterized by its unparalleled and self-contained attributes, provides users with an exclusive avenue to enhance their holdings. It stands out with its ability to accommodate additional tokens, further enriching its value. The assets entrusted within this voucher serve a dual purpose: they can be effectively traded on the Solv platform, or they can serve as collateral to inject liquidity into the system, amplifying its utility.
For those engaging in the process of asset deposition into the Vesting Voucher, a comprehensive set of details is provided. These details encompass critical information such as the maturity date and the number of tokens/NFTs associated with the voucher, ensuring transparency and informed decision-making.
Characteristic:
Liquidity: Vesting Voucher is divisible and ERC-721 compliant, guaranteeing complete liquidity for locked tokens.
Permissionless: Vesting Voucher will be exchanged on the on-chain market without the need for approval.
Visualization: Using on-chain SVGs, users may obtain underlying asset data and vesting schedules at any time.
Bond Voucher
It opens up intriguing prospects for users. With the potential for conversion and trading at a discounted rate, these DAO-backed instruments present a fresh dimension in the trading sphere.
As with the Vesting Voucher, individuals who choose to partake in the asset deposition process for the Bond Voucher are furnished with crucial insights similar to those offered by the Vesting Voucher. This convergence of features not only creates a seamless experience but also promotes a comprehensive understanding of the investment.

Characteristic:
Fast Onboarding: Offer an efficient link between buyers and sellers, as well as a network of investors, to assist users in swiftly accessing the credit market.
Visualization: On-chain SVGs represent particular and obvious facts about the token, such as the APY, date, and amount redeemable.
On-Chain Credit History: Build credit history using immutable on-chain payback history to produce advantageous lending conditions and scale up loans.
Convertible Voucher
A zero-coupon bond with a set yield and a price range defined by DAOs.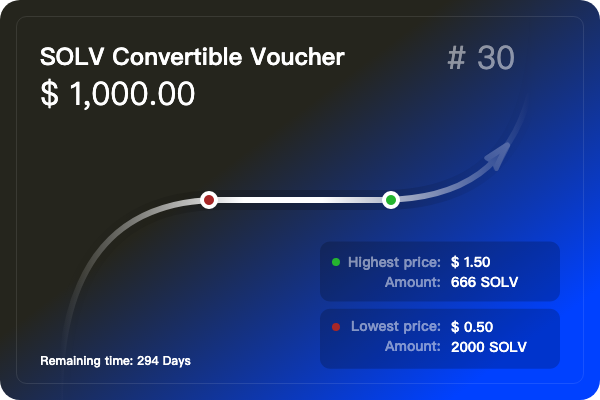 Characteristic:
Structured product that can be customized: anybody may adapt the product to establish a derivatives market for any underlying asset they choose to offer.
Flexible configurations: before issuing the Voucher, users may freely specify the maturity date, payment method, and bond range.
Visualization: on-chain SVGs display expiry dates and estimated returns to assist users in understanding their holdings.
Problems Solv Protocol solves
Solv Protocol's vouchers offer a dynamic solution that eliminates the need for the creation of additional tokens for projects under management, streamlining the capital allocation process. Furthermore, Solv Protocol facilitates an on-chain OTC (Over-the-Counter) market, enhancing the trading and lending of various derivative products.
One of the key applications of the Solv Protocol is seen during the fundraising phase for public rounds of projects. These projects have the option to vend allocations, secured with vesting vouchers, to investors.
This concept draws parallels to IVO (Initial Voucher Offering), a crowdfunding technique that involves the issuance of vouchers.
Particularly beneficial for new projects, the vesting vouchers come to the rescue by alleviating the high costs associated with building a community from scratch. They optimize capital allocation for essential activities like incentives, airdrops, and liquidity mining.
Beyond its innovative capital management system, Solv Protocol addresses critical concerns within the cryptocurrency industry:
Excessive Centralization: With the prevalence of fraudulent projects misusing funds in centralized endeavors, Solv Protocol provides a safeguard against such risks, allowing users to navigate a more secure landscape.
High Development Costs: The traditional financial projects' elevated development and operational expenses are mitigated through Solv Protocol's efficient mechanisms, presenting a more cost-effective avenue for innovation.
Lack of Effective Investment Platforms: The crypto market's fragmentation is tackled head-on, as Solv Protocol establishes an effective platform for users to confidently invest in various financial products, thereby enhancing the market's cohesion.
Roadmap
Solv Protocol has not yet released a new roadmap. As new information becomes available, Coincu will notify you.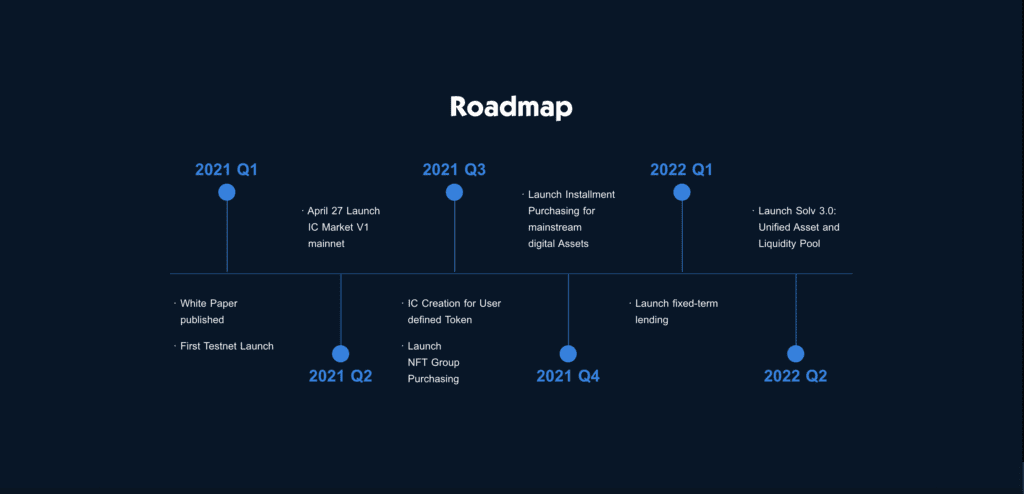 Investors and Partners
Investors
A seed round of $1 million was raised for the Solv Protocol. Large funds such as The Spartan Group, Axia8 Ventures, IOSG Ventures, Hashed, Krypital Group, GBV Capital, and Maple Leaf Cap participate in this investment round.
Recently, Solv Protocol concluded a $6 million round of fundraising led by Nomura Securities subsidiary Laser Digital, UOB Venture Management, Mirana Ventures, UAE Consortium, Matrix Partners, Apollo Capital, HashCIB, Geek Cartel, and Bytetrade Lab. The cash received will be used to grow the team and continue to work on the platform's technical development.
Partners
Solv Protocol, the leading NFTFi project, now has a lot of partners spanning from DeFi to NFT and many other areas.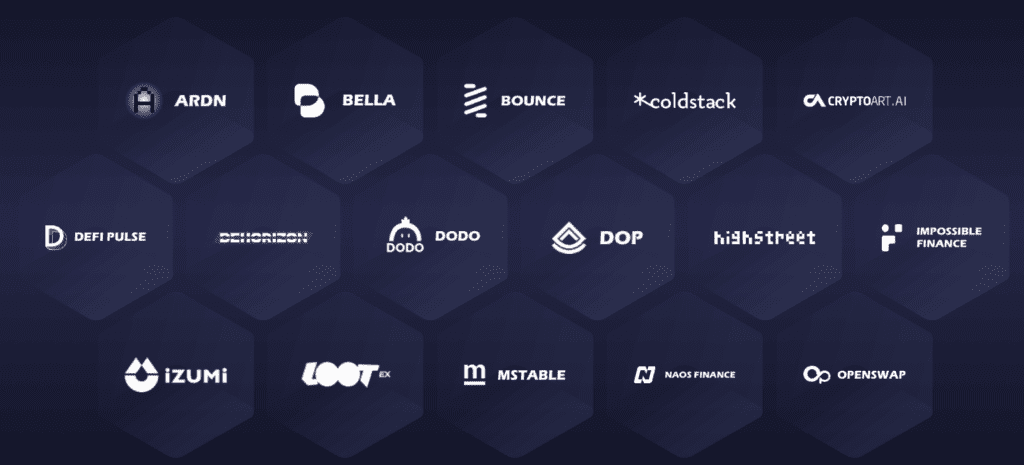 Conclusion of Solv Protocol Review
Solv is a pioneering initiative in the NFTFi industry, with features that provide genuine value to consumers. Solv will have considerably more potential with great items and major crypto industry supporters.
Solv has not yet launched tokens. Therefore, you may monitor the project to develop a fair investing strategy. Moreover, this is still a promising project with items that provide genuine value and top supporters, so monitor the project diligently and refresh your knowledge regularly to maximize your profit. Hopefully the Solv Protocol Review article has helped you understand more about the project.
DISCLAIMER: The information on this website is provided as general market commentary and does not constitute investment advice. We encourage you to do your own research before investing.