Rumor: Is Polygon Foundation Selling Nearly $6M MATIC?
96 days ago - Around
3

mins
mins to read
Key Points:
According to data, the Polygon Foundation had deposited nearly $6 million in MATIC on the Binance exchange.
Many predictions suggest that a large discharge may take place shortly.
MATIC price has fallen more than 15% in the past month and is down nearly 81% from its all-time high.
According to on-chain data from Lookonchain, Polygon Foundation Wallet Address 0x8d36 has deposited 6 million $MATIC worth of $3.35 million to the Binance exchange in the past 2 days. Another Polygon Foundation address 0xf957 sent 4.6 million $MATIC worth about $2.57 million to Binance in the past 30 days.
Polygon Foundation's move confused many investors confused and predicted there would be a large amount of liquidation in the future. This could create a wave for investors to move their MATIC tokens to exchanges and cause the token price to continue to sink.
The Polygon network was developed as a layer 2 solution in the Ethereum network to facilitate the creation of Dapps, smart contracts, and transactions at a faster and cheaper rate than the Ethereum network.
The native token of the Polygon network is MATIC, which is responsible for network security, administration, and transaction fees. Despite hitting an all-time high in 2021, the value of MATIC has dropped by 80.85% and is currently trading at $0.56 in the market.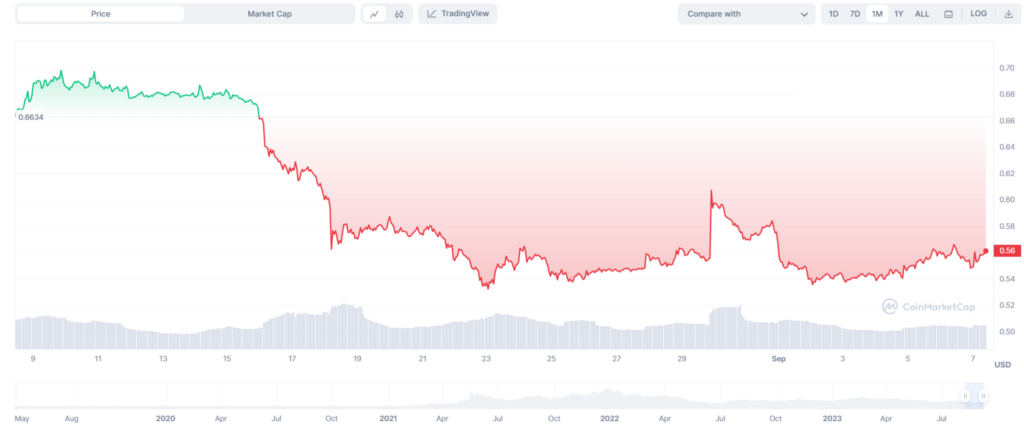 As a result, many investors dumped this asset and headed for better opportunities like newer layer 2 like Optimism (OP), Arbitrum (ARB), and Base. This raises the risk of obsolescence significantly, which could push MATIC prices deeper into the danger zone in the coming weeks.
Recently, the much-anticipated change was announced regarding the MATIC token's tokenomics, within the framework of the Polygon 2.0 upgrade chain.
Specifically, Polygon wants to rename the MATIC token to POL, which is shaped to become a shared token throughout the Polygon ecosystem. Accordingly, POL will be the main currency and staking token to authenticate transactions used for Polygon POS, Polygon zkEVM, and Supernets – layer-2 built on the Polygon network, and as a reward token on those networks.
The overall goal of this upgrade will be to expand the use of MATIC/POL, and increase scalability but not threaten the overall security of the entire ecosystem.
The process of converting MATIC to POL is also expected to take place in a simple way, whereby token holders only need to send MATIC to a predefined smart contract to receive the corresponding amount of POL in a 1:1 ratio. It is expected that the roadmap to convert MATIC tokens into POL will last for 4 years.
DISCLAIMER: The Information on this website is provided as general market commentary and does not constitute investment advice. We encourage you to do your own research before investing.