Stories
Only 6 Billionaires Trade Bitcoin Out Of 200 Million People: Report
95 days ago - Around
3

mins
mins to read
Key Points:
There are around 425 million crypto users globally, of which Bitcoin accounts for less than half of that number.
There are also only 6 billionaires out of 200 Bitcoin traders.
Once hit as high as $69,000, the downturn makes Bitcoin now worth less than half.
According to Henley & Partners' Crypto Assets Report, around 425 million people use crypto globally, of which bitcoin makes up less than half of that number.
Of the hundreds of millions of people who trade cryptocurrencies and bitcoin, only six have achieved billionaire status. The report shows that there are 88,200 crypto millionaires, 182 centi millionaires (worth $100 million or more), and 22 individuals have crypto assets worth $1 billion.
The current decline in Bitcoin and other cryptocurrencies is caused by a variety of short- and long-term reasons, related to the context of traditional financial markets and the collapse of money empires. large electronics market and management policies are increasingly tightened.
Many hoped that the non-dependent nature of cryptocurrencies would help them fight inflation and weather periods of crisis. Since Bitcoin is not under the control of any organization or authority, it is expected to retain its value even through economic downturns, wars, or policy changes. But reality has proven this is not true.
The Federal Reserve raises interest rates at a historically rapid pace to fight inflation. Higher borrowing costs often weigh on high-risk assets like cryptocurrencies.
Besides, the world's largest cryptocurrency is not outside the influence of the stock market, the instability in the Russia-Ukraine conflict, inflation, supply chains, and oil prices.
Many investors are anxiously watching every move of countries such as the US, China, India, and Germany when the governments of these countries begin to find ways to control cryptocurrencies. At the same time, cryptocurrencies continue to fluctuate due to a series of attacks by hackers and rug-pulls.
The tumultuous collapse of stablecoins that stormed the UST market and LUNA cryptocurrency has led to the collapse of its partners and investors in the 5th month of 2022. It is not over when the cryptocurrency empire The death of the second largest FTX market suddenly collapsed in November 2022, also dragging a series of companies, funds, partners, and investors into the mud.
All of this has caused the market's largest cryptocurrency Bitcoin to decline more than 60% in value from its all-time high of $69,000 to just $25,700 at present.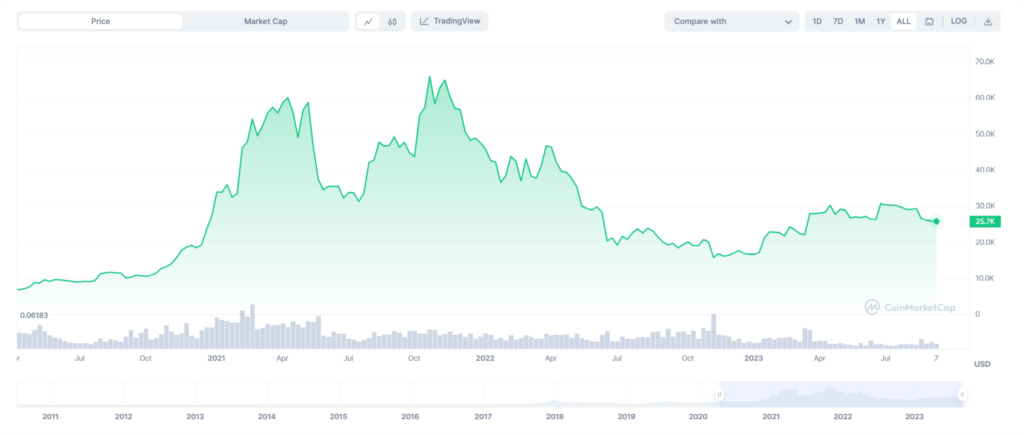 DISCLAIMER: The information on this website is provided as general market commentary and does not constitute investment advice. We encourage you to do your own research before investing.