Blockchain
Wormhole Now Integrates USDC Across Blockchains With Circle's CCTP Support
76 days ago - Around
2

mins
mins to read
Key Points:
Wormhole now supports USDC transfers across multiple blockchains via Circle's CCTP.
Users access this feature through Portal bridge, and developers can integrate it with just three lines of code using Wormhole Connect.
CCTP streamlines cross-chain USDC transfers, enhancing liquidity and the user experience in Web3.
Wormhole, a prominent cross-chain solution, has recently incorporated Circle's Cross-Chain Transfer Protocol (CCTP), introducing seamless transfers of USD Coin (USDC) across multiple blockchains, including Ethereum, Avalanche, Arbitrum, and Optimism. This development was announced on September 20.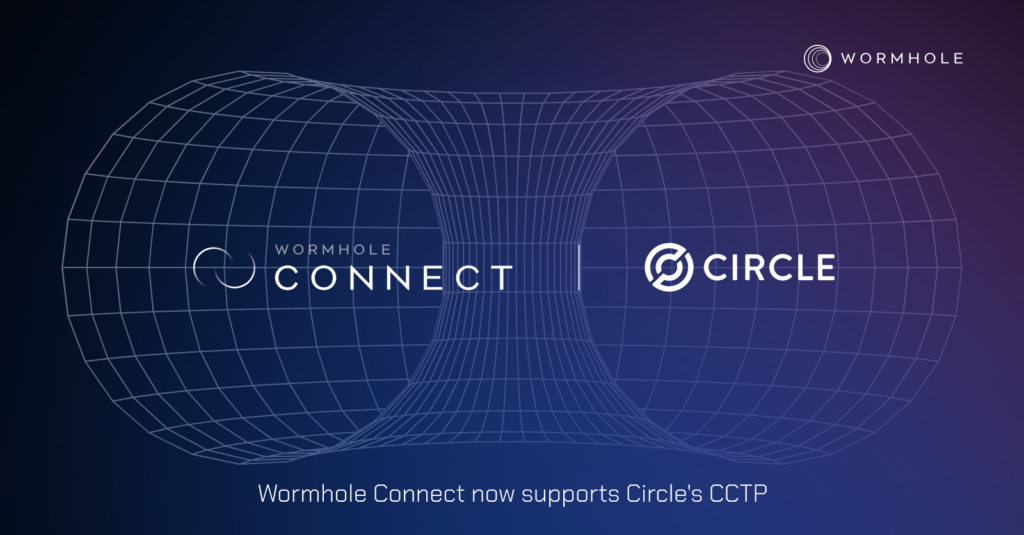 This enhancement is now accessible to end-users through the Portal bridge, while developers can readily integrate it into their applications using Wormhole Connect.
Previously, transferring USDC to other chains necessitated using a bridge to lock the native USDC on Ethereum and create a derivative version on the target chain. The existence of multiple bridging protocols with various USDC derivatives has occasionally led to confusion among users.
In April, Circle introduced the USDC Cross-Chain Transfer Protocol (CCTP) for seamless token transfers between Ethereum and Avalanche. This protocol facilitates the destruction of tokens on the original chain and their transfer to the target chain when users execute cross-chain operations. Prior to Wormhole's involvement, various cross-chain projects, including Celer, Hyperlane, LayerZero, LI.FI, and MetaMask, had adopted CCTP.
Wormhole Connect has now integrated Circle's CCTP, offering application developers a straightforward method to incorporate native USDC for cross-chain token transfers with just three lines of code.
CCTP, developed by Circle, is a permissionless on-chain utility that ensures secure USDC transfers between blockchains through native burning and minting. This innovation streamlines the user experience by allowing USDC to flow natively across blockchains, promoting liquidity in the Web3 ecosystem.
CCTP's integration into various applications paves the way for a unified and widely adopted Web3 ecosystem, providing users with a secure and efficient way to transfer USDC across different chains.
DISCLAIMER: The information on this website is provided as general market commentary and does not constitute investment advice. We encourage you to do your own research before investing.