Knowledge
Top 5 Best Crypto Mining Apps In 2024
51 days ago - Around
9

mins
mins to read
Crypto mining, the process of using computer hardware to solve intricate mathematical problems for transaction verification and rewards, has traditionally been associated with dedicated mining rigs. However, the rise of technology has given birth to a new trend: crypto mining apps for Android. Today, we will select the best crypto mining apps for Android to help you make useful choices.
What Are Crypto Mining Apps?
The cryptocurrency community often employs the term "mining" to describe the process of earning rewards through an app, even when no actual mining occurs. Some projects distribute coins to users through "mobile mining" apps, though these apps don't participate in any blockchain consensus process. Instead, they gradually allocate coins to users who engage with the app.
The cryptocurrency community often employs the term "mining" to describe the process of earning rewards through an app, even when no actual mining occurs. Some projects distribute coins to users through "mobile mining" apps, though these apps don't participate in any blockchain consensus process. Instead, they gradually allocate coins to users who engage with the app.
Mobile "Mining": A Misnomer
Mining popular cryptocurrencies, like Bitcoin, is unfeasible on mobile phones. These digital assets require substantial computing power, and mobile devices are ill-equipped to compete with the efficient ASIC miners dominating the industry. Attempting to mine Bitcoin on a mobile phone is not only a futile endeavor but also poses the risk of overheating and damaging the device.
Even less competitive proof-of-work cryptocurrencies, such as Monero, Litecoin, and Bitcoin Cash, can't be profitably mined on mobile devices. Apps claiming to mine such coins typically reward users with small amounts of cryptocurrency in exchange for ad viewing or survey completion, rendering them unproductive.
Legitimate Uses of Crypto Mining Apps
There are, however, legitimate crypto mining apps for Android that enable users to remotely manage cryptocurrency rigs or engage in cloud mining. Additionally, some apps allow users to purchase hashrate on a marketplace.
Exploring Free Crypto Mining Apps
For those interested in earning digital currency without investing in dedicated hardware, numerous software programs provide a convenient solution. These apps are automated and user-friendly, making them accessible even to those with minimal experience in mining. They offer features like auto coin switching and profitability calculators, which can help users maximize their profits.
Environmental Considerations
It's essential to consider the environmental impact of cryptocurrency mining, as the energy consumption involved can contribute to carbon emissions. As the industry evolves, there may be a shift towards more eco-friendly solutions.
Top 5 Best Crypto Mining Apps For Android
NiceHash
Cryptocurrency enthusiasts, both new and experienced, are turning to NiceHash as their preferred platform for mining digital assets. With its diverse array of mining options and unique ability to buy and sell hash power, NiceHash is making a significant impact to become one of the best crypto mining apps.
NiceHash stands out as a versatile cryptocurrency mining platform that caters to GPU, CPU, and ASIC miners. What sets it apart is its dual functionality, allowing users to both purchase and sell hashpower. This marketplace for hash rates provides both internal and external mining alternatives, making it a one-stop solution for crypto miners.
One of the standout features of NiceHash is its hash power exchange platform, which facilitates the buying and selling of hash power. This innovative marketplace has garnered widespread attention in the crypto community, offering miners the flexibility to tailor their mining experience to their needs.
The platform also provides a profitability calculator, a valuable tool for users looking to estimate their earnings. By inputting their hash rate and electricity costs, miners can gain insight into their potential profits, helping them make informed decisions about their mining activities.
To make the mining process even more accessible and user-friendly, NiceHash offers a mobile app. This app is a Swiss Army knife for cryptocurrency miners, allowing them to manage their cryptocurrency wallets, mining equipment, and NiceHash accounts efficiently. Users can seamlessly keep track of their mining rewards, ensuring they stay informed about their progress.
Binance
Binance, renowned as one of the world's largest and most popular cryptocurrency exchanges, has expanded its mobile app's capabilities to include a unique cloud mining feature, enabling users to delve into the world of cryptocurrency mining without the need for specialized hardware or software. This is also one of the best crypto mining apps with the best service.
The Binance mobile app, already celebrated for providing access to a vast array of trading products, now opens the door to cloud mining, a revolutionary concept allowing even those without mining hardware to participate indirectly in cryptocurrency mining activities. This innovative approach is bound to excite crypto enthusiasts looking for accessible and hassle-free ways to mine digital currencies.
Here's how it works: Within the Binance mobile app, users can purchase a specified amount of hashrate from the Binance Pool mining pool. The useful of this system lies in its simplicity and efficiency. Users receive their BTC mining rewards directly into their Funding Wallet on the Binance platform, eliminating the need for complex hardware setups and maintenance.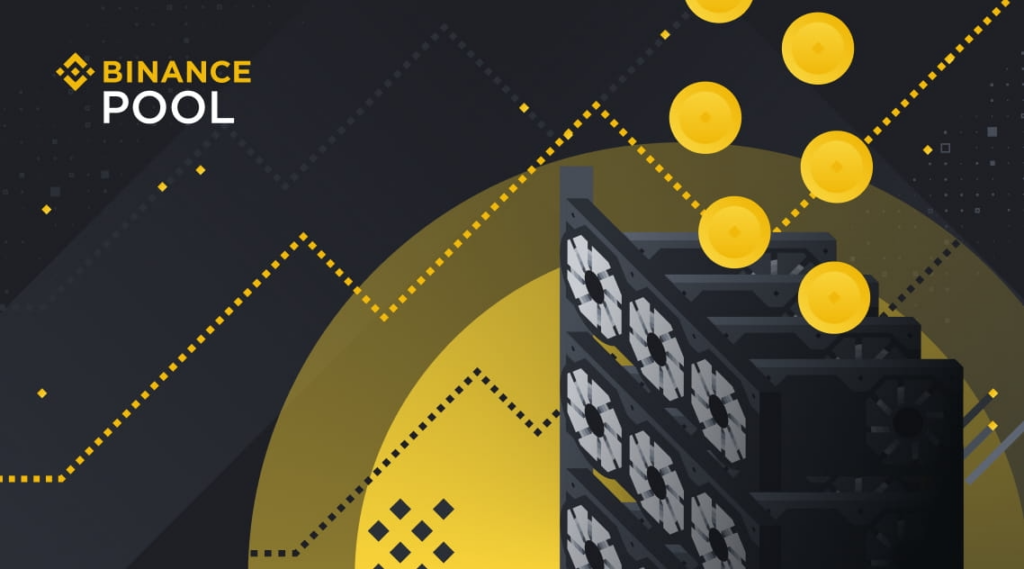 Cloud mining on Binance is designed for ease of use and accessibility. Users can select from various mining plans, offering flexibility to cater to their preferences. All it takes is a minimal fee to rent hashing power from Binance's mining farms, allowing users to engage in the mining of popular cryptocurrencies like Bitcoin, Ethereum, and Litecoin.
Additionally, the cloud mining products on Binance come with varying durations, such as 60 days or 100 days, providing users with further flexibility and control over their mining activities. To access these cloud mining features, users can conveniently pay with the USDT stablecoin.
CryptoTab
In the world of cryptocurrency, CryptoTab has emerged as a game-changer, offering users the opportunity to earn Bitcoin rewards as they browse the internet. While the concept might sound familiar, CryptoTab's unique approach sets it apart from the crowd. CryptoTab is one of the best crypto mining apps with a lot of versatility.
CryptoTab operates as a web browser that harnesses the power of Monero (XMR) mining to generate Bitcoin rewards. This distinctive twist enables users to accumulate Bitcoin by converting the mined Monero, creating a seamless and rewarding browsing experience.
For mobile users, CryptoTab introduces its Cloud.Boost feature, a form of cloud mining that optimizes the mining process while you browse. The Android version of the CryptoTab browser is a popular choice, but it doesn't stop there. CryptoTab is also available as a desktop application and as an iOS app, ensuring that users can access this innovative platform across a range of devices.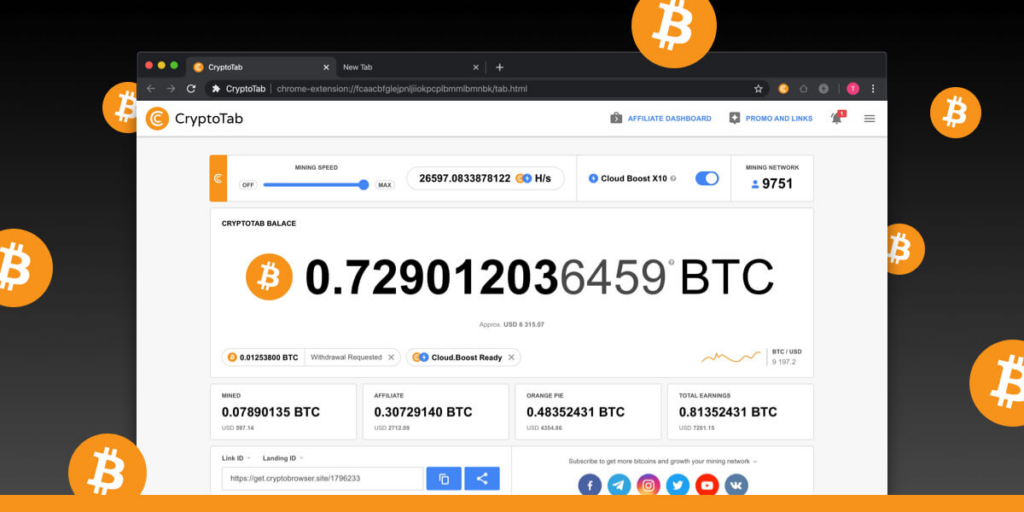 Getting started with CryptoTab is a breeze. Users can simply download and install the CryptoTab browser on their Windows, Mac, Android, or iOS device. With just one click, you can initiate the mining process and start accumulating Bitcoin. To enhance your earnings, CryptoTab allows you to invite friends to join the browser, turning it into a social and profitable experience.
What sets CryptoTab apart from the rest is its foundation on Chrome, the world's most popular web browser. This compatibility means that users can effortlessly import their bookmarks and browsing history, ensuring a smooth transition. Furthermore, CryptoTab supports various Chrome browser extensions, enhancing the browsing experience with additional features and capabilities.
Kryptex
For those looking to dip their toes into the world of cryptocurrency mining, Kryptex offers a compelling and accessible solution. This free Bitcoin mining software allows users to harness the power of their Windows PC to mine a range of cryptocurrencies automatically.
Kryptex stands out as a versatile mining tool, offering the potential to earn anywhere from $30 to $70 per month, depending on the specific cryptocurrency being mined and the underlying cost of the mining operation. The ability to adapt and diversify your mining activities sets Kryptex apart in the crypto mining landscape.
What makes Kryptex particularly intriguing is its unique approach to mining. It pools together the computational power of thousands of home computers from across the globe. This collective processing power is harnessed to tackle the complex calculations involved in mining Bitcoin and various other cryptocurrencies.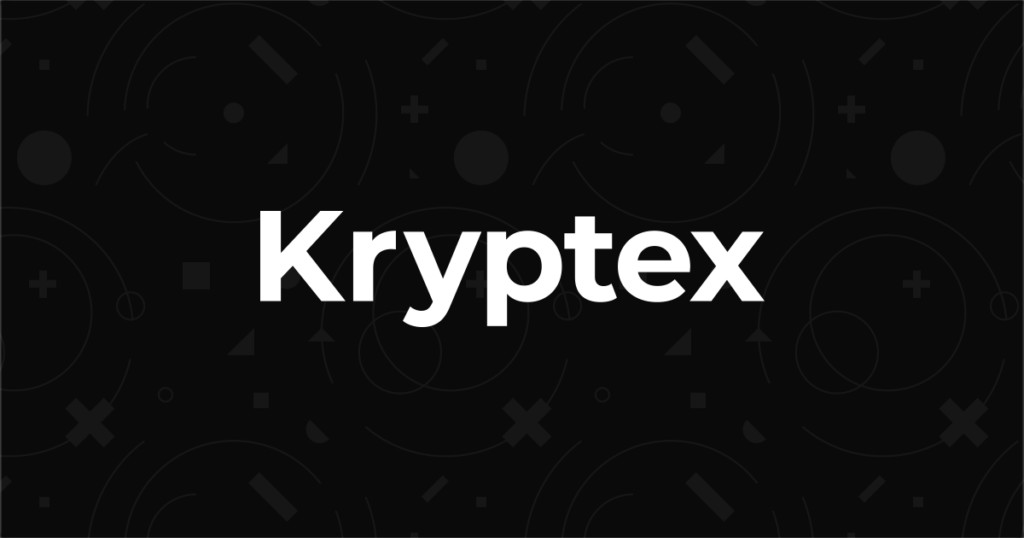 The decentralized nature of this global network allows miners of all backgrounds to join the mining process and be rewarded for their contributions. The rewards depend on the hash rate, or processing power, they contribute to the network. This approach democratizes the mining experience, making it accessible to a wide range of users.
One of the standout features of Kryptex is its automatic switching mechanism. Users don't have to make decisions about which cryptocurrency to mine; instead, the software seamlessly switches to the most profitable coin, maximizing the potential for earnings. Kryptex is one of the best crypto mining apps for effective hashrate management that you should not ignore.
ECOS
In the fast-evolving world of cryptocurrency, ECOS has emerged as a comprehensive platform that seamlessly integrates essential services such as wallets, exchanges, and mining contracts, all under one roof. This versatile platform is designed to offer convenience, affordability, and user-friendly features that cater to both seasoned miners and newcomers in the digital asset mining arena.
ECOS' mining contracts are a prime example of the platform's convenience and cost-effectiveness. Users are granted the freedom to select from a range of contract durations and hash rates, with the flexibility to pay using either fiat or cryptocurrencies. What's more, ECOS sweetens the deal by offering a free trial contract that spans 30 days, allowing users to mine up to 0.0015 BTC without any initial commitment.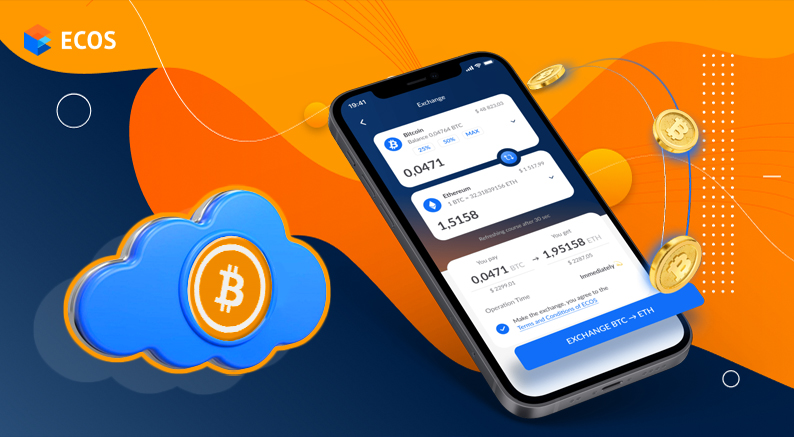 Getting started with ECOS is straightforward. Users begin by signing up and creating an account, which serves as the gateway to funding their mining endeavors.
The platform accepts various payment methods, including Visa, Mastercard, BTC, ETH, LTC, and XRP, making it accessible to users across the cryptocurrency spectrum. Once the funding is in place, users can select the digital asset they wish to mine and commence their mining activities swiftly, thanks to ECOS' cloud-based interface, renowned for its user-friendliness.
What sets ECOS apart is its unwavering commitment to security, accuracy, and performance. The entire process is vigilantly monitored by advanced technology, employing redundant servers located worldwide to ensure the utmost levels of security and precision. Users can rest assured that their mining activities are conducted in a safe and efficient environment.
DISCLAIMER: The information on this website is provided as general market commentary and does not constitute investment advice. We encourage you to do your own research before investing.