Market
Apple CEO has crypto in his portfolio
751 days ago - Around
4

mins
mins to read
Tim Cook, CEO of Apple Inc., announced during NYT's DealBook conference Tuesday that he has personally invested in cryptocurrency and has been interested in it "for a while".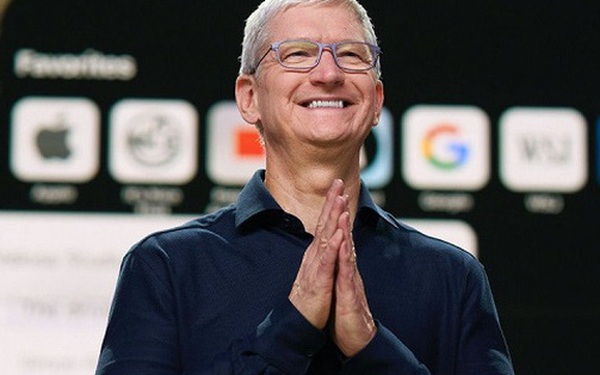 Apple CEO has crypto in his portfolio
Tim Cook revealed in an interview with DealBook's Andrew Ross Sorkin that he owns cryptocurrency.
When asked whether he owns "a cryptocurrency, bitcoin or Ethereum", Cook replied "yes" and believes that "it is appropriate to own it as part of a diversified portfolio".
Cook then quickly added that his endorsement of the cryptocurrency was not "investment advice." "I think it makes sense to own it as part of a diversified portfolio." Cook mentioned Sorkin in conversation with Andrew Ross.
However, he warned without specifying the cryptocurrencies in which he invested.
"By the way, I don't give anyone investment advice." Tim Cook makes it clear that Apple has no "immediate" plans to introduce crypto services
It can be seen that while the Apple CEO confirms his own investment in crypto, he appears to be far more cautious about Apple's crypto investment plans as a company. Cook declined to invest the company's cash balance in crypto, stating that there are no "immediate" plans for the launch of crypto-related services. However, the CEO sparked the hype after revealing that "there may be different things Apple is looking at in relation to cryptocurrencies" without revealing any specific plans.
Is Apple CEO Holding Crypto Pushing Apple To Introduce It?
When asked how long he had been interested in cryptocurrency, Cook said he had "been interested in it for a while" and that he was "researching" which suggests that he is actively interested in cryptocurrency markets and investments.
Cook later announced that Apple has no plans to incorporate cryptocurrencies into its operations, following the lead of other big technology giants like Tesla, Facebook and Twitter, saying that Apple has no plans to make cryptocurrencies an early accepted payment method.
"That's not something we want to do right now," he said.
Cook also said Apple has no plans to buy Bitcoin (BTC) with an estimated $ 200 billion in cash in reserve, saying, "I don't think people are buying Apple stock to expose cryptocurrencies."
However, in the early days of 2021, an Apple job posting revealed that Apple's payments division was looking for someone knowledgeable about crypto to oversee the alliance's efforts.
Apple CEO Tim Cook's comments on cryptocurrencies sparked discussions on Twitter
Cook's crypto comments in the Dealbook spurred discussions on Twitter. Eternal Bitcoin believer Michael Saylor (MicroStrategy CEO) also tweeted:
"If Apple adds support for Bitcoin to the iPhone and converts the Treasury to Bitcoin Standard, it will be worth at least $ 1 trillion to its shareholders."
Cook was also asked about NFTs during the conference. He said NFT was exciting, but "it will take some time to develop into a path for common people".
The increasing popularity and use of virtual currencies shows that Apple can adopt cryptocurrencies
The cryptocurrency is experiencing a massive surge in popularity and usage, with Bitcoin hitting a record high of over $ 68,000 yesterday. Market giants like Tesla and Twitter have made their way into space, adopting crypto one way or another.
Earlier this year, Tesla accepted BTC payments on its vehicles before Musk turned down the decision. Apple could also be added to the list soon, but Tim hasn't revealed any specific information.
Join our Facebook group and Telegram group Coincu News to chat with more than 10,000 other people and share information about the crypto currency market.
Important NOTE: All content on the website is for informational purposes only and does not constitute investment advice. Your money, the choice is yours.