Market
What is Legendary Race (TLR)? Detailed review of The Legendary Race and TLR Token games
660 days ago - Around
7

mins
mins to read
What is Legendary Race (TLR)? Detailed review of The Legendary Race and TLR Token games.
There are many racing games built on the blockchain platform today, which shows that player demand for this game genre is increasing. In there, The Legendary Race (TLR) is a game Play to earn Although it has just been released, it is causing a lot of excitement in the gaming community.
What is Legendary Race (TLR)?
The legendary race is a type of game developed on the platform Blockchain for gamers who love speed and adventure. The game is packed with many modern technologies to provide the best excitement and realistic experience. The legendary race is the place where you can perform dangerous stunts like a real racer. In addition, it is also possible to earn through tournament series with tokens or items as rewards NFT.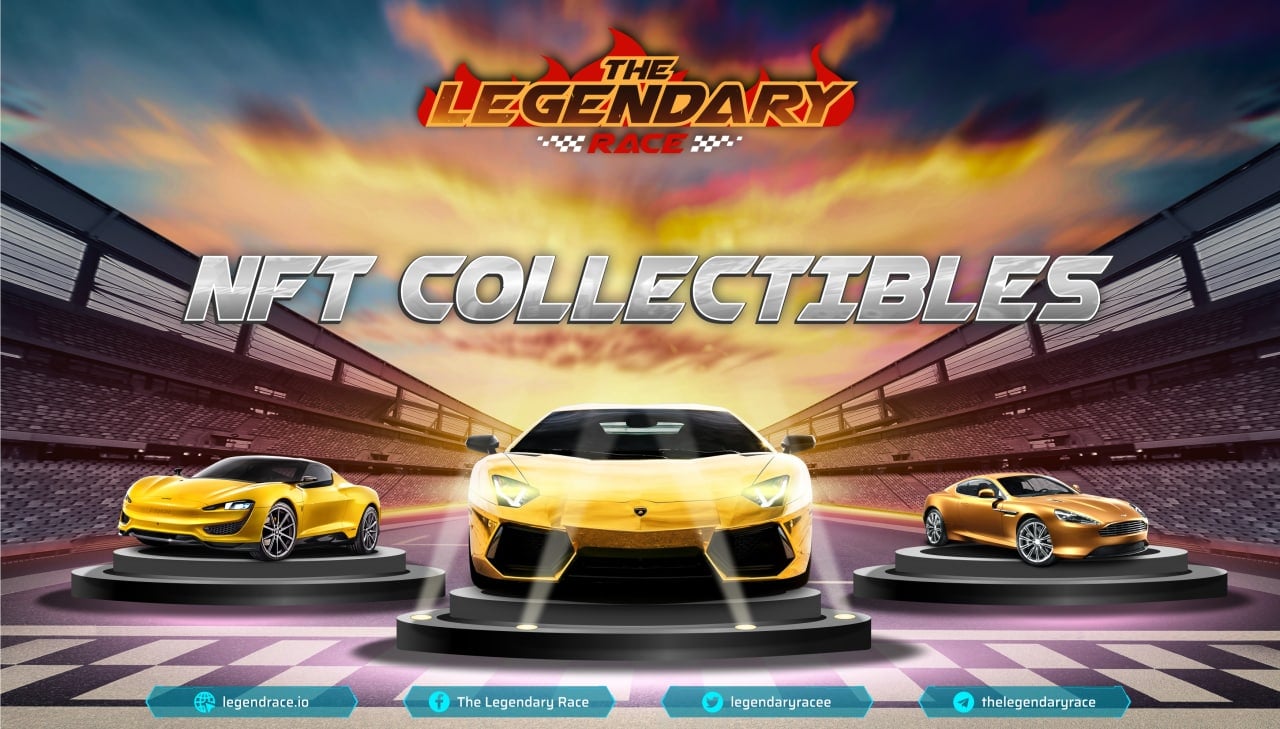 How to win the game The legendary raceyou not only need enough racing cars, but also good dexterity and skills to overcome other racers as well as the challenges that are common in the game.
Features of the game The Legendary Race
Play to earn
The legendary race has an autonomous economy, allowing players to fully own, buy, sell or donate their property to others. The assets in the game always have a high liquidity value due to the rarity and uniqueness of blockchain technology.
Marketplaces
The Marketplace is a place where users can buy, sell, and trade in-game items. Here players can trade NFTs with other players.
Hierarchy classification
In The Legendary Race you have 3 objects to choose from: free players, investors and questers (Pass Pack/Mission Pack). Each item corresponds to different money-making opportunities and eligibility requirements. Special:
How to make money in The Legendary Race game
Free player

Plow quests or level up in the game to earn items.
Trade earned items.
Participate in events organized by the publisher.

Investor

Plow quests or level up in the game to earn items.
Trade earned items.
Sell ​​upgrade items + sell upgraded cars.
Sell ​​loot boxes.

Person on duty

Providing Loot BOX + items with higher upgrades (blue, red…)
Loot Box can unlock vehicles or high level items.
Loot Box is only obtained if the user owns the quest pack.
Conditions for participation in The Legendary Race game
Free player

Sufficient and over 18 years old.

Investor

Sufficient and over 18 years old.
To activate the system, players must invest and purchase at least 1 premium racer.

Person on duty

Users need to pay a fee to own a Pass Pack (Mission Pack).
Early in the game
Free player

Users are provided with 3 types of vehicles with different models but at a basic level.

Investor

Users still start owning 1 of 3 basic types of cars.
When you top up to buy a car, you can open the investor function (VIP).
How to get in-game rewards
Free player

In the game there are levels like amateur, semi-professional, professional… Each level that the player achieves has corresponding rewards. This item is marketable.

Person on duty

Mission packs are seasonal and last 1 or 3 months. If you own the mission pack, you will receive the items when you reach the correct number of points to spend this gift.
After each Season, the system resets and updates with new items in the Pass Pack.
Gameplay The legendary race
Vehicle level and vehicle upgrade method
Note:
The player must spend at least:

220 golden wheels + 110 golden engines.
60 Purple Wheels + 30 Purple Engines.
60 red wheels + 30 red engines.
60 green wheels + 30 green engines.

The success rate of each upgrade decreases depending on the number of stars and vehicle tier.
Classification of racing cars
There are five types of vehicles: A, B, C, D, and S. All are upgradeable and the abilities vary, ranging from low to high. Note: S-class vehicles only exist when the loot box is open.
Server room classification
Note: Higher levels can join the low-level game room. The aim is to plow experience levels.
Types of gameplay in the game
There are 4 types of gameplay in The Legendary Race:
Doubles (regular competition): Each team consists of 2 members (1 room has 5 teams).
Individual race (regular competition): Each room has 10 players.
Doubles (Ranking): Each team consists of 2 members (1 room has 5 teams).
Individual (Ranking): Each room has 10 players.
Note: The ranked game mode plays against opponents based on the number of points the player owns.
What is a TLR token?
There are 2 tokens in the game: TLC and TLR. In there:
TLC: Currency exchange in game.
TLR: Project Token, will be listed on OTC exchanges.
Technical information
Name brands: The legendary race.
Ticker: TLR.
Blockchain: (Update).
decimals: (Update).
Default: (Update).
Contract: (Update).
Token Types: utility, governance.
Total offer: 100,000,000TLR.
Circulating supply: (Update).
Exchange: (Update).
TLR .assignment
The TLR is assigned as follows:
Play to Earn/ Game Rewards: 26%.
Team & Advisors: 21%.
Reservations: 20%
Private sale: fifteen%.
Liquidity & Quotation: 7%.
Marketing & Partnership: 5%.
seeds: 3%.
General: 2%
air drop: First%.
Token sale
Token Airdrop (February 10, 2022 – February 25, 2022)
Number of tokens: 300,000TLR (subject to change).
Public sale price: $0.125/TLR.
Total value at public auction: $37,500.
Token release schedule
Token use case
(Update).
TLR price today
(Update).
How to Earn & Own TLR
You can earn now TLR through participation air drop Tokens from February 10, 2022 – February 25, 2022.
Wallet for storage
(Update).
Exchange
(Update).
Timetables
1st quarter of 2021
Browse the NFT game market.
Offer and discuss ideas.
2nd quarter of 2021
Choose the legendary race.
Selection of core personnel and development team
financial planning
Game structure and game concept
tokenomics
introductory video
Websites & Landing Pages
3rd quarter 2021
Design logos, interfaces and graphics for games.
Design content for games.
Create social channels and create a marketing plan.
4th quarter of 2021
Start the site.
Start the social network.
Issue TLR tokens.
Launch game ads and airdrops.
Open sale of Seed Ring.
1st quarter of 2022
Private sale.
List TLR on CoinMarketCap & Coinecko.
Public sale.
Listed on PancakeSwap.
Second quarter of 2022
Launch the game on iOS and Android platforms.
Launch of the NFT Marketplace.
Development of the game ecosystem.
3rd quarter 2022
New intro game update.
New NFT items and tracks.
Update version 2.
synthetic research.
4th quarter of 2022
The app brings the Metaverse technology to create games in virtual reality worlds.
Team, investors and partners
Development team
Advisor
Epilogue
The legendary race gives players stunts like a real racer. At the same time, you can also earn money by participating in prize races or hunting for rare NFT items and buying and selling them on the marketplace. Hopefully with the details of the new NFT game project The legendary race Above you will try to defeat other racers to win the game's challenge!
Article source from: reviewinvest.com
Join CoinCu Telegram to keep track of news: https://t.me/coincunews
Follow CoinCu Youtube Channel | Follow CoinCu Facebook page
Important NOTE: All content on the website is for informational purposes only and in no way constitutes investment advice. Your money, the choice is yours.