DeFi
UNUS SED LEO($LEO) | Everything you need to know
585 days ago - Around
7

mins
mins to read
UNUS SED LEO, launched through an initial exchange offering (IEO) in May 2019, is the latest cryptocurrency project of the Bitfinex cryptocurrency exchange's parent company, iFinex. The token was launched after the US government's seizure of funds held by Crypto Capital, Bitfinex's former payment processor.
History
Bitfinex is one of the oldest cryptocurrency exchanges in existence, having been formed in 2012. While it remains one of the world's largest crypto exchanges, its path hasn't always been smooth. In fact, 2018 was an extremely difficult year, and not only due to the popping of the crypto bubble and beginning of the crypto winter.
No, the biggest problem Bitfinex faced was a loss of $850 million suffered when the shadow banking firm Crypto Capital Corp had its funds seized by a number of global governments, including Poland, the U.K., Portugal, and the U.S. In addition, at the same time U.S. prosecutors accused the parent company iFinex of illegally transferring funds to Crypto Capital Corp. and of trying to conceal the $850 million loss by covering it with reserves from Tether Ltd., a company also owned by iFinex.
The subsequent controversy and negative press obviously put iFinex, and Bitfinex, in a very bad light in the eyes of investors. In response iFinex announced the creation and release of the UNUS SED LEO token, which would also cover the $850 deficit in Tether funds. And in May 2019 the UNUS SED LEO token appeared.
What is UNUS SED LEO?
UNUS SED LEO (LEO) is a new token designed to extend the capabilities of all platform users and services to iFinex, the parent company of Bitfinex. Such a decision should help to cope with the crisis that arose after the accusations against the trading platform about the illegal use of Tether cryptocurrency cash.
With UNUS SED LEO, Bitfinex plans to fill its own budget. As a result of the initial exchange, $ 1 billion was collected.
Outstanding Features
Utility of the LEO token
So what is UNUS SED LEO (LEO) coin used for? It was primarily created to bring benefits to users of the iFinex ecosystem (perhaps as a way of regaining trust following the issues discussed above). LEO gives all holders a range of discounts on the Bitfinex trading platform and other iFinex products. Discounts include taker fee reductions, lending fee reductions and withdrawal and deposit discounts.
There is little else in terms of token utility apart from these holder discounts. Unlike FTX and other tokens launched by exchanges, LEO cannot be used to create leveraged positions.
Buy-backs and burns
One of the unique features of LEO coin is its intentionally limited lifespan. How does UNUS SED LEO work to achieve this? IFinex commits 27% of gross revenues to a buy-back scheme at prevailing market rates, until no tokens remain in commercial circulation. Since iFinex owns Tether, it should be assumed that this 27% figure includes revenues raised through Tether; Currency.com has requested confirmation of this.
The white paper states that 80% of any BTC recovered from the 2016 hack will also go towards the buy-back scheme. So far, 6.5 BTC have been recovered. Additionally, should iFinex ever recover funds lost from the US government's seizure of the former payment processor Crypto Capital, 95% of recovered funds is pledged to the buy-back scheme.
UNUS SED LEO Wallets
Because the LEO token was issued on both the Ethereum and EOS blockchains you'll have no problem finding a wide variety of wallets where you can store the token easily. However, in order to receive all the discounts and benefits offered by holding LEO tokens they need to be held in the Bitfinex online wallet.
While that might not be a problem for you, it does create a problem for those who don't fully trust the centralized exchanges. There are always hacking concerns, and when it comes to Bitfinex some users remain very skeptical due to the questions surrounding whether or not iFinex has all the reserves they claim to back Tether.
Tokenomics
There are a number of positive features that make them potentially savvy trades. Firstly, the token burn is conducted directly on the market. Binance, by comparison, burns BNB from directly inside their treasury.
In 2018, iFinex made a net profit of over $400 million, according to its LEO whitepaper. That figure is roughly the same as estimates for Binance's revenues for the same period. (It must be said that this figure is extrapolated backward from the giant's token burn amounts.)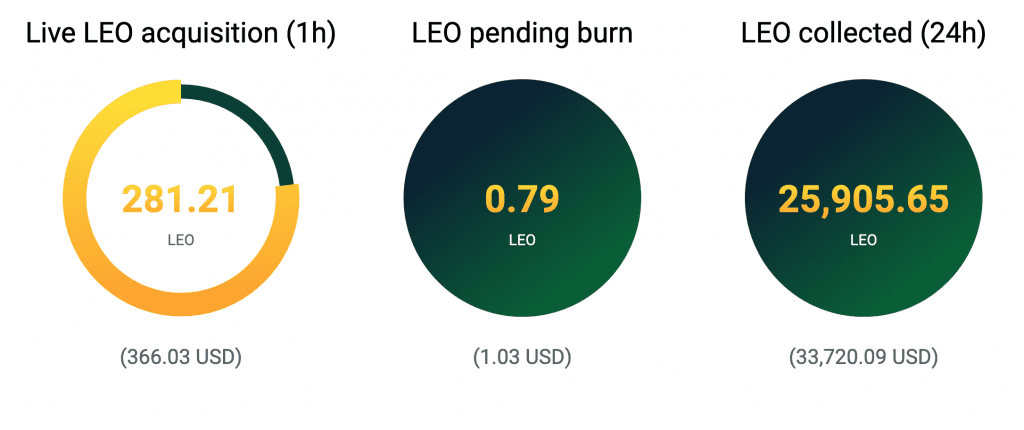 Bitfinex burns tokens every three hours, according to the countdown timer on its website. However, verifying that these tokens represent the correct proportion of exchange revenues is a different story.
Bitfinex says it intends to burn 100 percent of the supply of LEO. By comparison, Binance only plans to burn half of all BNB. Bitfinex spends 27 percent of its quarterly revenue burning LEO tokens compared to Binance's BNB burn of 20 percent of quarterly profit. Margins come into play in the mathematics here, but in theory, LEO coins will be burned at a more aggressive pace than Binance's native tokens.
Benefits for owners of UNUS SED LEO tokens
Benefits of owning UNUS SED LEO tokens include:
1) Saving commissions on Bitfinex. All fees for those who hold the token will be reduced by 15% for all pairs of cryptocurrencies.
2) Monthly discounts on Bitfinex. Token holders receive a discount of 0.05% for every 10 thousand USDT in UNUS SED LEO tokens held on the trader's balance sheet during the previous month. Calculations are made taking into account each day of the month. The maximum discount is 5%.
3)Discount on withdrawal and replenishment of both cryptocurrency and fiat money on the Bitfinex exchange. Holders of more than 50 million UNUS SED LEO will receive a discount of up to 25% on the withdrawal and deposit of cryptocurrencies. Also, customers of the marketplace, who will have tokens in the amount of $ 50 million, will be able to withdraw up to $ 2 million per month without additional fees. In addition, the additional commission will be reduced from 3% to 2% with any withdrawal of more than 2 million USD in fiat monthly.
Verdict
The LEO token is quite unique in terms of why it was created, putting it out as a dual chain coin, and the fact that it is planned to eventually cease to exist. That said, it has seen a good price history, and considering the small number of coins burned so far it is logical to assume that the upward price momentum of the token will continue.
Thus far less than 5% of the total supply has been burned, which isn't a huge hit to supply. If we presume that Bitfinex remains a popular exchange, and that its users remain interested in discounts to their trading fees, then the steady reduction in supply should combine with continuing or increased demand to put upward pressure on the token price.
Find more information about: UNUS SED LEO
Website: https://www.bitfinex.com/
Whitepaper: https://www.bitfinex.com/wp-2019-05.pdf
Twitter: https://twitter.com/bitfinex
Telegram: https://t.me/bfxtelegram
If you have any questions, comments, suggestions, or ideas about the project, please email [email protected].
DISCLAIMER: The Information on this website is provided as general market commentary, and does not constitute investment advice. We encourage you to do your own research before investing.
Issac
Coincu Ventures