Uncategorized
Dogecoin Founder Billy Markus Told Do Kwon To Leave The Crypto Space After The Meltdown of Terra's Ecosystem
570 days ago - Around
2

mins
mins to read
Dogecoin Founder Billy Markus Told Do Kwon To Leave The Crypto Space
Terra founder Do Kwon expressed his sadness about his works losing all of their worth this week in a recent Twitter post.
Do Kwon, the founder of Terraform Labs, said he spent the previous several days speaking with members of the community about the tokens' declining value.
Kwon should stop introducing additional crypto market troubles and quit the industry permanently, stated Dogecoin co-founder Billy Markus in response to Kwon's tweet.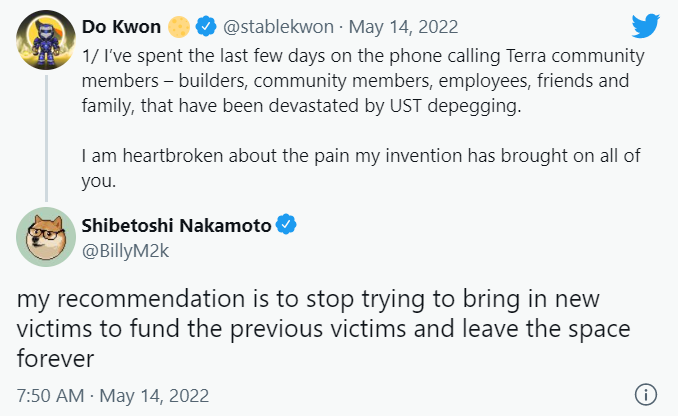 Kwon previously discussed his recovery plan, which included sharing network ownership among UST and LUNA holders.
He stated that before the de-pegging event, 40% of the new tokens would be issued to Luna holders. At the end of the chain stop and the community pool, the remaining 20% will be distributed to Luna holders.
Kwon stated that the network must be rebuilt in order to protect the enormous developer ecosystem.
He said that the entire system had been destroyed. The network must now be rebuilt from the ground up. Do Kwon wants to encourage existing members to stay involved in the initiative.
At the start of April, Luna was selling for roughly $120. However, it plummeted last week and is now worth $0.00024, according to CoinCu data.
DISCLAIMER: The Information on this website is provided as general market commentary and does not constitute investment advice. We encourage you to do your own research before investing.
Join CoinCu Telegram to keep track of news: https://t.me/coincunews
Follow CoinCu Youtube Channel | Follow CoinCu Facebook page
Hazel
CoinCu News
dogecoin dogecoin dogecoin