Crypto 101
Crypto 101: Guide To Use To Make Profit On Pancakeswap
544 days ago - Around
6

mins
mins to read
What is PancakeSwap? Join CoinCu to learn about the decentralized cryptocurrency exchange (DEX) Pancakswap to find investment opportunities for users of the Binance ecosystem.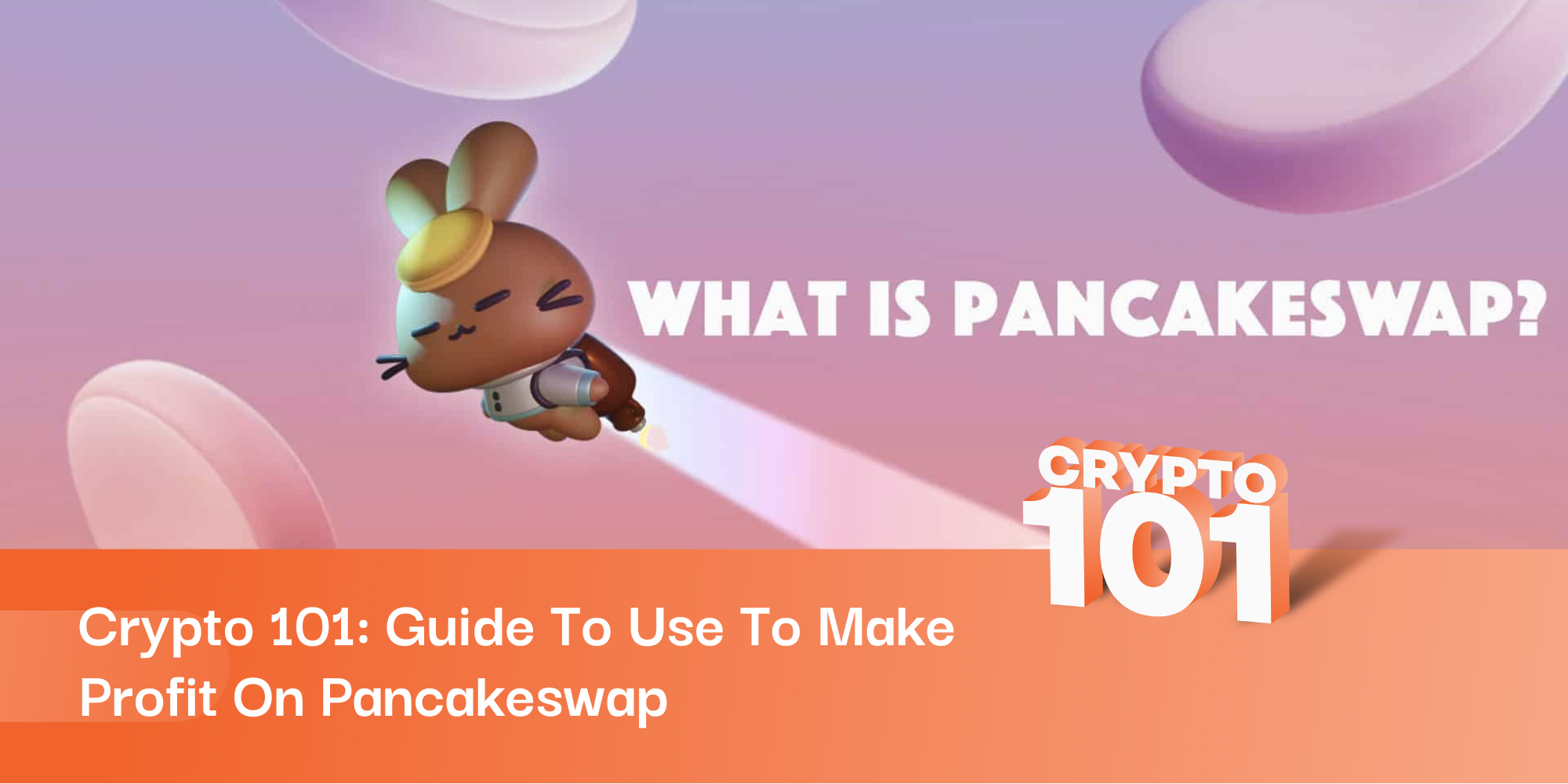 What is PancakeSwap?
PancakeSwap is the first decentralized exchange (Decentralized Exchange – DEX) according to the automated market maker (AMM) of Binance Smart Chain – the blockchain platform operated by Binance.
On PancakeSwap, users are empowered to exchange BEP-20 standard tokens (Binance Smart Chain's token standard). Therefore, tokens traded on PancakeSwap if in other networks (ERC, BEP2…) must be converted to BEP-20.
Briefly about how AMM – Automated Market Makers works:
Automated market creation system AMM will help buy and sell orders to be matched WITHOUT going through the order book.

For example, in conventional exchanges, the bid and ask prices are completely set by the user and recorded according to the Order-book mechanism. When anyone wants to buy or sell, the order will be matched and the transaction will be executed successfully.
But, Automated Market Maker (AMM) is different. There are NO pre-set orders. People who want to buy and sell when placing orders must contribute their assets to a pool or pool. And these orders will be executed immediately. The price of that token will be adjusted according to the predefined formula of the smart contract.
Up to now, according to CoinmarketCap data, Pancakeswap is the third-largest DEX in the world (24h volume is more than $650 million), behind DYDX and Uniswap.
If DEX Pancakeswap is the liquidity center of BSC (Binance Smart Chain). The Ethereum system has a Uniswap exchange. This interesting confrontation will become more and more intense, as the Defi (Decentralized Finance) trend continues to attract the attention of the crypto community.
If Coinbase and Binance help us to know about cryptocurrencies, DEX exchanges help investors expand investment opportunities.
Financial products on Pancakeswap
Trade
Pancakeswap supports 4 types of trade for users: Swap, Limit, Liquidity, and Perpetual.
Swap
Exchange coins with each other, similar to Swap trading on centralized exchanges. Select Trade->Swap.
When trading Swap, you need to pay attention to Slippage – like transaction fees at CEX exchanges. Usually 0.2%, but for orders that need to be swapped urgently (like hidden gems), you need to increase this Slippage to 0.5% or more to quickly swap. Otherwise, your order will be suspended for a long time or will not be executed.
Here is an example of a BNB to CAKE swap. This method applies to tokens or coins available on the Pancakeswap exchange:
For tokens that are not yet available on the PancakeSwap exchange, you just need to enter the smart contract address.
For example, you want to buy DinoX (DNXC) but don't see an available token name. Select Manage Tokens -> copy the address of DNXC's BSC network smart contract to it. Note: use contract of BSC network for Pancakeswap.
The way to find the smart contract of these tokens is on Coinmarketcap or Coingecko. DNXC has 2 smart contracts on the Ethereum network and Binance Smart Chain (BSC).
Copy that DNXC BSC network smart contract into the box below, and select Import as the DNXC token has been added for the transaction.
Limit trade
Buying and selling coins at a preset price like in CEX exchanges, but not as convenient as centralized exchanges, is also a weakness of DEX exchanges.
Liquidity
Liquidity for 1 pair of tokens with an equal amount. Before liquidation, remember to consider the price of the token pair, and calculate properly to avoid reverse loss.
For example, to stake the BNB/CAKE pair, stake $10 BNB, respectively, need to stake $10CAKE.
Select Liquidity. Double check the information and select Confirm Supply. So you have CAKE/BNB liquidity token.
Perpetual
This tool is like using CEX's Future move. The risk of this instrument is high, users can use leverage X200.
Earn
Farming
There are many token pairs for everyone to Farn, you can choose Farms => Details => Enable => Select.
Select the pair you want to Farm → Connect wallet → Confirm. Note, APY (annual percentage yield) and market volatility of coin pairs to increase profits.
Staking CAKE (Pools)
This pool is similar to the form of Stake on the Binance exchange. However, in addition to staking CAKE, you also receive tokens in the pools of Pancakeswap exchange.
Pancakeswap supports flexible staking and fixed staking CAKE.
However, the APY interest rate is higher than the Binance exchange and you cannot withdraw CAKE before maturity if staking is fixed. If staking is fixed on Binance, you will be able to withdraw before maturity and interest fees, but NO on Pancakeswap. Please note!
Lottery
Select Buy Tickets => Enter the number of tickets you want to buy and select Enable. Transfer USDT/DAI/BUSD to buy tickets. After buying a successful lottery ticket, your job is to wait for the results of the lottery.
NFT Trading Market
This is the place to buy and sell NFTs on the Pancakeswap decentralized exchange. Although the collection and NFTs are not as rich as other NFTs exchanges. But this platform focuses on products minted by Pancakeswap. It is specific.
IFO
IFO (Initial Farm Offering) is a form of buying new tokens launched through initial offerings on yield farming, by staking CAKE. Like Launchpool on Binance exchange.
How to join:
Step 1: Activate your Pancake Swap profile
Step 2: Buy CAKE and BNB. Add them to the liquidity pool. Then deposit CAKE and BNB to get LP tokens
Step 3: After this IFO sale, you can get any IFO tokens you bought, and any unspent LP tokens of the CAKE-BNB pair will be returned to your wallet
Conclusion
Pancakeswap is developed by the development team (led by CZ – Binance) with the mission to be a DEX exchange with cheaper and faster fees than competitors. Hope the above information will help you make a profit on this exchange.
DISCLAIMER: The Information on this website is provided as general market commentary and does not constitute investment advice. We encourage you to do your own research before investing.
Join CoinCu Telegram to keep track of news: https://t.me/coincunews
Follow CoinCu Youtube Channel | Follow CoinCu Facebook page
Harold
CoinCu News