Review Thetan Arena ($THG, $THC) – Hottest Upcoming Blockchain MOBA GAME.
817 days ago - Around
11

mins
mins to read
If you like the fast-paced and exhilarating action of multiplayer online battle arena games like Mobile Legends, Arena of Valor, and League of Legends, you will definitely fall in love with Thetan Arena. Hailing from the creative laboratories and game developers of Wolffun, who are also behind the hit title Heroes Strike, Thetan Arena is not just another run-of-the-mill MOBA. This will ultimately serve as a platform game that unites cryptocurrency investors, hardcore gamers who want to dominate the leaderboards as well as social media streamers who wish to generate engaging content that will exponentially increase their viewership and revenue. 
What is Thetan Arena?
After the launch of My Defi Pet – a digital pets game – and its massive success in just 4 months, KardiaChain is bringing a new multiplayer online battle arena and battle-royale play-to-earn game: Thetan Arena.
Thetan Arena has a 2D design with a top-down view for players. The game features an environment and characters that are minimalistic in design and have a retro touch. In each round, players will use their fighting skills and teamwork to finish with maximum rewards. The game's economy is based on Thetan Coin. It will be used to get Premium Heroes or players can withdraw it to fiat. On top of that, The Gem will be utilized to upgrade Premium Heroes to Thetan Heroes or could be staked for rewards. Thetan Arena is developed by the popular Vietnamese game developer Wolffun. Wolffun has so far created two well-established games on the Google Playstore: Tank Raid Online and Heroes' Strike. These games have more than 10 million downloads.
The game will be coming soon on PC, Android, and iOS, the launch date will be around October with an IDO to take place on September 16th.
Outstanding Features
There are tons of blockchain-based games gaining traction today. However, most of them employ a card or turn-based gaming model, which is already a bit saturated in both the traditional and crypto gaming sectors. This is where Thetan Arena enters, a play-to-earn game that is the first of its kind in the market.
Thetan Arena features a multiplayer-based model where users can compete with each other through in-game champions. They will also have the opportunity to earn native tokens from the game by participating in in-game activities and events.
Thetan Arena is the first blockchain game that has the MOBA and Battle Royal genres. It has unique gameplay that would attract both non-crypto and crypto players to enjoy the game. The game economy would be able to convert the non-crypto players to crypto players through the play-to-earn mechanism. The game provides balanced battles between different heroes, leading to fair skill-based competition between the players. Also, the game is the perfect fit for streamers and content creators. That would expand the ecosystem to not just the players, but also the viewers, who would potentially join the game at a later time.
Thetan's Creator wants Thetan to become the first Blockchain-based MOBA game that is truly owned and governed by the community. In the Shooter and MOBA genres, community-driven game design has also flourished for years as Custom Map, which are alterations or modifications to the original game made by players or fans. DOTA, CS, LOL are the true stories. Thetan Arena builds the essential resources for development in the next ten years and authorizes the community to develop their custom modes, maps, cosmetics and monetize them. This opens up limitless possibilities but must be approached carefully. In the past, projects have been abandoned and become stagnant using the term "decentralization" as a ruse. The shift to a true Decentralized organization will occur gradually over time.
Roadmap
Thetan Arena's roadmap is filled with new initiatives and product rollouts, including tournaments, new game modes, and even offline events to get the gaming community together. Here is what that looks like for the future:
But to stay relevant in the next couple of decades, as they have predicted in their mission and vision statement, the developers have a threefold plan that they want to implement to stay on track.
First of all, the gameplay and mechanics of Thetan Arena must be aesthetically pleasing, bug-free, and entertaining enough to keep gamers interested in playing it for years without getting bored.
They can achieve this by having interactive and engaging features like joining Guilds and participating in Guild Wars and Quests. This will encourage players to interact with one another, thereby contributing to the perpetual growth and strength of the community.
Second, the game should have smooth and seamless streaming support compatible with leading platforms like Facebook, YouTube, and Twitch so that streamers can showcase high-quality video content worth the time of their viewers. And to reward the efforts of these streamers, players can pay them with Thetan Coins or Thetan Gems.
Finally, to ensure the sustainable longevity of the game, the developers are also making it a point to create a strong bond and relationship based on mutual trust and respect amongst investors, stakeholders, and gamers to create an unstoppable alliance that will maximize the returns of their investment.
Token Information Thetan Arena
Thetan Gem (THG)
Key Metrics THG
Token Name: Thetan Arena Token
Ticker: $THG
Total Supply: 420,000,000
Initial Market Cap (Without Liquidity): $672,000
Token Standard: BEP20 & ERC-20
Token Type: Utility, Governance
Circulating Supply: Updating…
Blockchain: Binance Smart Chain & KardiaChain
THG Token Allocation
Token Sale
Here are some details on the Thetan Arena Polkastarter IDO:
IDO Date: Thursday, 16th September 2021
Price of THG token: $0.08 per token
$200,000 will be available through the IDO, totaling 2,500,000 THG tokens
Max cap per person: $200 (in BNB)
Network: Binance Smart Chain
How to participate in Theta Arena
Thetan Arena is launching its own IDO (Initial Decentralized Offering) and will be hosted on Polkastarter on September 16th of 2021. The whitelisting will open soon. To be eligible, you must either own $POLS, the Polkastarter token, in your Ethereum or BSC wallet, or provide liquidity to an ETH-POLS pool on Uniswap or PancakeSwap. When you hold POLS in an Ethereum or BSC wallet, for every 250 $POLS you have in your wallet, you will receive a "ticket", which equals one entry into the whitelist process. Once you've submitted your whitelist application, just wait for the team to announce the whitelist winners on their channels like Twitter handle or medium page.
There will be a total of 1,000 winners for the whitelisting lottery, with each of them eligible to purchase $200 worth of THG tokens. Remember, however, that as soon as you are picked for the IDO, you will also have to pass the Thetan Arena KYC process.
The list of the countries that are prohibited from joining the IDO includes the US, Canada, China, New Zealand, Cuba, North Korea, Timor-Leste, Cambodia, Laos, and many more.
Thetan Coin (THC)
Ticker: $THC
Total supply: unlimited.
Thetan Arena does not sell $THC to players directly
$THC can be earned by playing the game. Once you earn them, you can claim them to your wallet.
How to earn THC?
Battle: The amount of $THC bonus in each battle depends on the trophy class and hero rarity
Quest: When you complete the quests in the game, you will receive Quest Points. After receiving enough Quest Points, you will be able to exchange them for $THC
Battle Pass: players can earn $THC through the Battle Pass. The Battle Pass will collect the most valuable items in a season.
Ranking Rewards: Players can earn $THC if they rank up
Guild War: Players can earn $THC in guild war (the function is expected to be developed in 2022)
Tournament: Players can earn $THC in tournaments organized by the system or the players themselves for their guilds.
Thetan Coin ($THC) is the main currency used in Thetan Arena's operations. $THC is used in the following activities:
Buy Thetan Box: Thetan Box is the source of Hero for the entire Thetan Arena system
Hero upgrade: $THC is used for upgrade heroes, providing specific advantages in the game
Reward to streamers: $THC can use for reward streamers when they stream games
Bet on matches: $THC can be used for betting on matches in the streaming system
Team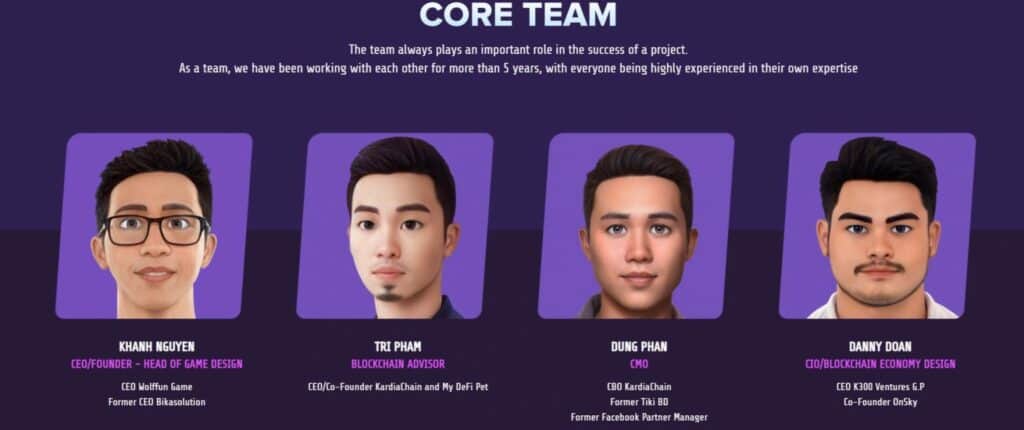 Thetan Arena team brings together members who are both prominent and experienced in the field of game development as well as blockchain technology. The game development team is founded in 2014 under the name of Wolffun, with a specialty in Online PvP games for mobile platforms. Overall, Thetan has a very well-rounded team, with complementary skill sets and backgrounds, with each co-founder having a deep understanding and exposure to blockchain too. Currently, there are over 50 Thetan employees supporting the founding team.
Thetan Arena is founded by seasoned gaming and technology veterans who have been in the industry for a long time and also understand the intricacies of blockchain-enabled gaming. CEO Khanh Nguyen spent 7 years in game development as part of Wolf Fun Studio, where he was working together with other members of the founding team. Overall, Thetan has a very well-rounded team, with complementary skill sets and backgrounds, with each co-founder having a deep understanding and exposure to blockchain too. Currently, there are over 50 Thetan employees supporting the founding team.
CEO and Co-Founder, Mr. Tri Pham and CBO, Mr. Johnny Dung will be amongst the core team members and the advisors of Thetan Arena. As experts in the blockchain landscape, their leader will assist to guide the developers with strategic developments, blockchain game adoption and expand the blockchain gamers community to a whole new level. The incubation of Thetan Arena is a loud and clear statement of KardiaChain's commitment to growing our ecosystem, in which eSport and Gaming as one of the forefront fields to show everyone the power and benefits of blockchain in daily life. With your support, KardiaChain is stepping up the state of play with mass adoption through blockchain gaming with many benefits for our KAI Believers.
Investors
Investors: The first direct investment phase at Thetan Arena was indeed a massive success. By earning a little over $2.1 million USD, it has positioned itself in a commanding position, becoming the next huge thing in the GameFi frenzy.
Numerous tier-1 investment firms are now backing Thetan Arena, some of which have backgrounds in the blockchain gaming world. Some of them are Animoca Brands, Formless Capital, DFG, Spark Digital Capital, Vixen Ventures, Axia8, Clovers Ventures, Everest Ventures Group, Kardia Ventures, AU21 Capital, K300, Decom Holdings, and many more.
Verdict
The rise of play-to-earn game modes on the blockchain space is becoming more and more noticeable. With a lot of games designed to compete for the market, the success amongst each one of them can be a little uncertain. This is why deciding to participate in a game, holding their governance tokens, and expecting a quick return of investment, is something everyone has to be careful about.
Thetan Arena looks like a refreshing addition to the array of blockchain-based games we are enjoying today. The graphics and gameplay is pleasant and enjoyable. However, because it is multiplayer-based, the success of the game also depends on the number of users it can attract. Luckily, it enjoys the first-mover advantage when it comes to MOBA games on the blockchain.
Given that the game is expected to be easy to play, it might not face many hurdles when it comes to attracting new players. The challenge, therefore, is how the game will be able to create an incentive model for players that will entice them to stay and keep playing the game. But looking at where the game is right now, the amount of institutional interest surrounding the game makes its outlook promising.
Find more information about Thetan Arena:
Website: https://thetanarena.com/
Whitepaper: https://doc.thetanarena.com/
Telegram: https://t.me/thetanarena
Twitter: https://twitter.com/ThetanArena
If you have any questions, comments, suggestions, or ideas about the project, please email [email protected].
Vince.H
Coincu Ventures