Blockchain
THORChain Introduces Streaming Swaps For Optimal Price Execution
136 days ago - Around
3

mins
mins to read
Key Points:
THORChain launches "Streaming Swaps," a novel cross-chain transaction feature.
Streaming Swaps split large transactions into sub-swaps over 24 hours, allowing better price execution.
Users can choose between time-optimized or price-optimized swaps for increased capital efficiency.
In a recent official announcement, the decentralized cross-chain transaction protocol THORChain unveiled a groundbreaking feature called "Streaming Swaps."
This new functionality aims to provide users with improved price execution for large transactions by breaking them into sub-swaps executed over a specific period of time. By doing so, THORChain seeks to address the needs of patient swappers and enhance capital efficiency without altering the Total Value Locked (TVL) of the pools.
Streaming Swaps offer users the flexibility to choose between two types of swaps: time-optimized or price-optimized. The feature operates on a Time-Weighted Average Price (TWAP) trade model but with a crucial limitation of 24 hours, ensuring economic security for Layer 1 assets (e.g., BTC, ETH) transactions.
The key concept behind Streaming Swaps is the ability to access the time domain when swapping. Unlike conventional swaps, where liquidity needs must be met instantly, streaming swaps allow liquidity requirements to be expanded across multiple moments in time. Arbitrage opportunities can then correct the price during the swap, resulting in significantly better price execution for users.
THORChain achieves this feat due to its unique characteristic as a live state machine, capable of persisting in state across time and acting on it. This stands in contrast to EVM ledgers, where state changes are confined to single blocks, necessitating external input to persist state across multiple blocks.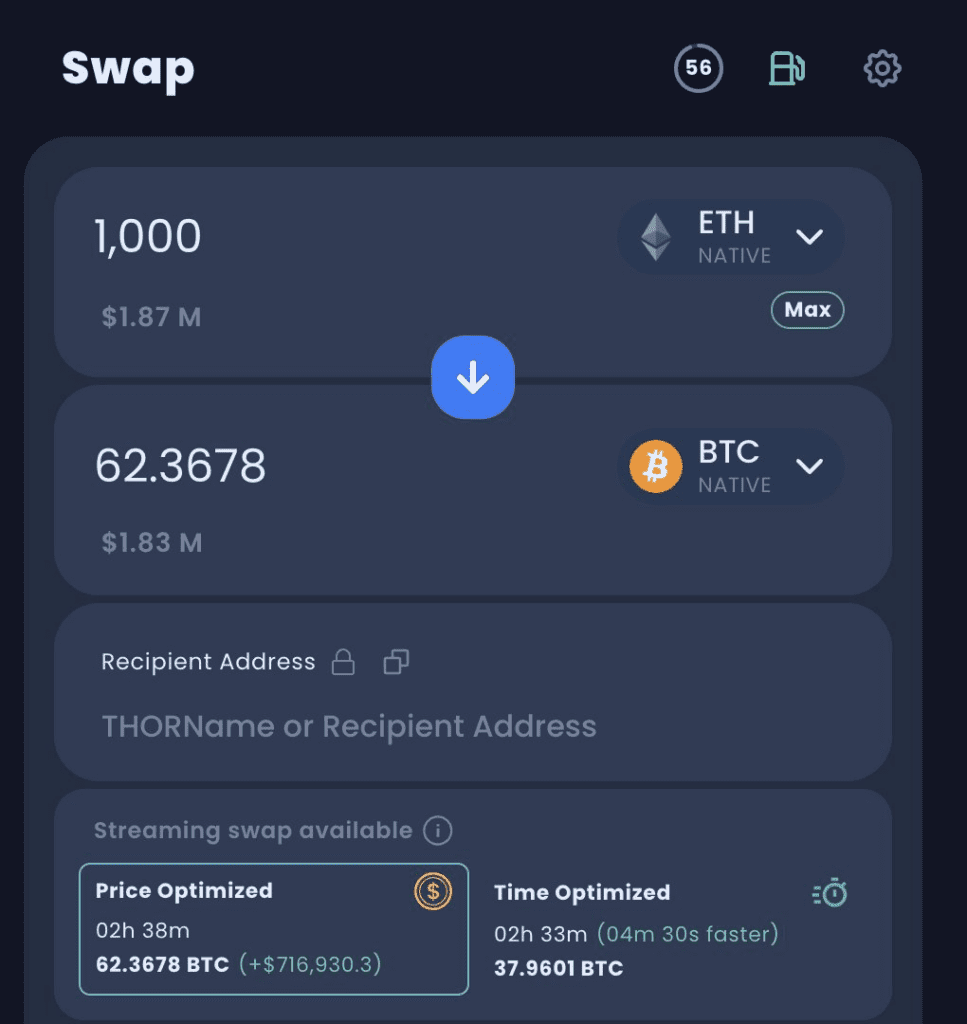 The feature also enables users to adjust sub-swaps with two additional parameters:
Swap Interval: Users can specify the time interval between sub-swaps, represented in THORChain blocks, which are approximately 6 seconds. Allowing adequate time for arbitrage between sub-swaps ensures constant pool re-balancing, meeting capital demands throughout the swap.
Swap Count: Users can determine the number of sub-swaps into which the original swap amount should be divided. Higher sub-swap counts lead to smaller swap sizes for each leg, minimizing slippage and ultimately benefiting the user.
Moreover, THORChain sets a minimum slippage fee of 5 basis points (bps) for streaming swaps, ensuring protection against asset price manipulation. The price limit functionality also carries over to streaming swaps, where any sub-swap falling below the specified price limit will not be executed.
Streaming swaps are poised to have a positive impact on the THORChain ecosystem, making it more attractive to execute larger trades on-chain. Previously, slip-based fees served as a point of friction for traders seeking to conduct substantial transactions, leading them to opt for centralized exchanges with lower fees. With streaming swaps, the largest swappers can now avail themselves of liquidity fees as low as 5 bps, fostering a more appealing environment for on-chain traders.
With this new feature, THORChain is poised to strengthen its position as a leading decentralized cross-chain transaction protocol in the crypto space.
DISCLAIMER: The information on this website is provided as general market commentary and does not constitute investment advice. We encourage you to do your own research before investing.