News
MakerDAO Invests Additional $50M In RWA Assets, Targets $1.28B Investment
82 days ago - Around
2

mins
mins to read
Key Points:
MakerDAO invests $50M in RWA assets through BlockTower Andromeda.
BlockTower Andromeda holds $752M and targets up to $1.28B investment.
$100M funding recommended for it's tokenized U.S. Treasury Bond products.
MakerDAO adds $50M in RWA assets via BlockTower Andromeda, targets $1.28B investment. $100M funding for tokenized T-Bill products recommended.
MakerDAO has added $50 million in RWA assets through BlockTower Andromeda, with a primary investment in short-term U.S. Treasuries. The total RWA assets are approximately $2.514 billion, with BlockTower Andromeda holding $752 million and targeting an investment of up to $1.28 billion.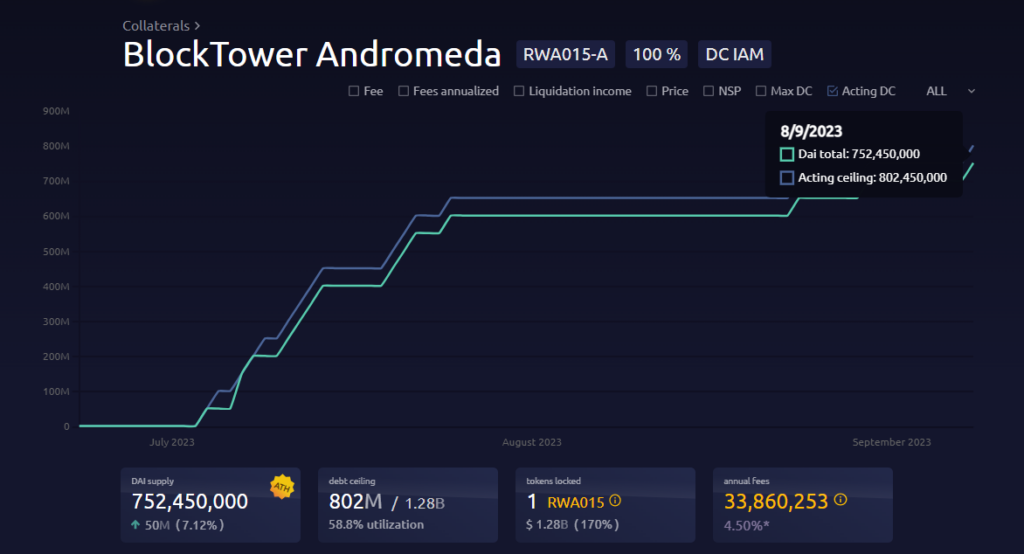 The community is also recommending the allocation of $100 million in funding for the development of tokenized U.S. Treasury Bond (T-Bill) products, including T-Bill as collateral, frictionless products, and long-term products.
These products include Flux fDAI, Maple Cash USDC, Backed Finance bIB01, and bIBTA. The addition of RWA assets through BlockTower Andromeda and the potential development of tokenized T-Bill products could have a significant impact on the MakerDAO ecosystem and the broader cryptocurrency market.
CoinCu reported that MakerDAO's transaction has propelled its Real World Assets (RWA) holdings by $50 million on August 24. The data from Makerburn, a popular analytics platform, revealed that the organization had acquired BlockTower Andromeda short-term Treasury bonds, boasting an alluring annual yield of 4.5%.
Recently, MakerDAO's Co-Founder, Rune Post, has reportedly proposed exploring a fork of Solana's codebase for the development of a new independent blockchain, NewChain.
DISCLAIMER: The Information on this website is provided as general market commentary and does not constitute investment advice. We encourage you to do your own research before investing.