Key Points:
Solana's (SOL) price is under pressure as FTX assets, including SOL, are set for liquidation amid bankruptcy proceedings.
SOL dipped 7% on rumors but recovered to $18 with support at $17.3.
Its potential sell-off by FTX is unlikely due to locked-up tokens, though the market remains volatile.
Despite the recent resurgence in the cryptocurrency market, Solana (SOL) appears to be facing a challenging road ahead. Recent developments have cast a shadow on SOL's short-term prospects.
The decline in SOL's price can be attributed to the decision by Judge John Dorsey to permit the defunct cryptocurrency exchange FTX to liquidate a substantial amount of assets, including Bitcoin (BTC), Ethereum (ETH), and notably, SOL. This move has triggered selling pressure and raised concerns among investors.
As FTX navigates through bankruptcy proceedings, the market is experiencing heightened uncertainty, particularly surrounding Solana. Rumors surrounding the liquidation of $3.4 billion in SOL, FTT, BTC, ETH, and other crypto assets have led to a 7% drop in SOL's price.
However, it's worth noting that Solana quickly rebounded above $18, starting from the 78.6% Fibonacci level, which also serves as its current support at $17.3. At present, SOL is trading at $18.6, marking a 2% daily increase.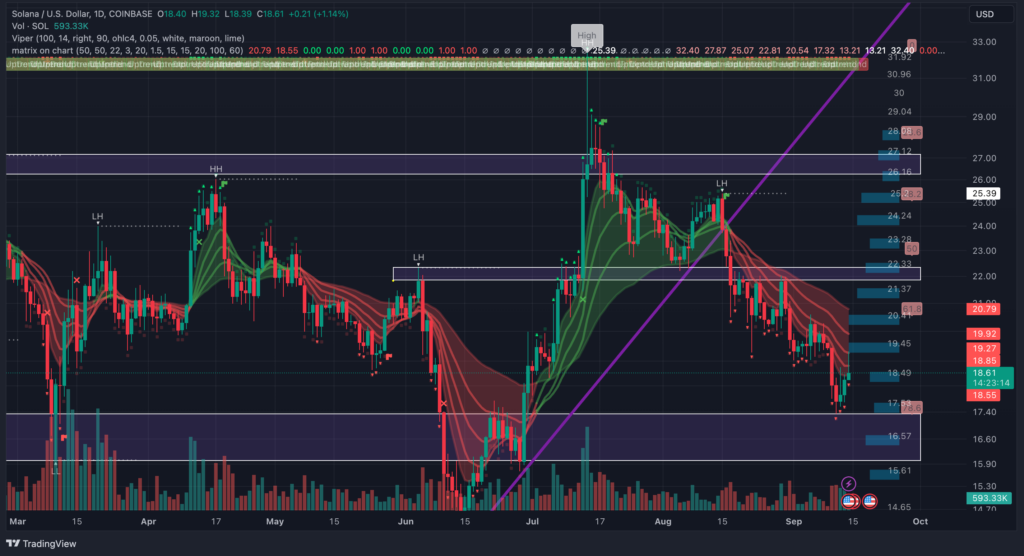 SOL's price remains within a descending channel, facing resistance around $19.15. Without strong bullish momentum, SOL may drop below its immediate support at $17.3 and potentially reach the $16.00 range.
Despite the concerns, it's essential to clarify a crucial detail that has been overlooked. The SOL tokens held by FTX debtors are not immediately available for sale; they are subject to a lockup agreement. Therefore, rumors of an impending SOL sell-off by FTX should be regarded with caution, as they may not accurately reflect the current situation.
Investors in SOL will be closely monitoring the developments surrounding FTX's bankruptcy proceedings and the market's reaction to determine SOL's future trajectory in the coming weeks.
DISCLAIMER: The information on this website is provided as general market commentary and does not constitute investment advice. We encourage you to do your own research before investing.