Key Points:
Apecoin (APE) drops by 83.5% in 2023 amid a bearish crypto market.
APE briefly surpasses $1.14 resistance, aims for $1.18, but remains volatile.
The ApeCoin ecosystem's cliff token unlock event on September 17 may disrupt stability.
The Bored Ape Yacht Club, renowned for its distinctive non-fungible tokens (NFTs) created by Yuga Labs, has garnered immense popularity within the crypto community. Nevertheless, the native token underpinning this NFT collection, Apecoin (APE), has recently weathered a significant downturn, plummeting by a staggering 83.5% since the year's outset.
In the midst of a bearish trend sweeping the cryptocurrency market, certain projects are grappling with pronounced declines in the value of their decentralized finance (DeFi) coins. APE is emblematic of this struggle, with its trading volume experiencing a sharp contraction. APE's chart reveals that it recently hit an all-time low at $1,062.
The ApeCoin ecosystem has a crucial cliff token unlock event scheduled for September 17. Unlike the linear approach, cliff token unlocks involve a predetermined number of tokens being released after a specified duration, potentially disrupting market stability. Conversely, the linear option distributes tokens according to a fixed schedule, such as monthly or annually, offering a degree of price stability.
Breaking through the $1.14 resistance barrier, ApeCoin briefly surged to approximately $1.16 on September 19. Regrettably, this upward trajectory proved short-lived, as the price resumed its downward trajectory.
While resistance levels often attract profit-taking investors, APE's recent surge beyond this threshold has ignited a surge in positive market sentiment, underscoring the coin's potential to attain higher highs in the coming days and weeks.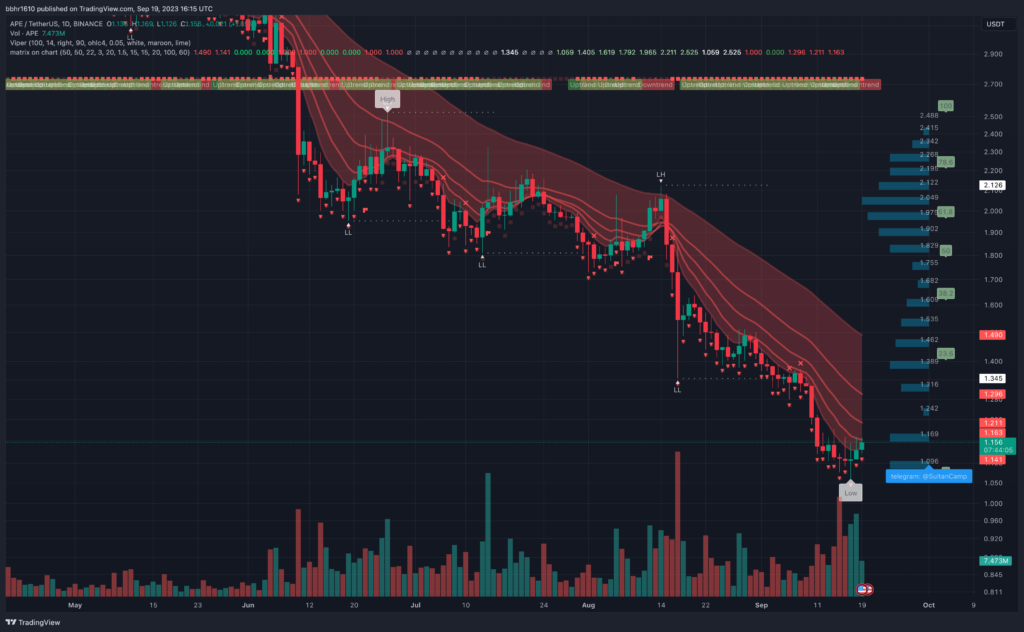 Consequently, APE is now targeting the $1.18 resistance level. Failure to breach this barrier could result in a return to the initial $1.14 mark, potentially pushing APE to test a bottom at $1.
DISCLAIMER: The information on this website is provided as general market commentary and does not constitute investment advice. We encourage you to do your own research before investing.