Top Projects
Top 5 Best P2P Crypto Exchanges In 2024
46 days ago - Around
17

mins
mins to read
P2P cryptocurrency exchanges have gained considerable popularity due to their unique approach to connecting buyers and sellers directly, bypassing traditional intermediaries. This innovation has not only democratized cryptocurrency trading but has also addressed concerns related to security and trust in the market. We will learn about the best P2P crypto exchanges in this article.
What is P2P in crypto?
Peer-to-peer (P2P) trading represents a fundamental shift in the cryptocurrency landscape. It entails the direct buying and selling of cryptocurrencies between users without the involvement of intermediaries. P2P exchanges connect buyers and sellers while providing a layer of protection through escrow services, feedback and rating systems, and dispute resolution mechanisms.
Unlike centralized or decentralized exchanges, P2P cryptocurrency exchanges offer users unparalleled freedom. They empower traders to choose their counterparts for transactions, ushering in a new era of autonomy. Instead of relying on a central authority, P2P exchanges harness the potential of blockchain technology to ensure transparency, security, and efficiency at every stage of a transaction.
In the P2P ecosystem, users can peruse a seller's list and select the one offering the most favorable payment option, all without relinquishing control of their assets. Unlike centralized exchanges, P2P platforms lack a single point of failure, enhancing security and trust among users.
P2P trading opens up access to a global marketplace, with multiple payment options and the ability to tailor offers to suit individual preferences. This globalization of the cryptocurrency market allows users to tap into a broader spectrum of opportunities.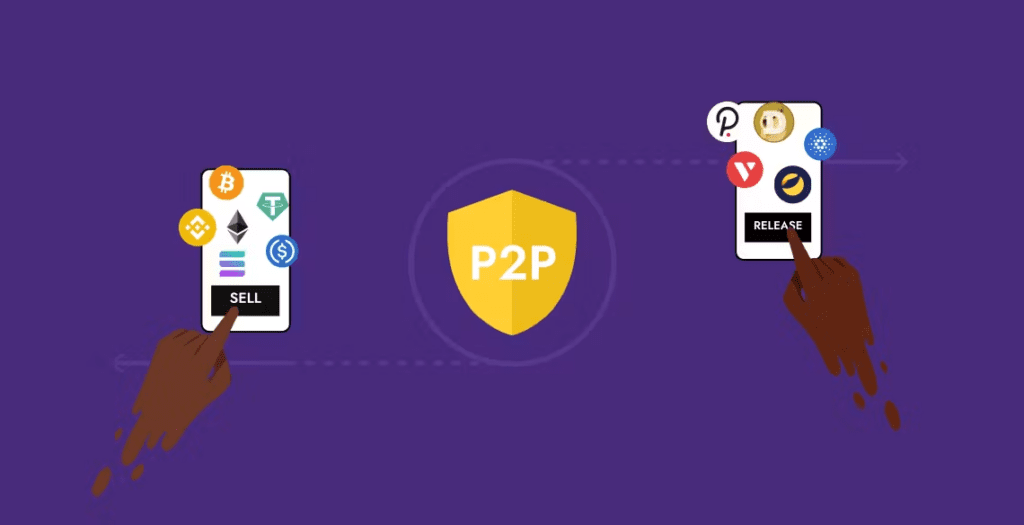 While P2P trading offers several advantages, it is not without its drawbacks. One of the primary concerns is trading speed. P2P transactions tend to be slower compared to centralized exchanges due to the nature of the peer-to-peer interaction. Additionally, lower liquidity can be an issue, making it essential for users to carefully select their trading partners.
P2P trading is often likened to a matchmaking system, where cryptocurrency buyers and sellers are connected for potential trades. Unlike traditional exchanges, these platforms typically do not impose transaction fees and allow users to maintain control of their funds in a digital wallet.
One of the key benefits of P2P trading is the ability to access these markets through popular platforms. This means that users can either browse cryptocurrency advertisements posted by sellers or create their own listings, enhancing the accessibility and flexibility of the trading process.
The cornerstone of security in P2P trading lies in the system of ratings and feedback. Before engaging in any transaction, users can research the reputation of potential buyers or sellers on these platforms, ensuring a level of trust and confidence in the parties involved.
How Does P2P Work?
A defining feature of P2P trading is the use of smart contracts. Imagine you want to purchase Bitcoin from a seller. Instead of relying on a paper contract and the intervention of a third party to ensure the seller delivers the Bitcoin upon payment, you can use a smart contract.
These smart contracts encapsulate the terms of the agreement, including the agreed-upon price and the date of payment. Once both parties agree to these terms, the smart contract is transmitted to the blockchain, where it becomes publicly visible and immutable.
Here's how it works: when you transfer the funds for the Bitcoin purchase and the seller confirms receipt of the payment in their wallet or account, the smart contract automatically triggers the transfer of Bitcoin to your wallet. This process eliminates the need for trust in a third party, as the blockchain ensures that the terms of the agreement are automatically executed.
To further enhance the security and reliability of P2P transactions, the use of escrow services is common. By using escrow, both buyers and sellers can trust that the other party will uphold their end of the deal. Escrow acts as an impartial intermediary that temporarily holds the assets in question until the agreed-upon conditions are met, reducing the risk of fraud or non-delivery. Now let's explore the best P2P crypto exchanges with Coincu.
Top 5 Best P2P Crypto Exchanges
Binance
Overview
Binance P2P platform empowers KYC-verified customers to engage in peer-to-peer cryptocurrency trading with fiat currencies. This innovative approach allows users to trade directly with one another, bypassing the traditional spot exchange.
The core principle behind Binance P2P is to create a seamless, free, and open avenue for individuals to exchange cryptocurrencies for fiat or local currencies. It's designed to connect the crypto world with the well-established payment systems used by people globally, fostering convenience and flexibility in trading.
One of the standout features of Binance P2P is the ability for verified Binance users to engage in cryptocurrency transactions with their preferred currency, payment method, and price. This level of customization ensures that users can tailor their trades to their unique preferences and requirements.
Security is paramount in the cryptocurrency space, and Binance P2P doesn't disappoint. Users can take advantage of robust, tamper-proof security integrations offered by Binance, providing peace of mind in every transaction. Moreover, the platform has implemented an array of protective measures to safeguard traders from scammers and fraudsters, enhancing the overall security of the ecosystem.
What makes Binance P2P even more appealing is its extensive range of payment options. With more than 121 fiat currencies and over 300 electronic and traditional payment methods available, users have unparalleled flexibility when it comes to trading their chosen cryptocurrencies. Whether you prefer to transact with digital wallets, bank transfers, or other payment methods, Binance P2P has you covered.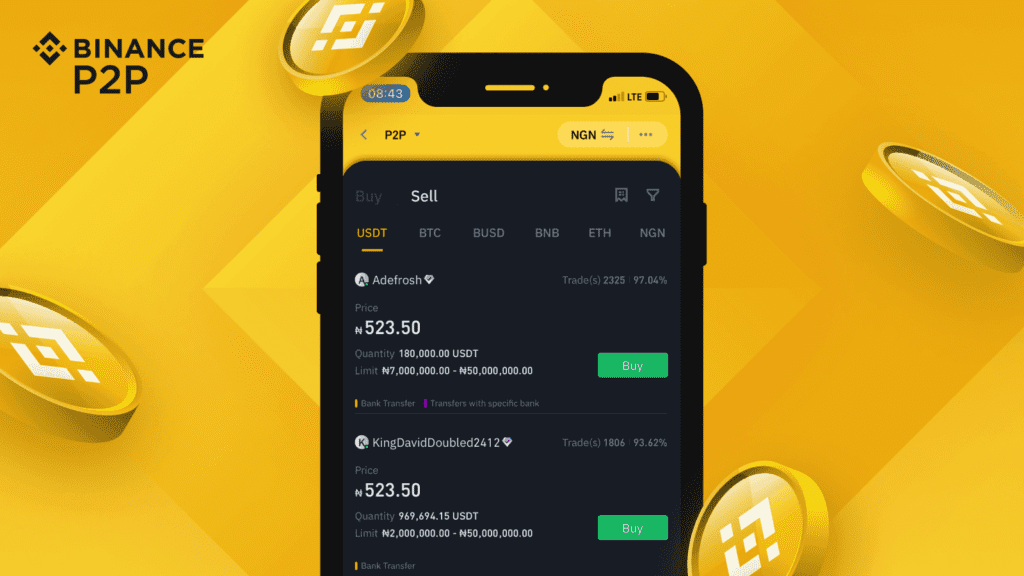 Features
Buying Cryptos on Binance P2P
Access the P2P Platform: Begin by navigating to Binance's P2P platform on the Binance exchange.
Select Your Desired Cryptocurrency: Choose the cryptocurrency you wish to purchase. Binance's P2P platform offers a variety of options to cater to different user preferences.
Browse Advertisements: You'll find a list of advertised cryptocurrency sales. To help you find the most suitable option, these ads can be filtered based on factors like the amount you want to buy, the currency you plan to use, and your preferred payment method.
Place Your Order: Once you've identified an advertisement that aligns with your requirements, proceed to place your order. This will initiate the transaction process.
Choose a Payment Method: Select your preferred payment method from the available options. Binance's P2P platform offers various payment methods to accommodate diverse user needs.
Confirm the Transaction: After selecting your payment method, confirm the transaction. This step is crucial in ensuring that your order is processed accurately.
Completion of the Transaction: Once the order is successfully completed, the seller will release the cryptocurrency. This digital asset will then be deposited into your Binance account, ready for your use.
Selling Cryptos on Binance P2P
Ensure Sufficient Balance: Before you can sell cryptocurrency on Binance P2P, make sure that you have the chosen coin or token in your funding wallet.
Select Your Cryptocurrency and Fiat Currency: Choose the cryptocurrency you want to sell and specify your preferred fiat currency as the payment method.
View Available Offers: Once you've made your selections, you will be presented with a list of available offers from potential buyers. This allows you to choose the offer that best matches your trade specifications.
Verify Payment: After the buyer has made the payment, it's essential to verify that the correct amount has been sent as per your agreement.
Confirm Release: If the payment aligns with the agreement, confirm the release of the cryptocurrency to the buyer.
Notably, Binance's P2P platform operates without charging maker or taker fees, making it an attractive choice for users seeking cost-effective trading options. It's important to be aware that the number of cryptocurrencies and fiat currencies available on Binance's P2P platform may differ from the total supported on the Binance exchange, as specified in the section above.
OKX
Overview
OKX, one of the world's leading cryptocurrency exchanges, has taken its commitment to crypto accessibility to the next level with its P2P marketplace. Backed by an exchange that boasts daily trading volumes averaging $1 billion, the OKX P2P marketplace is a game-changer in the crypto world.
For users who prefer to trade in their local currencies, OKX P2P has got you covered. The platform supports a staggering array of over a hundred fiat currencies from around the world. This broad spectrum enables users to buy and sell cryptocurrencies using their preferred local currency, eliminating the need for complex currency conversions.
One of the hallmarks of the OKX P2P marketplace is its exceptional versatility when it comes to payment methods. With more than 900 supported payment methods, users have an unprecedented level of choice. These options encompass everything from local bank transfers, SEPA, and SWIFT, to innovative digital payment platforms such as Perfect Money, Revolut, and TransferWise.
Features
The OKX P2P marketplace offers a diverse range of six cryptocurrencies to its users. These digital assets include:
Bitcoin (BTC)
Ethereum (ETH)
Tether (USDT)
USD Coin (USDC)
True USD (TUSD)
Dai (DAI)
This impressive lineup ensures that traders have access to some of the most sought-after cryptocurrencies, providing opportunities for a wide range of trading strategies and preferences.
OKX's P2P platform now enables buyers to customize their search for cryptocurrencies. Buyers can filter their search by the specific cryptocurrency, fiat currency, preferred payment method, and desired purchase amount. This tailored approach streamlines the process of finding the ideal cryptocurrency seller. Results are displayed in descending order of competitive exchange rates, ensuring that buyers have access to the most favorable deals.
Sellers on the OKX platform have gained increased autonomy. They can set the selling price for their cryptocurrencies and define the payment methods they are willing to accept. This feature allows sellers to have greater control over their trading preferences.
Once a buyer identifies a suitable offer, the seller is promptly notified. Subsequently, the seller provides payment instructions to the buyer and deposits the cryptocurrencies into OKX's secure escrow service. The buyer, upon making the payment, informs the seller of the transaction's completion. Once the seller confirms receipt of funds, OKX releases the cryptocurrencies from its P2P escrow.
It's important to note that to engage in P2P trading on OKX, users must first have a verified account. After setting up an account, users can navigate to the P2P platform, select their desired fiat currency and cryptocurrency for trading, and apply filters such as price and available quantity.
It's worth mentioning that the number of supported cryptocurrencies and fiat currencies on OKX's P2P platform may differ from the overall numbers supported by the exchange. At present, traders can transact with 5 cryptocurrencies across 105 different fiat currencies, offering a wide array of options.
KuCoin
Overview
Established in 2017 and headquartered in Seychelles, KuCoin has rapidly ascended the ranks to become one of the world's largest cryptocurrency exchanges in terms of trade volume. With a staggering user base exceeding 20 million and a global presence spanning across more than 200 countries, KuCoin has made its mark on the crypto landscape.
However, for users in the United States, there are specific considerations to bear in mind when engaging with KuCoin. While U.S. residents can create a KuCoin account, the access to certain features and services is notably restricted due to the exchange's lack of licensing to operate within the United States.
It's worth noting that KuCoin has faced regulatory challenges in various parts of the world, not limited to the United States. Instances of regulatory scrutiny have arisen in countries such as The Netherlands and Canada, underscoring the need for vigilance when using the exchange.
With a laser focus on accommodating payment methods and currencies often subjected to stringent crypto-trading regulations, KuCoin provides a versatile platform for enthusiasts in various regions.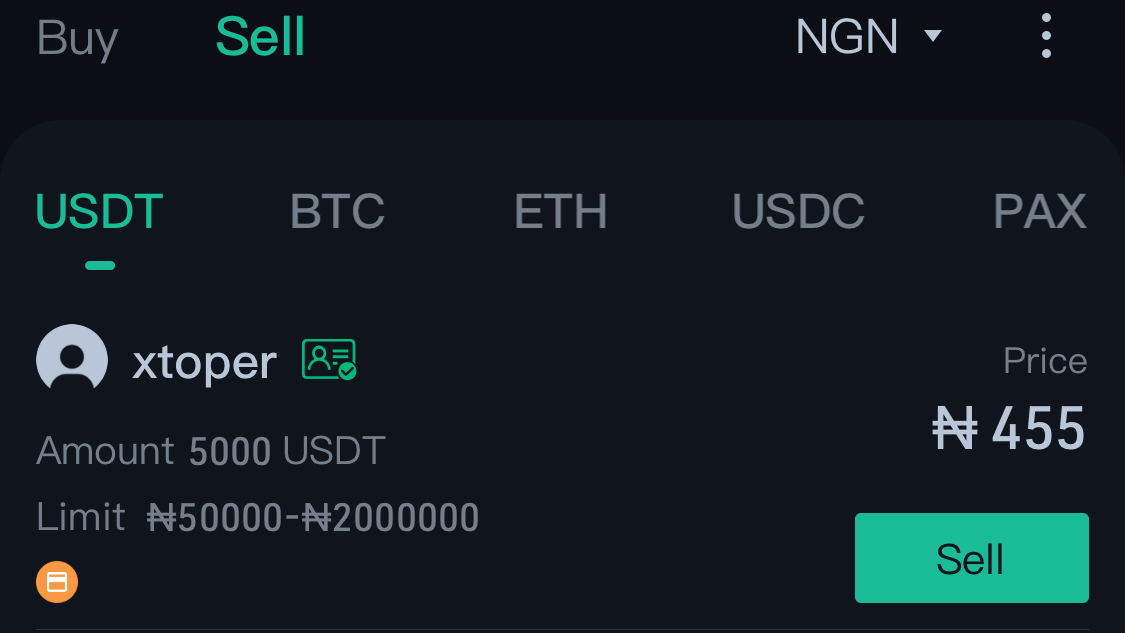 Features
One of the notable highlights of KuCoin P2P is its commitment to addressing the needs of investors in countries like Vietnam, where cryptocurrency trading can be restricted. Here, traders can seamlessly buy and sell digital assets by harnessing the power of Momo, a popular domestic e-wallet. This feature empowers Vietnamese investors by granting them access to the world of cryptocurrencies through a well-established local payment method.
For Indian traders, KuCoin goes above and beyond in offering a diverse range of local payment options. These include PhonePe, UPI, IMPS, and standard local bank transfers. The provision of such an array of payment options means that investors from India can navigate the platform with ease and flexibility, making it an attractive choice in a complex regulatory landscape.
KuCoin's support extends far beyond local payment options, as it also caters to major currencies, such as USD, EUR, and GBP. This broad range of currency support broadens the horizons of investors, enabling them to trade in familiar denominations and bridge the gap between traditional finance and the world of digital assets.
In terms of the cryptocurrencies available for trading, KuCoin boasts a robust selection that includes Tether, Bitcoin, Ethereum, USD Coin, and KuCoin Token. This lineup caters to both newcomers and experienced traders, providing ample choices to diversify their portfolios and explore various market opportunities.
HTX
Overview
Huobi Global, one of the world's leading cryptocurrency exchanges, unveiled a significant rebranding initiative in September 2023, transforming itself into HTX. This transformation is more than just a name change; it symbolizes a renewed commitment and a remarkable journey for the company.
HTX, originally founded in Beijing, has now established its global headquarters in Singapore, positioning itself as one of the most prominent cryptocurrency exchange platforms. The exchange distinguishes itself by offering support for a wide array of Initial Coin Offering (ICO) tokens and various cryptocurrencies. Furthermore, it has consistently emphasized its commitment to the future development of the blockchain economy.
The relocation of HTX to Singapore in 2020 was a strategic maneuver undertaken in response to a ban imposed by the Chinese government on ICOs and fiat-to-crypto trading. Despite these challenges, HTX swiftly adapted by setting up regional offices in key global locations, including Hong Kong, the USA, South Korea, and an exploration of crypto markets in Japan.
Remarkably, HTX's resilience and determination to adapt to changing regulatory environments have paid off. Even after its expulsion from China due to the aforementioned ban, the cryptocurrency exchange continues to flourish. At present, HTX boasts an impressive user base, with over 3 million active account holders from across the globe.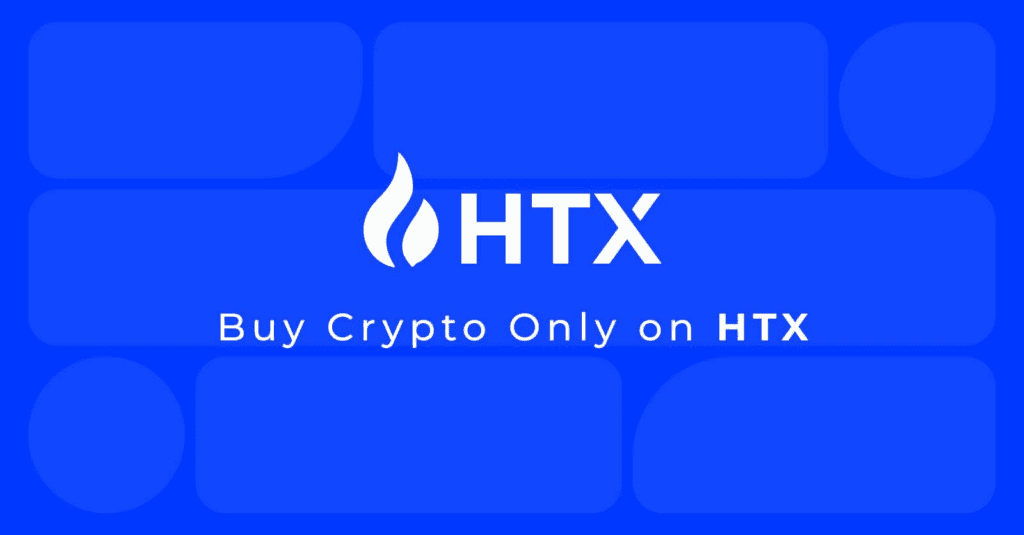 Features
One notable aspect of HTX is its support for a selection of payment methods, albeit a more limited range compared to some of its peers. Currently, HTX accommodates a total of 59 payment methods.
While this may seem modest compared to other P2P exchanges, it encompasses some of the most favored options among users. Notable payment methods include Skrill, Neteller, Perfect Money, ADVCash, and domestic bank transfers, ensuring accessibility and convenience for its user base.
In terms of cryptocurrency support, HTX offers a concise yet well-rounded selection. Traders on the platform can access six prominent cryptocurrencies, including Tether, Bitcoin, USDD, Huobi Token, Tron, and Ethereum. This focused approach to cryptocurrency offerings caters to the essentials, making HTX a go-to platform for traders seeking simplicity and efficiency.
One standout feature of HTX P2P exchange is its fee structure. HTX acts as the intermediary for peer-to-peer trading and distinguishes itself by charging zero fees or commissions for its services. This commitment to fee transparency is a significant draw for traders who want to maximize their profits without hidden costs.
It's worth noting that HTX places a high priority on customer support, offering assistance around the clock, 24 hours a day, seven days a week. This approach ensures that users have access to help whenever they need it, addressing concerns and issues promptly.
In the realm of security, HTX deploys an Anti-fraud Practitioner, a cutting-edge tool designed to detect and mitigate suspicious P2P listings. This proactive approach to security not only safeguards users but also contributes to the overall trustworthiness of the platform. Furthermore, HTX runs a bounty program, encouraging users to report suspicious traders or website vulnerabilities, thereby fostering a collaborative and security-conscious community.
Bybit
Overview
Launched in 2018, Bybit has quickly risen to prominence as a formidable player in the world of cryptocurrency exchanges. This innovative platform, founded by Ben Zhou, a former international currency broker, continues to make waves in the industry under his leadership as CEO. However, Bybit's journey has not only been defined by its origins but by its evolution and unique approach to digital asset trading.
In its early days, Bybit was based in Singapore and Hong Kong, marking its presence in two dynamic financial hubs. Over time, the exchange has strategically relocated its headquarters to the United Arab Emirates, further expanding its global reach. Officially incorporated in the British Virgin Islands, Bybit's choice of jurisdiction reflects its commitment to navigating the complex regulatory landscape that often characterizes the cryptocurrency industry.
What truly sets Bybit apart in the crowded cryptocurrency exchange landscape is its unwavering focus on derivatives trading. While many exchanges offer simple cryptocurrency trades, Bybit's core identity revolves around margin and futures trading at higher leverage.
This orientation empowers traders with the potential for significantly higher profits but also introduces amplified risks, making it a preferred choice for those seeking a more dynamic and potentially lucrative trading experience. However, Bybit P2P is also a notable choice for traders.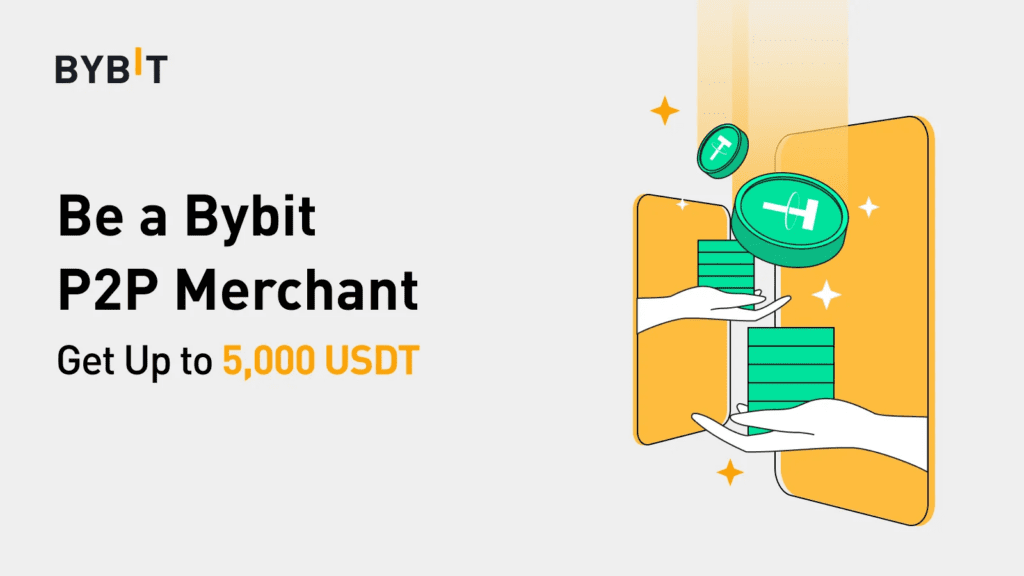 Features
For regular cryptocurrency traders, Bybit stands out as one of the premier P2P exchange platforms. This dynamic exchange is acclaimed for its diverse range of features that cater to traders of various backgrounds and preferences, making it a preferred destination for those looking to enhance their trading experience.
One of the standout offerings that distinguishes Bybit is its margin trading accounts, which provide traders with access to remarkable leverage, reaching up to a staggering 100x. This feature empowers traders to amplify their potential profits, although it's important to note that it also introduces higher levels of risk. Additionally, Bybit facilitates spot trading with leverage of up to 10x, allowing for a flexible and diversified trading experience.
Notably, Bybit is renowned for its competitive commission structures, boasting some of the lowest rates in the cryptocurrency space. For instance, spot trading commissions kick off at just 0.1%, making it an attractive choice for traders aiming to maximize their profits. When it comes to leveraged perpetual and futures contracts, these can be traded with commissions as low as 0.06%, ensuring cost-efficiency for those engaged in more advanced trading strategies.
Bybit's P2P marketplace supports a selection of four prominent cryptocurrencies: Bitcoin, Ethereum, Tether, and USD Coin. This cryptocurrency diversity allows traders to access a range of assets to meet their trading needs. Moreover, Bybit offers a multitude of fiat currencies and payment methods to enhance accessibility. From Wise, Yandex, and Skrill to PayPal, Paysera, and Payeer, traders can seamlessly fund their accounts and execute trades in their preferred currency.
What sets Bybit apart even further is its commitment to providing competitive rates within the P2P marketplace. Many sellers on the platform offer highly competitive rates, such as USDT at a flat $1.00.
Perhaps one of the most appealing aspects of the Bybit P2P exchange is its fee structure, which is highly favorable to traders. Both buyers and sellers, including market makers and takers, incur zero fees, underscoring Bybit's dedication to offering a cost-effective and trader-centric environment.
DISCLAIMER: The information on this website is provided as general market commentary and does not constitute investment advice. We encourage you to do your own research before investing.