GameFi Reviews
Big Time Review: The First Triple-A Title In Blockchain Gaming
45 days ago - Around
10

mins
mins to read
Big Time Studios is going big with a funding round of $21 million to bring nonfungible tokens (NFTs) to the biggest game economies. The Los Angeles company was started by CEO Ari Meilich (who was previously CEO of Decentraland) and game designer Thor Alexander. Let's learn about this project in detail with Coincu through this Big Time Review article.
What is BIG TIME?
Your mission is to uncover a mysterious threat that's tearing down the very walls of time itself. History is collapsing in spectacular and explosive ways, promising unlimited adventure and some of the craziest mash-ups you've ever seen. The gameplay is a combination of fast action gameplay from God of War, mixed up with co-op like in World of Warcraft and Diablo, with a lot of procedural loot systems.
The world itself is split into three areas. You've got your World of Warcraft style, a big space where you meet up with other players and show up all your cool loot. Then you've got these procedurally generated dungeons that you go into with a party of six. And then there is Epoch City, which is where you meet up in a big space. This gives players a varied set of gameplay
How does Big Time work?
Big Time features a system known as Timelines. This system allows players to level up the same character in multiple class paths and while they can also change the desired class. So far there are three classes, these are Warrior, Chronomancer and Shadowblase. The game transports players through time and space to meet famous figures throughout history.
The main mission is based on unveiling a mysterious threat that brings down the walls of time and collapses history in unexpected ways. Everything is experienced through an online game that allows hundreds of players to make their way together in Big Time.
Every player can get loot. As the game progresses players can get all kinds of new equipment, mounts, pets, player ranks, and titles. As for the economic system of the game, outside of Big Time we can find "rare" items that can be traded, rented or sold to other players.
These valuable items can be found by the players. To understand it better let's take an example; if a player kills a final boss in A dungeon the winner can win a NFT. It should be noted that NFTs will only be cosmetic items that can be exchanged for cryptocurrencies and FIAT. In addition, the game also features non-tradable items such as equipment that will grant us more power in the game. This equipment cannot be exchanged for cryptocurrencies or FIAT money.
Outstanding Features
What is the project trying to achieve
The game industry is largely sitting on the sidelines and doing research and development on blockchain. They seem to have a lot of fear about the public relations risks of NFTs and failing to implement them in the right way. Everyone is waiting for someone to come along and launch a game that is of quality, and something that they can look up to that serves as a good showcase for the technology. They are trying to do that. But at the same time, they are looking to put together some hard data on whether this monetary premium that you get with NFTs is really there, once you get past the 100,000 or 200,000 monthly active users.
What are unique selling points?
Big Time will offer clothing and armor from a variety of different time periods, allowing you to kit out your hero and express your own badassery for all the world to see. But it doesn't stop there. Each player will get to own their own personal Time Machine, which can be customized with a wide range of items. Decorate your space with new furniture. Hang trophies celebrating your adventures through time. Or display your unique collection of NFT artwork for your friends. And there's no better place to show off all this loot than the game's central hub — Epoch City, a sprawling metropolis situated at the end of the universe.
Re-Defind NFT in blockchain gaming
NFTs and futures trading bots are hot commodities now, driven by the craze around cryptocurrency. NFTs can uniquely identify digital items as authentic and rare through blockchain technology, the transparent and secure digital ledger, while futures trading bots can significantly impact trading by executing complex algorithms based on real-time data.
The company's flagship game is Big Time, an adventure across space and time. It starts at a school at the end of time that is run by headmaster Albert Einstein. The story puts the player in the driver's seat of their own time machine, allowing them to collect legendary items from amazing historical battles.
Well-Thought and unique time travel feature
Time travel, it's a limitless canvas for the imagination. So why aren't there a million other time travel games out there? Time travel in-game logic is extremely hard to execute. The rules, the complexity. Finding a take that's simple to grasp yet emotionally resonant isn't easy. But to boil it all down to its essence — the unexpected clashes of time and space, stories that span generations then it might just have something.
Time travel allows players to explore the familiar and the new. To reexamine some beloved characters from history and introduce a few new ones of their own. To spin a tale that plays upon your knowledge of the past, while subverting those same expectations in order to turn history on its ear.
Big Time's incredible team of developers
A world this colorful requires an art style to match, and Big Time assembled a team of world-class artists to bring it to life. With stunning vistas, evocative characters, and adventure instances ranging from the epic, to the whimsical, to the downright terrifying.
So how can a small team build a world this large? Let's just say technology is on their side. Our procedural dungeons offer precious loot for the intrepid treasure seeker. And you're gonna need all that room in your inventory since Big Time's next-level design allows players the chance to collect rare NFT items, which can then be traded in-and-out of the game through our patented Vault technology.
Creative game art design
Big Time's art style is Mysterious in the sense that a great deal of storytelling is delivered through the environments themselves. Every facet of the game's art is painstakingly crafted to tell a story and to give players clues to help them unravel the game's deeper mysteries.
Big Time's art style is Economical in the sense that, despite being a large open world spanning multiple historical eras, it's designed in such a way that allows a small team of veteran developers who are masters of their craft to bring it to life.
The art team is currently hard at work exploring the boundless possibilities of time travel. They've quickly amassed a treasure trove of sketches, concepts, and 3D models. Be sure to follow their social media, where they are going to feature many of these pieces.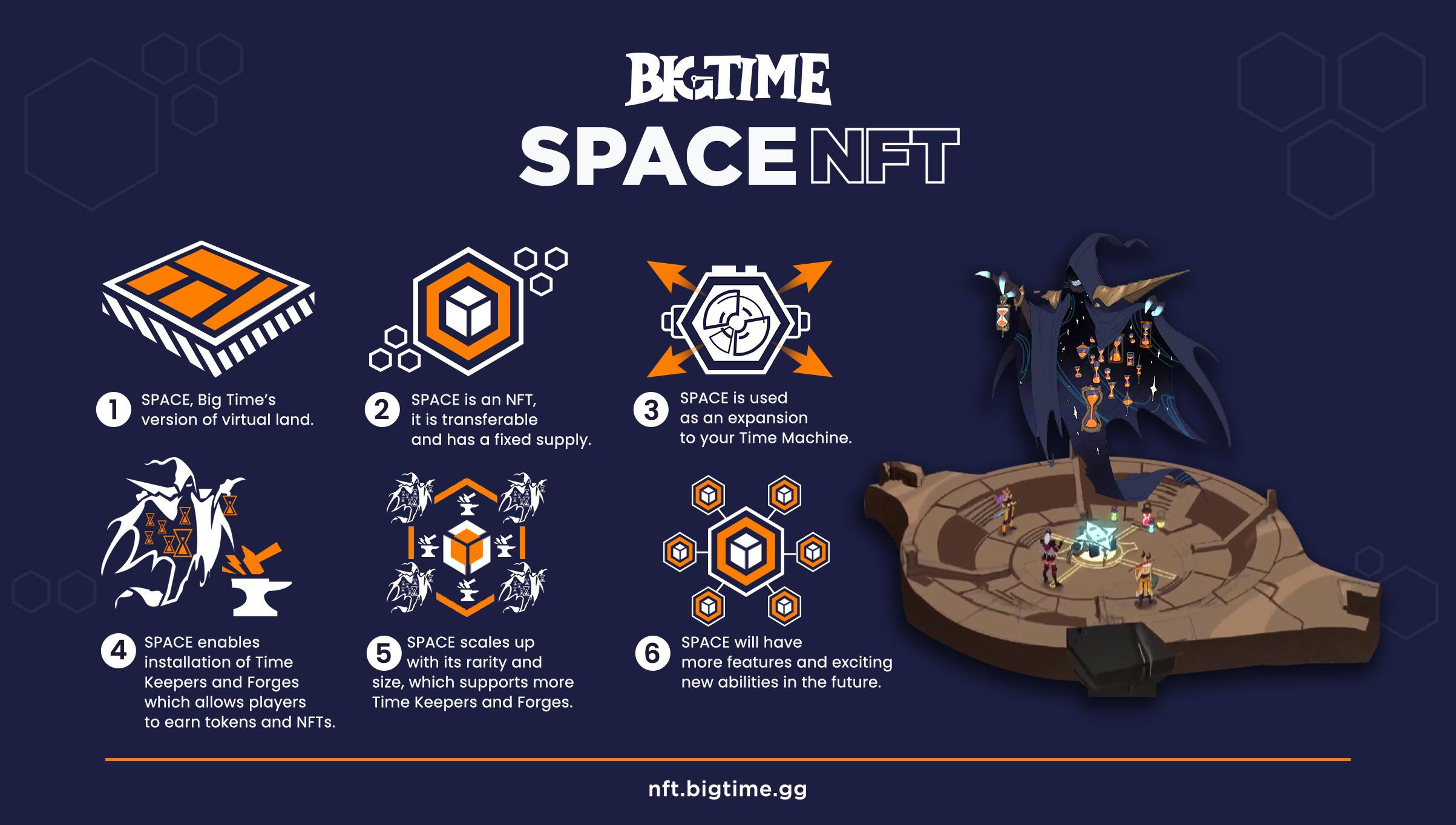 Big Time's art style is Timeless in the sense that the game needs to look as appealing ten years out as it did on its launch day. MMOs and online games have amazing longevity, but most suffer from an art style that shows their age as time marches on. To avoid this fate, Big Time started with a non-photorealistic, retro-stylized look.
As you traverse the world of Big Time, you'll be aided by a collection of finely crafted weapons of alien origin. Here's a look at just some of our starting arsenal:
The Battle Axe
Daul Blades
Two-Handed Greatsword
Sword And Shield Combo
Quantum Staff
The Warhammer
Market
Big Time Studios' team come includes alumni of Epic Games, Riot Games, Blizzard Entertainment, Electronic Arts, and Decentraland. They want to triple-A game companies to adopt cryptocurrency and NFT technology. But to prove that their model works, they are first building their own action role-playing game that will enable players to acquire, hold, and trade NFT-based virtual items without the barriers present in most blockchain applications.
Team
As the founder of Decentraland, Meilich was a pioneer of NFTs. After that company became a decentralized autonomous organization (DAO, run by the owners who bought its tokens), he left and investigated what to do next. He started Big Time Studios in April 2020.
The company behind the development of this game is Big Times Studios based in Los Angeles. The main goal pursued by the company is to bring cryptocurrency-enabled video games to a general and wider audience.
The game team's credits include some of the best-loved franchises in gaming history including Fortnite, God of War, Call of Duty, and Overwatch. Being a remote-first company has allowed the team to combine their diverse passions to build a game world with evocative style and universal themes. The founding team includes Matt Tonks (Fortnight, Gears of War) as chief technology officer; Carlo Arellano (World of Warcraft, God of War) as art director; Brian Alexander (Overwatch 2, Defiance) as lead writer; TJ Stamm (Call of Duty, Medal of Honor) as lead level designer; and Tom Zhao (League of Legends, Sky: Children of the Light) as lead concept artist.
Investors
Prior to the launch of Big Time, the company had already made clear its intention to sell NFT tokens through one of the most popular exchange platforms. In May of this year, Big Time Studios held a financing round with the aim of bringing NFT to one of the world's largest economies. In this financing round, a total of 21 million dollars was raised. The round was divided into two parts. On one side was formed by high-profile entities North Island Ventures, Digital Currency Group and FBG Capital. On the other side, they have the funding from Ashton Kutcher's Sound Ventures.
Conclusion of Big Time Review
Meilich said he doesn't think the company will turn itself into a user-run DAO this time, at least not initially, as it creates a lot of extra governance work. In the long term, Meilich said that if the demand materializes, the company will create ways for players to withdraw their assets and move them to any blockchain.
Big Time is a test for triple-A title game companies to introduce blockchain into their game. Big Time's idea of using NFT in a game is unique and different from any other game. The success of Big Time could create a new trend and idea for implementing blockchain into gaming. With a unique time travel storyline, experienced developer team, visionary leader, and well-known backers Big Time truly has the potential of becoming the first triple-A title blockchain game. Hopefully this article about Big Time Review has helped you better understand this project.
Find more information about
Website: https://bigtime.gg/
Whitepaper: Updating
Twitter: https://twitter.com/playbigtime
Telegram: https://t.me/playbigtime
DISCLAIMER: The information on this website is provided as general market commentary and does not constitute investment advice. We encourage you to do your own research before investing.