Press Releases
Overview of the Blockchain Fest 2021: Cyprus
721 days ago - Around
3

mins
mins to read
Overview of the Blockchain Fest 2021: Cyprus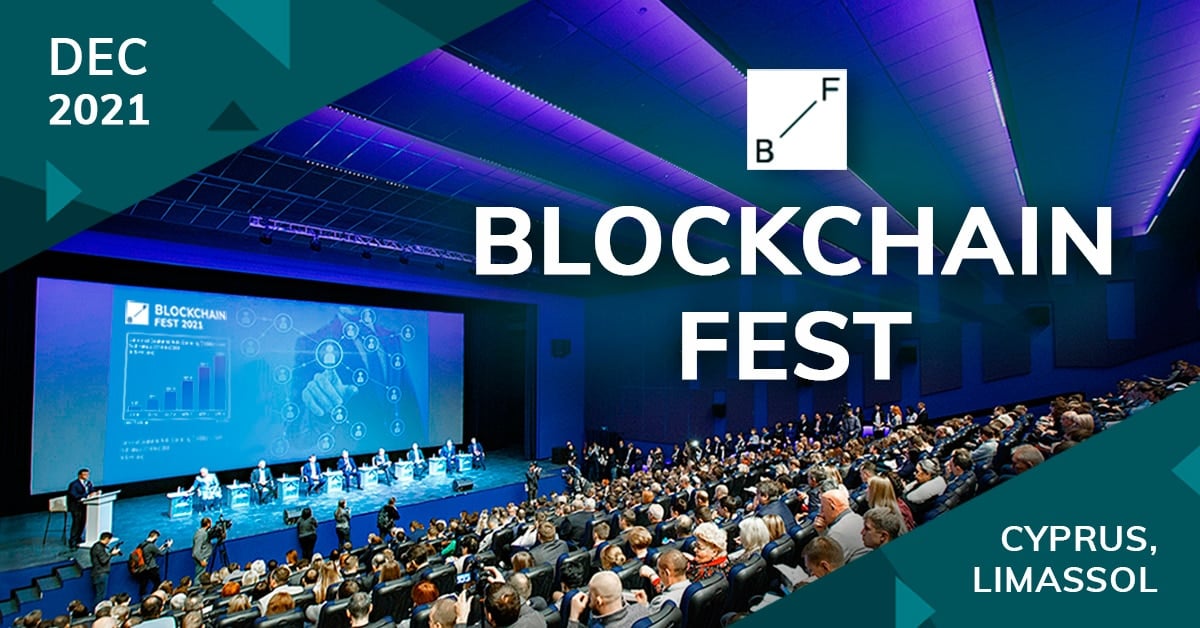 Press release
The Blockchain Fest is one of the most important crypto and fintech events in Europe and Asia and brings together investors, developers, crypto enthusiasts and agents from all over the world. Takes place from December 2nd to 3rd at the Luxury Parklane Hotel in Limassol, Cyprus. The Blockchain Fest gave professionals the opportunity to gather in one place and get in touch with each other.
This year, the conference called "Cyprus as a global hub for the crypto industry" serves as a platform to discuss the latest problems in the crypto space. The topics discussed include the current dialogue between regulators, companies and investors as well as the European regulation of crypto assets, regulatory effects of the explosion, DeFi, how blockchain technology is radically changing the world, trends and forecasts in DeFi and CeFi and whether NFTs are just jpegs or have real value. The agenda is full of keynote speeches and panel discussions on the hottest topics in the industry.
The event provides a networking space where attendees can meet, chat, and connect with company representatives and keynote speakers. The companies were present live at the event with stands in the showroom and presented their products and services to all visitors.
As in previous years, the annual Crypto Awards will take place in conjunction with the Blockchain Fest Gala Dinner. The list of winners of the Crypto Awards 2021 is as follows:
Best trading experience in MENA: Delta Forex
Best blockchain technology: Proximity Protocol
Best CeFi credit platform: Celsius
Blockchain and Cryptocurrency Best CEO: Illia Polosukhin
Best cryptocurrency trading platform: Blockster.com
Best payment processor: NUVEI
Best DeFi Lending Platform: Benqui
Best crypto vehicle in Asia: Block Tides
Best global crypto messaging platform: Cryptopolitan
Best cryptocurrency exchange volume (24h)> 1 B: Binance
Best woman in blockchain and cryptocurrency: Myrtle Anne Ramos
Best cryptocurrency advertising platform: Blockwiz options limited
Best Crypto Advisor: Andy Lian
Best crypto investor: Kyle White
Best DeFi exchange: Launchzone
Best DeFi fundraiser: Launchpool
BSC cultivates the best DeFi yield: The Boot Zone
Best Exchange Vol (24h)> 100 M: Mex worldwide
Best asset management: Block Asset Management
Best global cryptocurrency medium: Blockcast.cc
Best crypto spokesperson: Antoni Trenchev
Best DeFi technology: Endaoment
Best cryptocurrency trading volume (24h)
Best mobile wallet app: Zumo Funds
Voting on next year's awards will begin on the website in January 2022.
This year's Blockchain Fest is sponsored by Cyprus Blockchain Technologies – a non-profit organization founded by leading companies, institutions and universities in Cyprus with the aim of promoting blockchain technology CIPA – Government of Cyprus Investment Agency dedicated to recruitment and facilitation Foreign direct investment in the country European Blockchain Union – a non-profit organization that connects European companies and legal entities that use or implement blockchain technology, blockchain technology INTABA – International Association of Trusted Blockchain Applications and more than 50 other associations.
The Blockchain Fest will continue to be a platform that leverages blockchain technology and the business opportunities it contains, providing cyberspace for both enthusiasts and professionals.
Future Blockchain Fest conferences will take place in Cyprus and Singapore in 2022. Stay tuned and follow the event's worldwide websites!
Blockchain Fest Events is produced by Finexpo, an event company with 20 years of experience in global events.